'Bachelor' Star Amanda's Girls Are Too Cute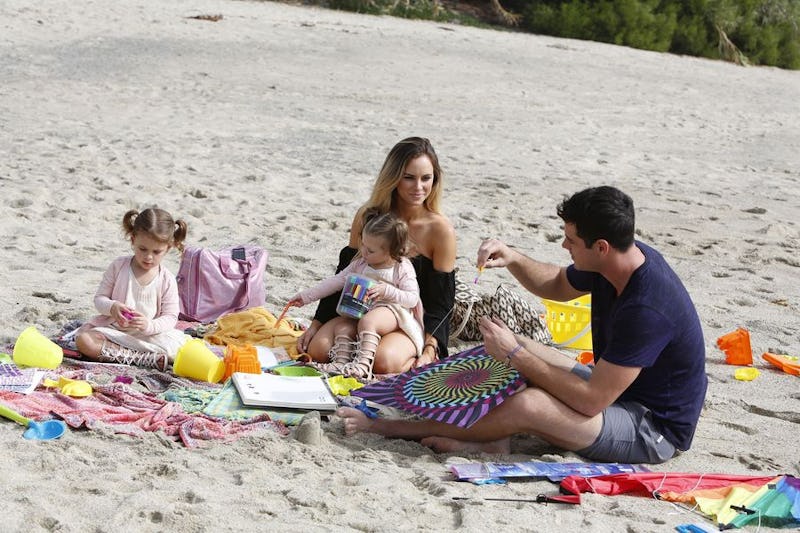 Being a mom is hard, but being a mom while you're on a show like The Bachelor? Probably really tough. I can't even imagine what it's like to miss your babies like that. Amanda Stanton has done a pretty good job of it this season on The Bachelor, not getting too down about being apart from her two adorable daughters. But, how old are Amanda's two little girls? They're about to meet their could-be stepfather Ben Higgins, so I hope he's ready for the craziness that comes with having two little ones. They're always running everywhere, eating things they're not supposed to be eating, and screaming, but kids are a lot of fun.
According to Romper, Amanda's daughters, Kinsey and Charlie, are three and one years old, respectively. Isn't that a fun age? Amanda's recently divorced from Nick Buonfiglio, the father of her daughters. On a one-on-one date with Ben, Amanda told him that she and her ex married young and that she felt really alone in her relationship. By the time she was pregnant with their second child, Amanda claimed that Nick was texting other women and cheating on her, and she broke up with him for the sake of her little girls. Nick has not yet responded to Bustle's request for comment on her allegations. But, he recently told Life & Style that his relationship with Amanda fell apart because they "married too young and didn't communicate well," and he also called her "high-strung."
Insults aside, living in Southern California, Amanda is an esthetician, but her biggest passion seems to be caring for her girls. One look at Amanda's social media and you can just tell that she has a blast with them — let's see what they've been up to.
Visiting Disneyland
If I had two little kids that age (especially Frozen-obsessed ones like these two) and lived in Southern California, I would probably live at Disneyland, so I'm glad to see that Amanda has my hypothetical life, too.
Having Dance Parties
Cheeky leotard? Check. Double buns? Check. The moves? Check. When I have kids, I want to have dance parties like this all the time.
Lounging All Day
Sometimes, you just have to hang out in your pajamas all day — bonus points if they match your sister. I hope Amanda has the same ones, too, so they can be triplets.
Hanging At The Beach
I mean, Amanda and her children live in Southern California, so of course they're at the beach um, every day? Jealous!
Pampering Themselves
A nice manicure/pedicure is one of my favorite ways to unwind, and I can see that Amanda feels the same way. Nice that she's instilling a sense of luxury in her little ones from a young age.
Aren't Amanda's daughters the sweetest? Ben would be a lucky man to be their stepfather.
Images: Greg Zibilski/ABC