'Superstore' Should Keep Its Doors Open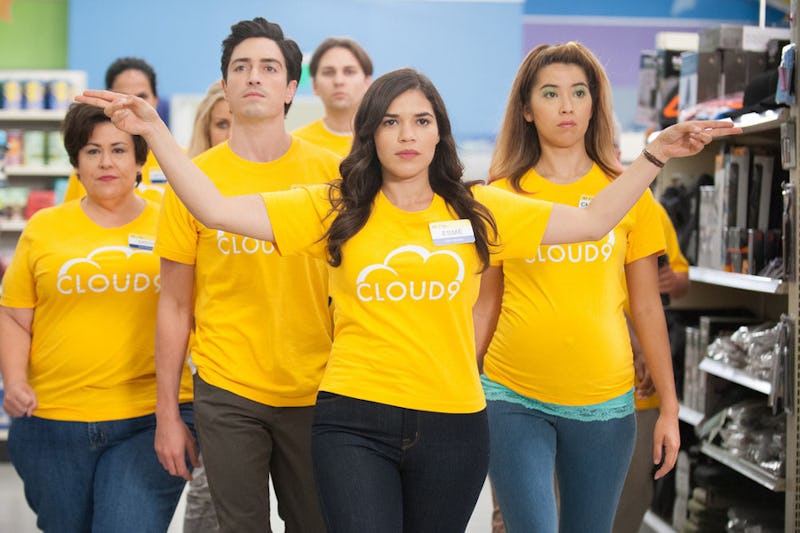 We're unfortunately almost at the end of Season 1 of the new NBC comedy Superstore. You know what that means. It's time to play the loveliest of guessing games trying to figure out if Superstore will be renewed for Season 2 or not. Update: On Feb. 23, NBC announced that Superstore will return for a second season, as reported by The Wrap.
And what a guessing game it is. That's because NBC has yet to officially announce the fate of its freshman comedy after Monday night's Season 1 finale airs, so let's all maybe savor it, just in case? The episode will finally show Cheyenne (Nichole Bloom) going into labor and will guest star Scandal 's Dan Bucatinsky as a labor relations officer sent by corporate when the word "union" is uttered. Whether or not Superstore gets a Season 2, it certainly sounds like the Season 1 finale will at least be satisfying.
But even without an official announcement from NBC, there have been plenty of good and bad signs regarding Superstore's survival on the network leading up to the show's Season 1 finale. For one thing, it was revealed last October before the show even premiered that NBC had cut its episode order from 13 to 11. "Sources said the move came after NBC execs were starting to plan out midseason scheduling plans and realized the network would have too many episodes piling up before the end of the season," Variety reported in October 2015, also adding that the decision "came as a result of simple math, not a lack of confidence in the shows."
Along those lines, Superstore has also jumped around to different time slots on Monday nights for its "sneak preview" episodes airing on Nov. 30 and Dec. 28 before its official series premiere in its regular time slot of Mondays at 8 p.m. ET on Jan. 4, 2016. As TheWrap points out, it's unclear if all of that moving around could have hindered or helped Superstore in its ratings.
Well, maybe it did actually help Superstore in the ratings department. The series had a strong official premiere when its fourth episode aired on Jan. 4, averaging a 1.7/6 among viewers 18 to 49 and 6 million viewers overall, just behind CBS' hit Supergirl, according to Variety. Variety's report also went on to detail some good news for Superstore and NBC:
The show came within 0.3 of its preview score when aired behind "The Voice" in late November and more than doubled the 0.8 it did for an un-promoted original airing at 9 p.m. last Monday. The 1.7 is the highest regular-timeslot comedy result for an NBC comedy that didn't have a lead-in from "The Voice" since "The Michael J. Fox Show" in September 2013.
In fact, Superstore 's ratings remained solid throughout the rest of its Season 1 run so far, staying within 1.7 and 1.2 for viewers 18 to 49, according to the Nielsen Company, as reported by TV by the Numbers. With those kind of ratings, TV by the Numbers even predicts that NBC will renew Superstore .
As for me, I certainly hope Superstore gets renewed. Not only was it one of the new TV comedies I was most jazzed about checking out this year, but it also lived up to my expectations of being a delightfully quirky workplace comedy with an unsurprisingly exceptional performance from America Ferrera in every episode. Now that it seems like Superstore has gotten its footing, I feel like the series has the potential to only get better from here.
Images: Colleen Hayes/NBC; Giphy