The 'Superstore' Cast Is Stocked With Talent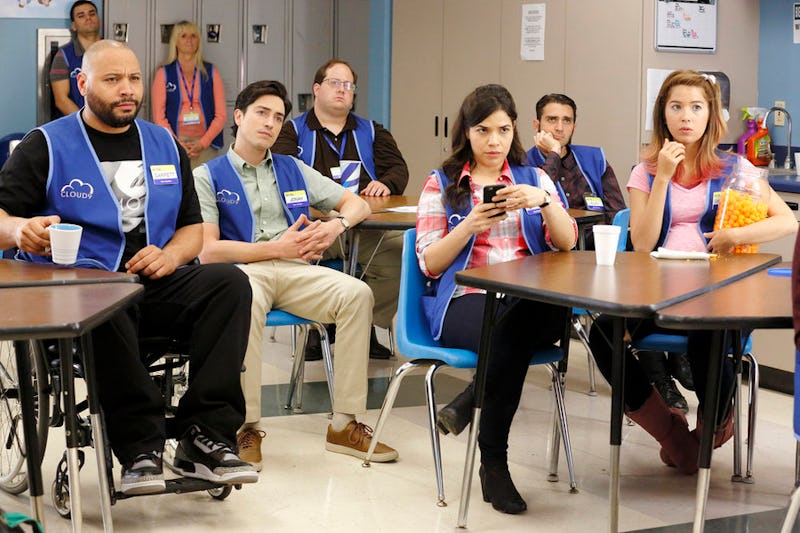 Just in time to capitalize on the Black Friday shopping rush, Superstore follows in the footsteps of other classic NBC workplace comedies like The Office and Parks and Recreation. In similar fashion to its predecessors, Superstore has assembled a strong, hilarious cast that hopes to be as likable and charming as the casts of former classic NBC comedies. The comedy features a number of fresh faces to television, a few actors you may have seen pop up here-and-there over the past few years, and the small-screen return of one of television's most talented comedic actresses. So, get excited.
Superstore follows the employees of Cloud 9, a big-box store (think Wal-Mart, Target, or K-Mart), as they maneuver their way through the land of angry customers, stingy upper management, and the romantic tension the comes from working at a job you're overqualified for with other people who are overqualified for that same job. While NBC is no longer the king of network comedy — as it was in the days of The Office, 30 Rock, Parks and Recreation, Community, etc. — Superstore seems to be a return to form for the network, and, with such a strong cast, Superstore could re-unite NBC with the comedy audience it's been missing since Parks and Recreation ended. Here's a full rundown of who to look forward to on Superstore.
America Ferrera As Amy
Rejoice, rejoice — America Ferrera is back on television. Five years after she finished playing "Ugly" Betty Suarez, arguably the most lovable character to ever be featured on television, Ferrera returns to the small screen to play a Cloud 9 floor supervisor. Amy is posed to be Superstore's Jim Halpert, a rational voice in a world where everyone else seems to be a little odd.
Ben Feldman As Jonah
Jonah is Cloud 9's newest employee, but Feldman is far from a television newbie. Feldman came to prominence as advertising-wunderkind Michael Ginsberg on Mad Men, before stopping by for guest spots on other television shows like Silicon Valley and The Mindy Project. Feldman was previously a lead on NBC's short-lived romantic sitcom A to Z, but NBC seems to have a lot of faith in Feldman's charm by giving him another leading role in a television series.
Mark McKinney As Glenn
Mark Mckinney is best known for his work with iconic sketch comedy team The Kids In The Hall, as well as Saturday Night Live and Canadian cult classic Slings & Arrows. McKinney is no stranger to televised comedy, and appears to be a good fit for the character of Glenn, Cloud 9's store manager.
Lauren Ash As Dina
Lauren Ash is a rising star in comedy, having cut her teeth at legendary comedy institution The Second City, Ash can currently be seen on Comedy Central's Another Period and was a regular on ABC's Super Fun Night opposite Rebel Wilson. Her character Dina does security for Cloud 9, and also handles HR for the superstore. From the trailers, it seems that Dina's primary trait will be an unrequited crush on Feldman's Jonah, but, hopefully over time, Superstore will give Ash more situations with which to display her comedic talents.
Colton Dunn As Garrett
Colton Dunn is most recognizable for his role on Parks and Recreation as inept Animal Control employee Brett, but also has experience as a writer — including writing for all five seasons of Key and Peele. On Superstore, Dunn plays the role of Garrett, Cloud 9's intercom operator and voice of the store. However, with a talented comedic writer on the cast, expect Dunn's name to show up as a writer in addition to a cast member.
Nichole Bloom As Cheyenne
Nichole Bloom is the freshest face to grace Superstore, having only a few film and television credits to her name including Project X and a recurring role on Showtime's Shameless. Superstore will be Bloom's first network tv role as Cheyenne, the bubbly and pregnant Cloud 9 associate.
Nico Santos As Mateo
Nico Santos is a Bay Area stand-up comedian known for his appearances on sitcoms like 2 Broke Girls, Mulaney, and Ground Floor. He's also appeared as a panelist on Chelsea Lately and been featured on Showtime's Pride Comedy Jam. Santos is playing Mateo, Jonah's prime competitor and fellow new employee at Cloud 9.
With a cast this strong, it wouldn't be a big surprise for Superstore to be NBC's next comedy hit. Even if the writing doesn't end up being as good as some of NBC's all-time great comedy shows, it will be nice to see charming, talented actors like Feldman, Ash, and more play off of each other. And, of course, anything that gets America Ferrera back on television has to be good.
Images: Trae Patton, Chris Haston (7)/NBC