11 Cheeky Message T-Shirts That Totally Get You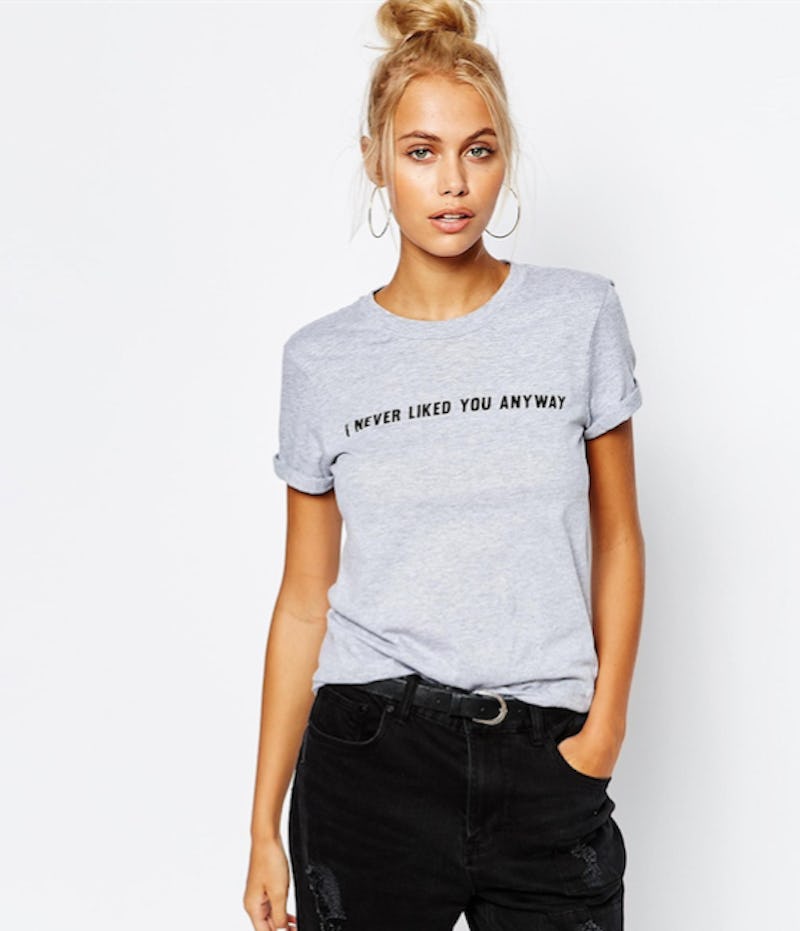 Some may wear their hearts on their sleeves, but personally, I like to wear my mood on my shirt. Thanks to cheeky and sassy message T-shirts, you no longer have to ask me how I'm feeling, but rather, just take a look at what I'm wearing. You have to admit, if we're being honest, you'd rather not make small talk about how you are and awkwardly laugh and smile around.
Anyone else hate making unnecessary conversations like I do? Maybe it's just me. But few things are worth talking about before I've had my morning coffee. Especially on Monday mornings. Luckily, T-shirts and other items of clothing have gotten an amazing new update: Having funny, sassy little comments emblazoned across them. Whether they've got angsty lyrics by Morrissey printed across, or the words "lazy," "but first, coffee," or "Chill only," these tops all feature small text with big messages: Mainly, if you're thinking of talking to me, maybe....don't.
Even Broad City has caught on, with Ilana rocking a tank top with the words "Locals Only" written in cursive in the Season 3 premiere. Of course, her whole look was completed with the bike chain around her waist, but whatevs.
See what I mean? How dope does she look? Aside from the fact that she's Ilana and possibly the funniest person ever...But still.
So while your favorite tee looks perfectly relaxed and undone with some distressed denim, nothing says "I don't care" quite like actually writing those words across your chest, or back, or sleeve. Into the concept? Check out some of my favorites, below, ranging from cutesy, to sassy messages.
1. Awwww
Future State Cute Fruit Tee, $39, Urban Outfitters
This one reads "You're my other half" with an avocado. Seriously, how cute is this?
2. Not Your Baby
Reformation Baby Jacket, $228, The Reformation
Because really, I'm not.
3. Cutesy
ASOS Cropped T-Shirt With Love You Long Time Print, $21, ASOS
This is your new favorite crop.
4. The Truest Message, Ever
The Laundry Room Lil' Pizza Crop Tee, $58, Nastygal
"A lil' pizza never killed nobody." Yes. So much yes.
5. #True
Plus Size Taste Graphic Tank, $15, Forever 21
So simple, yet such a clear message.
6. The Post Break Up Tee
Adolescent Clothing Boyfriend T-Shirt With I Never Liked You Anyway Print, $31, ASOS
Adding this to my cart right now. Then wearing in front of my ex.
7. Aren't We All?
Missguided Plus Size I'm Feeling Myself Slogan T-Shirt, $17, Missguided
Cue Bey.
8. I'm So Fancy🎵
Forever21 Plus Size Fancy Graphic Tee, $15, Forever 21
Fancy, but simple. Juxtapositions everywhere!
9. Take It Or Leave It
Zara T-Shirt With Embroidered Text, $30, Zara
Love it, hate it, but you're sure going to accept it.
10. When You're Just....Meh
Truly Madly Deeply Okay Henley Top, $34, Urban Outfitters
Point to this when you don't want to speak on Monday mornings.
11. Who Wants To Follow Rules?
LA Hearts Rebel Ribbed Cami Tank Top, $20, Pacsun
Not I.
Sometimes, I really can't bother to use my words, like every day that ends in a "Y." Wait...Isn't that everyday? Yup, pretty much. You get what I'm saying.
Images: Comedy Central