'RHOA' Got Romantic On Peter's Jamaica Trip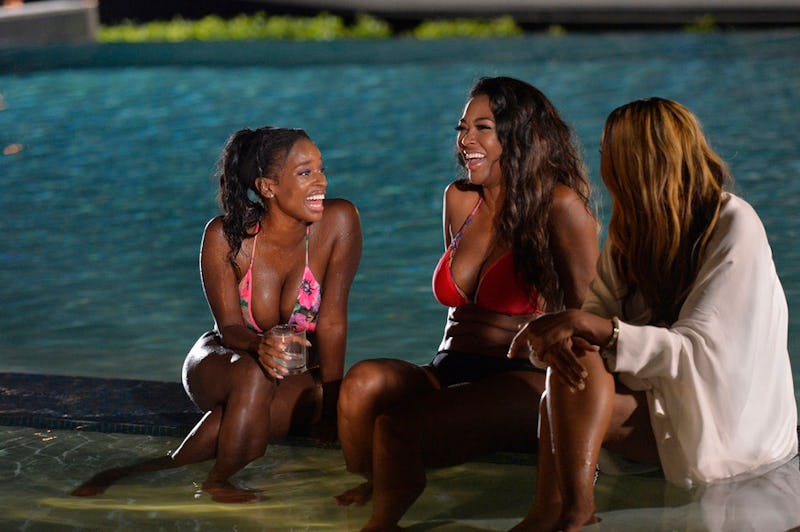 Once the 'mercial shoot finally came to an end, the Real Housewives of Atlanta Jamaica trip took a very surprising turn. Not only did the trip seem like an amazing time in Peter's homeland, filled with off-the-beaten-path spots for food and entertainment, but there was a lot of love flying around as the trip came to an end. Not only did Kenya's boyfriend say he loved her, but Cynthia admitted that she's still in love with Peter, and Porsha considered the possibility that her Miami fling, Oliver, could be a serious romantic prospect. Shereé's husband Bob actually seemed to really want his ex-wife back. And seeing how bad their relationship used to be when they were last on RHOA just goes to show the healing power of the island.
Seriously, after watching this RHOA trip, I'm convinced that if your relationship is in trouble, all you need to do is round up another three or four couples and all climb Dunn's Falls together. Kenya's boyfriend, Matt, may be younger than she is, but he spent most of the trip hanging out with the older members of the RHOA-husbands group, eventually leading to Matt's admission that he "loves" Kenya. And while they seemed a little awkward, judging from her Instagram, it looks like Kenya and Matt are still going strong, despite skepticism from the rest of the cast.
And even those who didn't need a little shot of romance made some loving choices on the episode. Phaedra may have attended the trip on her own, but she seemed very in love with herself, and appreciative of her friendships with the rest of the cast. In a way, NeNe also made a declaration of love of her own too — when she promised that she won't be going anywhere, as either Cynthia's friend, a RHOA castmember, or both (it wasn't totally clear).
And there was one declaration of love that seemed like it would never happen, and that's the friendship between Kenya and Cynthia, which is still in pretty bad shape. But there's finally hope, now that Kenya apologized, and the two are going to head back to the ATL by turning over a new leaf.
Image: Rodrigo Valera/Bravo; Giphy