10 Problems Down There That The Right Undies Fix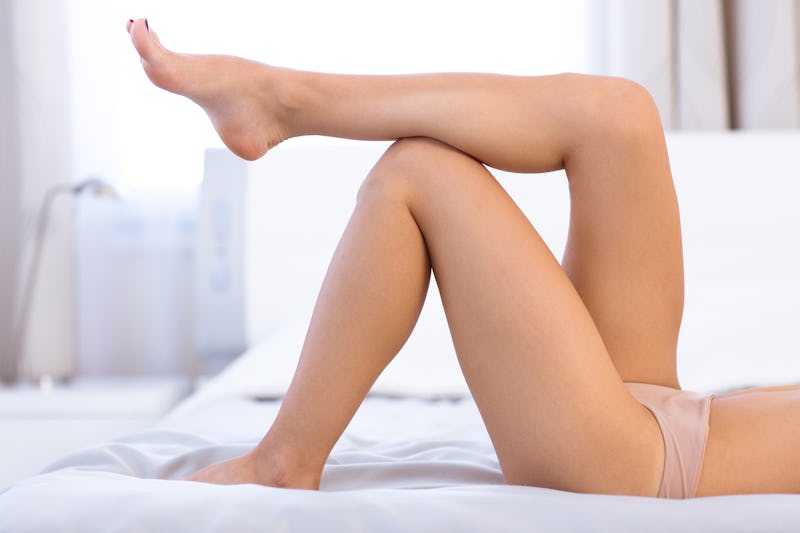 It's easy to let our underwear drawers go untouched and unnoticed for months or years at a time. Our intimates become part of our normal routine, as we designate certain pairs for certain days — some of us even wear the day of the week on our undies (you super organized girls, you). So, why change a good thing, you ask? Well, there are specific situations that warrant the need for old undies to be forever tossed and replaced with something new.
For example, do you workout every day, yet have never thought it was necessary to drop cash on breathable, performance underwear? Instead of buying yourself another pair of cute running shoes, make sure to make seamless, moisture-fighting undies next on your shopping list. They'll keep you cool and infection-free. Have you recently been guilty of showing your chevron print panties through your new pastel dress? While it can be tough to resist those cute patterned pairs, your mistake could be that it's time to say put the loud undergarments on hold and invest in some comfortable and trusty neutrals that will stay camouflaged under any outfit.
So, read on and be prepared to start a seriously necessary panty drawer makeover.
Always Chafing During Workouts: These Smooth, Seamless Undies Stretch With You
Victoria's Secret VSX Yoga Shortie Panty (Sizes S-L) , $15, Amazon
For all of you yoga lovers or gym babes: It's time to invest in underwear that's made to keep up with your active lifestyle. These stretchy bikinis by Victoria's Secret are specifically made both seamless and breathable to keep unwanted moisture at bay, while staying no-show under your cute workout pants. (Pro Tip: While perfect for many other situations, one type of undie you never, ever wear while running or to morning spin class are thongs. They can ride up and shift around, which puts you at risk for pesky UTIs and harmful infections. Ain't nobody got time for that.)
Fighting Ingrown Hairs: Combat Germy Irritants With Antimicrobial Undies
ExOfficio Give-n-Go Sport Mesh Hipkini (Sizes XS-XL), $13-$24, Amazon
These high performance-tested undies are ideal for your future workouts. They contain an antimicrobial that eliminates odor-causing bacteria in the diamond-weave mesh fabric, which allows extra airflow to keep you cool while you're breaking a sweat. Their hipster fit offers a bit more coverage, too, in case your workout pants tend to rub.
Getting Sweaty Down There: The Quick-Drying, Breathable Bikini Will Keep You Cool
ASICS Asx Bikini (Sizes S-XL), $18, Amazon
This quick-dry, soft and super-breathable bikini by ASICS fights against uncomfortable chafing caused by any workout you're into — cycling, running, yoga, you name it. The fabric is lightweight and seamless, so you don't have to worry about embarrassing panty lines when you're racking up those miles.
Your Worn-Out Lace Undies Rub: Upgrade to Smooth, No-Panty-Line Lace Thongs
Machine washing those adorable lace panties can cause the material to become rough — causing you major discomfort over time. This super comfortable low-rise set gives you the lacy look you love, and they will become the most comfortable pairs in your drawer. Users praise this brand for creating "the best underwear on earth" that is unmatched in wearability, comfort, and invisibility under any outfit. Seriously — completely upgrade your drawer with this one-stop-shop. (Pro Tip: Take special care of your favorite pairs by always hand washing them. Other delicate fabrics, like silk, should also be hand washed to keep them looking and feeling brand-new.)
You've Stained Your Period Panties: Get Leakproof Protection With Hipsters Created For Coverage
Anigan StainFree 2-Pack Seamless Hipster Period Panty (Sizes XS-L), $24, Amazon
These undies are a little gift from the heavens that give you comfortable protection while staying 100-percent stain-free, even before you machine-wash. The soft undies ride low and are super lightweight — without sacrificing that complete peace of mind you need ever once in a while. We all have those designated not-so-pretty intimates that are reserved for that certain time of the month. That's totally normal, but if you've been holding on to pairs that are permanently stained and won't wash clean — ditch them for this pair of worry-free period panties.
Exposed Elastic Left Red Marks: Sport Durable Waistbands With Stylish Edge
Calvin Klein 3-Pack Radiant Cotton Bikini Panty (Sizes S-L), $27-$30, Amazon
Save yourself the frustration of too-big (or too-tight!) waistbands, and replace any pairs that are wearing thin with classic Calvin Klein cotton undies. The thick and durable waistband will hold over time, and if they're good enough for Justin Bieber and Kendall Jenner, they're good enough for me. Washing your underwear repeatedly can cause the elastic to break down, which can leave you with a loose-fitting and uncomfortable situation beneath that brand new mini you've been waiting to sport.
There's A Funky Odor: Wick Away Bacteria in Comfy Cotton Boyshorts
Hanes Cotton-Blend Boyshorts 6-Pack (Sizes S-2X), $20-$33, Amazon
Cotton does the best job of keeping you fresh — hands down. These cotton-spandex boyshorts are soft, non-binding and promise not to ride up, which we all know is the worst. Bonus: They're available in a wide variety of sizes, so they're a perfect to fit for any backside you're rocking. It naturally whisks away bacteria unlike many other popular panty materials, like nylon, which can much more easily cause painful infections by trapping in moisture.
Hand-Washing Undies Incorrectly Left Discoloration: Avoid It With Machine-Washable Black Undies
C hantelle Rive Gauche Panty (Sizes XS-4X), $30, Amazon
Keep lingerie on hand that you can machine wash and won't show discoloration over time, like these black, intricately laced Chantelle Rive Gauche Panties. They're comfortable enough to wear daily, unlike many others that squeeze and pinch in all the wrong places. Users praise these undies for how pretty and well they fit. (Pro Tip: To keep color lasting longer on your under garments, soak them in white vinegar after washing, before rinsing them again. This will lock in their original color and protect them from fading with repeated wearing and washing.)
Your Too-Tight Undies Caused Ingrown Hairs: Loosen Up With The Stretchy Mesh Thong
Under Armour Stretch Sheer Thong (One Size), $16, Amazon
Having to toss your cutest pairs can be tough — but if they don't fit, they've gotta go. This super-stretchy mesh thong is gentle as it moves with you, preventing pesky in-grown hairs that arise from snugly-fitting intimates. Users love this pair above other thongs, which can easily ride-up and cling, because its high-tech material keeps you cool and comfortable.
Your Bunchy Patterned Panties Show Under Clothes: Step It Up With This Sophisticated Neutrals Set
Christian Siriano New York Multi-Pack Panties (Sizes S-XL) , $15-$28, Amazon
If you've ever looked in the office bathroom mirror and found striped cheekies showing through your dress, upgrade to this silky-smooth pack of three neutrals. The pretty panties will give you comfy (and cute) black, white, and nude coverage under your trickiest clothing fabrics — so the entire city won't know your favorite panty pattern. After all, having grown-up panties that don't look like your grandma's is an absolute necessity.
Bustle may receive a portion of sales from products purchased from this article, which was created independently from Bustle's editorial and sales departments.
Images: Fotolia (1); Amazon (10)