10 Ways to Stop Panty Lines & Other Mishaps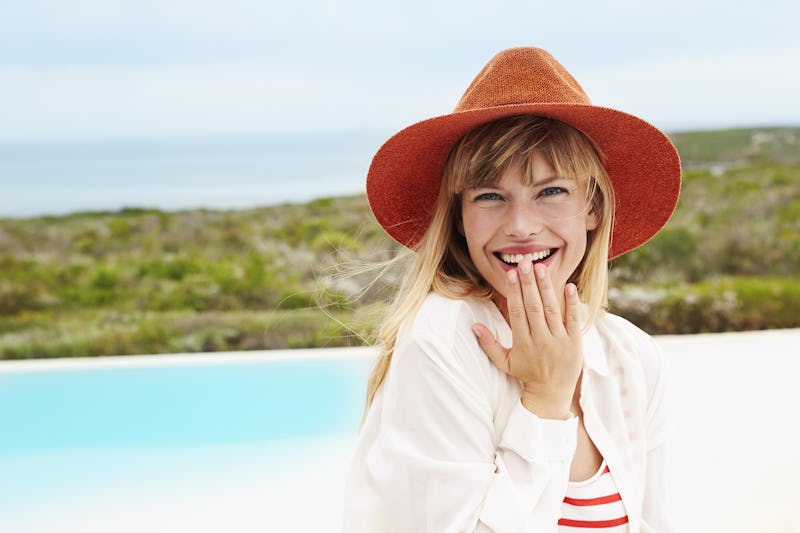 Fashion has changed a lot in the past 50 years. For the most part, the best part of the industry's transition has been the growing sentiment among fashion devotees that basically amounts to: "Away with old style standards — I'll wear what I want." Whether you go braless or tailor-fit yours, you're down with underwear lines or want to stop panty lines from showing, or you rock stilettos or go barefoot 99 percent of the time, women can do what they want. You name it, a woman is out there doing it. Frankly, it's fantastic — finally, women's fashion is all about what they actually want to be wearing.
That being said, I'm a bras-razors-underwear-high-heels kind of girl, and that's totally okay, too. I'm also big into clothing that keeps my under-things underneath. If you're not like me in that regard, there's nothing wrong with that. Embrace that #VPL (visible panty line), go braless without shame, and flaunt that cameltoe. For the people who prefer to keep panty lines to themselves, however, there are options. (Another great thing about being female in this day and age: There are always options.) If you choose to avoid them, here are some of the best tips for preventing panty lines and other fashion mishaps from happening.
Flatten Out the VPL With Supima Cotton & Lace
Hanky Panky Original Rise 3-Pack (One Size Fits All), $54, Amazon
These ultra stretchy Original Rise Thongs are awesome because the Supima cotton is delicate, comfortable, and hides lines using your — ahem — assets. When the famed underwear company's original design hasn't changed in more than 25 years, you know something's working. The three colors you can never seem to find on laundry day come together, and reviewers promise the high quality fabric (100-percent organic cotton, you guys) won't roll, slip, or show. Lace is a great material when it comes to hiding panty lines because instead of blatant hemlines, the subtle seams hug your skin.
Working Out? Upgrade to No-Slip, Sweat-Wicking Cheeksters
Adidas Cheekster Underwear (XS - XL), $10, Amazon
VPLs should be the last thing you're thinking about by mile three, and these floral undies with Climacool technology will keep you dry in all the right places, too. Available in 12 other colors and patterns, you can put the sweat-wicking spring back in your step when it's most needed.
Or Ditch Yoga Pant VPLs in No-Line Hipsters
Under Armour Pure Stretch Hipster (One Size Fits All), $10, Amazon
As far as line-less panties go, these ones by Under Armour are some of the most smartest pairs out there. With a comfortable hipster one-size-fits-all fit and a seamless line that's undetectable beneath the most form-fitting compression pants, they won't slip off or ride up. One user said they're comfortable when distance running, while another said their sweat-wicking fabric makes for the perfect camping underwear.
For The True Seamless Look, Try Strapless Panties
Braza Women's Strapless Panties, $10, Amazon
Yes, strapless panties are a thing. When you're not quite willing to go commando, Braza Women's No More Panty Lines are great for those dresses that are so delicate, not even a thong will go undetected. They have a small patch of sticky tape to keep them secured to your body, but they're actually washable — and that means you're saving on adhesive without sacrificing your preferred style. Users say they breathe well, and yet they feel a lot more secure than going without.
Or Go Strapless Without Adhesive
C-String Strapless Lingerie , $9, Amazon
All of the strapless with none of the stick, these panty line-free C-strings hold themselves in place with a flexible frame (similar to a headband) that stays put, no matter how much you move around. Whether your dress is sporting higher-than-thigh slits like Kendall Jenner, or you're just looking to get some sun without the tan lines (wear sunscreen!), this C-string could be the most liberating undergarment you've ever worn.
Try An Insert To Smooth Things Out
Braza Camel-Not Camel Foam Inserts, $7, Amazon
If you're all for cameltoe, you go girl, but if it's not so much your thing, these foam inserts are meant to stop your lady parts from showing — even in your thinnest yoga pants. They're comfortable, soft, and durable, and their sticky adhesive stays put while smoothing out fabric. Reviewers say they worked well with spandex, cosplay costumes, bathing suits, and pageants.
To Avoid a Nip Slip, Invest In Reuseable Silicone Pasties
Nippies Reusable Silicone Pasties, $25, Amazon
For deep-plunging dresses with low backs, sometimes a bra isn't an option. For someone wants a little support, these non-adhesive pasties are some of the best on the market. They form to your curves using a gentle suction (no sticky residue!), and they blend seamlessly into skin to provide smooth coverage without showing through fabric. These are great for sensitive skin because they're made with silicone, and they're washable and reusable, too, so you can make them a permanent addition to your wardrobe.
If You Prefer More Support, Try the U-Plunge Bra
Fashion Forms U-Plunge Bra (34B - 38D), $17, Amazon
When you're rocking the deep plunge dress, sometimes you still want a little lift and separation. When pasties don't give you the support you want, this U-plunge bra will fix any fashion crisis: Convertible straps that cross, fasten as a halter, or can be worn traditionally mean any top is a go, while pockets inside the bra allow for additional cushion, if necessary.
Prevent Stocking Runs With Run-Proof Tights
National Run-Resistant Sheer Pantyhose (6 pairs), $25, Amazon
I'm a dress girl — even in the winter, and nothing ruins a well-put-together outfit quite like runs in your stockings. These sheer pantyhose are some of the best when it comes to durability. Self-proclaimed stocking-abusers even say they've owned this pair for years, and they're still as run-free as the day they bought them. The toes and crotch (lined with cotton) are reinforced for ultimate wear, and they're available in a bunch of different colors for all your wardrobe needs.
Avoid a VPL the Old-Fashioned Way — In Luxe, Pretty Loungewear
Bangkokpants Women's Yoga Pants Elephant, $15, Amazon
Finally, loose is now fashionable, and these Elephant Pants are ridiculously popular for yoga classes, relaxing at home, and even for everyday wear. Because they're movable and flowy, you don't need to worry about lines or creasing. They cinch at the waist and ankles and are made with 100-percent rayon, so frankly, you could go commando and no one would be the wiser. They're also widely deemed, "the most comfortable pants you'll ever know," so that's a definitely plus.
Bustle may receive a portion of sales from products purchased from this article, which was created independently from Bustle's editorial and sales departments.
Images: Fotolia (1); Amazon (10)