Why Did Rihanna Release 2 "Work" Videos?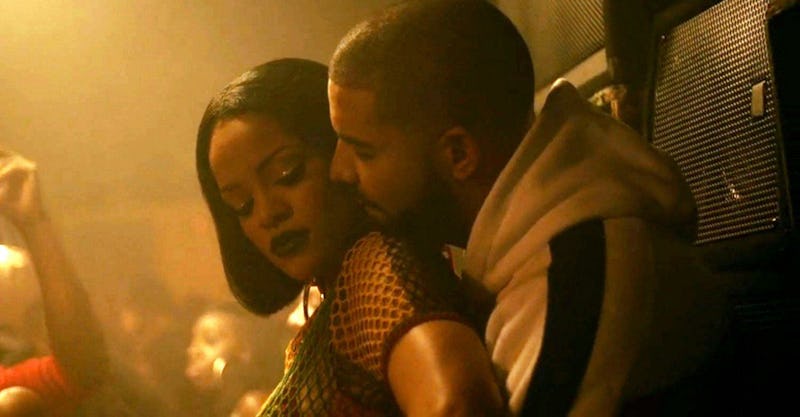 The music gods have heard our plea and provided us that which we so desired: more Drake and Rihanna. Specifically, Drake and Rihanna in the latter's music video for her single, "Work", which is a majestic two-part, back-to-back seven minutes of glory. But why did Rihanna release two "Work" videos? (Not that I'm complaining.) No answers or reasons have come out, and both Rihanna and Drake keep ignoring my voicemails/texts/emails for some reason. But, luckily, I've got some theories.
First, let's talk about the first video. In it, Drake and Rihanna are grinding up and down at a club somewhere in the Caribbean. Meanwhile, everyone is dressed scantily (as you do when it's super hot out), and the colors red, yellow, and green are featured prominently. I don't know much about the Caribbean besides the Disney pirates and a book which is sort of about Bob Marley by Marlon James (which I highly recommend), but this half of the video makes me want to book a trip posthaste.
The second video is much simpler: we've just got RiRi and Drizzy chilling in a dressing room, where she dances seductively and he watches. I couldn't tear my eyes away from this purple-hued space. So we've got two very different scenarios... but why? The following are some of my theories on this move by Rihanna and Drake.
1. It's A Statement On Public V. Private Life
I'm not entirely sure what that statement is, though. Maybe it's that Rihanna isn't just doing her seductive dancing for an audience; she does it for herself? Or that it's no one's business what she does in the privacy of her home?
2. It's About The Conflict Of Rihanna's Past And Present
Rihanna grew up in Barbados and did not have it incredibly easy, as she explained to an interview with Rolling Stone. Despite that, it is clear from the video that the pop star is still down to rep her home turf. I think the colors in the video really speak to this theory: the first space is bathed in red, yellow, and green while the second is purple, the color of royalty. Meanwhile, in the first video, she and Drake are surrounded by people, in the second they are alone. Could this all be some sort of statement about the changes in RiRi's life?
3. Rihanna And Drake Love Us And Want Us To Have Nice Things
Hey, maybe there is no master plan here, and they just know how much we love them and are willing to give us as much of them as we can handle. Who knows?
4. The Duo Is Showing Us What Hard Workers They Are
It makes sense that a song called "Work" would be representative of Drizzy and his gal pal's constant grind. Maybe with the two videos, they are showing that they are constantly working hard and aren't planning on stopping anytime soon. Two videos for one song? Definitely a sign of an overachiever.
5. The Second Video Was Just Fooling Around
It almost seems like Drake and Rihanna were just hanging out in a dressing room while shooting the first music video and started fooling around, dancing, and singing. Then they were like, "Wait, this is brilliant. Get the camera guy in here, and a gaffer so we can have some purple lighting, and let's shoot this shiz."
We may never know why Rihanna and Drake gave us two videos for the price of one, but I'm not complaining. As they say, don't look a gift horse in the mouth.
Images: RihannaVEVO/YouTube; Giphy (5)