11 Novels To Enjoy On National Margarita Day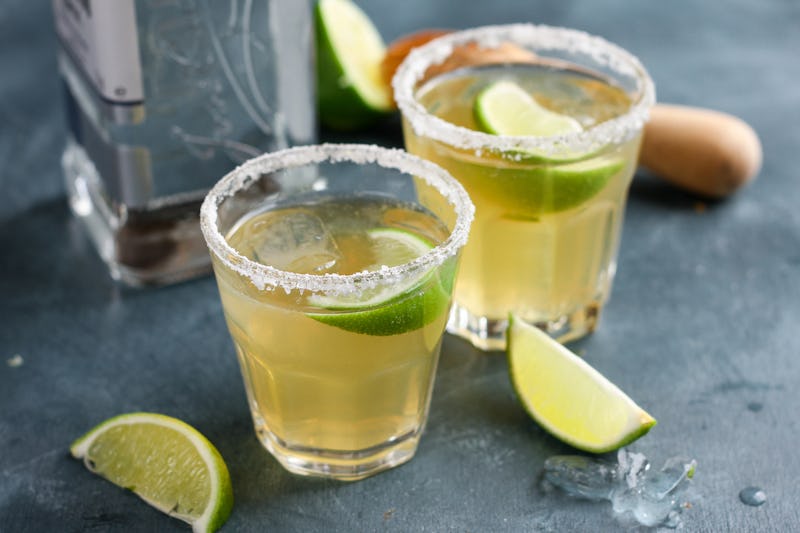 Good news, tequila fans! Today is National Margarita Day — clearly the most glorious of all national holidays. I mean, if a country can't come together on a day to celebrate margaritas, what good even are we?
There are lots of ways to celebrate National Margarita Day, the most obvious being to try out a few new margarita recipes. But since there's nothing quite so lovely as settling down with a good book and a stiff drink, you might also want to take this opportunity to pair your new cocktail with some new literature — preferably something that can make you feel like you're a million miles away from the winter cold.
So even though in an ideal world you would be celebrating National Margarita Day on a warm beach somewhere, a book in one hand and a frozen margarita in the other, for those of us who live in a place where February means the only thing frozen is the snow outside, a beach read might be the best we can do.
But the good news is that there are lots of beachy books that can help you get in the National Margarita Day spirit. So if you're looking for something to make you feel warm and summery as you sip that cocktail, here are 11 possibilities.
1. The Vacationers by Emma Straub
Is there anything better to evoke the feeling of being on vacation than a book with the word "vacationer" right in the title? Emma Straub's novel about an American family vacationing in Mallorca will have you feeling warm summer breezes in no time.
2. The Mambo Kings Play Songs Of Love by Oscar Hijuelos
This novel, which won the Pulitzer Prize in 1990, follows two aspiring Cuban musicians between Havana and New York City. The novel positively drips with mambo music and the feeling of warm summer nights. All that's missing is a drink — but I'm sure you can fix that.
3. Like Water for Chocolate by Laura Esquival
Tequila is, after all, Mexican so if you want to feel like you're in the heart of tequila country, Laura Esquival can help you out with that — and even though it doesn't take place near any beaches, it should have you feeling warmer than anything outside will. The book focuses on a family of women in-turn-of-the-century Mexico, showing the view of a country from the kitchen, and providing some great recipes for Mexican food along the way. Maybe you can eat some while drinking your margarita.
4. Margarita Nights by Phyllis Smallman
Take a trip to a Florida beach town and get into the first book in a mystery series while you're at it. The main character, Sherri Travis, is a badass bartender, so just imagine that you're sitting in her bar having her pour you a drink, the Atlantic Ocean just outside.
5. Fear and Loathing in Las Vegas by Hunter S. Thompson
Margaritas are awesome, but let's be real — tequila can also make things get very...interesting. So if you want to drink tequila while reading about someone whose mental state is even stranger than yours, join Thompson on his drug-addled ride through the Las Vegas and the surrounding desert. You'll be feeling warmer and stranger than ever.
6. Love in a Time of Cholera by Gabriel García Marquez
Take a ride into the jungles of Colombia and get pulled into all the passion and romance in Gabriel García Marquez's classic novel. The novel might be a bit denser than your usual beach read, but sometimes dense just makes things feel steamier. All that's missing is a drink in your hand.
7. Beauty Queens by Libba Bray
Just because you're a grown up who can knock back a few cocktails, that doesn't mean that you can't enjoy a nice young adult book — especially one that takes place on a tropical island. Libba Bray's satirical tale of a group of beauty pageant contestants who crash land on a deserted island is both a brilliant response to Lord of the Flies and the perfect companion to a margarita.
8. Cinnamon and Gunpowder by Eli Brown
Sail the Caribbean with a pirate queen and a kidnapped chef — and, of course, a stiff drink. It's a wild ride that is full of exciting escapades that are only better with a margarita. (And goodness knows the main character could also use a stiff drink, what with the whole getting kidnapped thing.)
9. Veronica Mars: The Thousand Dollar Tan Line by Rob Thomas
Beaches aren't just for Florida and the Caribbean — there are plenty in California, too, including the fictional town of Neptune. Relive the days when you were younger and Veronica Mars was still on television. And, of course, enjoy the fact that you're old enough for a margarita. Because there's nothing better than a mystery thrill ride and a drink.
10. Zorro by Isabel Allende
Beloved author Isabel Allende's take on this masked avenger might just be my favorite ever. The story recounts Zorro's early life as he becomes the hero we all know and love. And what could be better than enjoying a superhero origin story with a margarita?
11. Caramelo by Sandra Cisneros
Again, if you're celebrating National Margarita Day, it's only right to also celebrate the country that gave us margaritas to begin with. Caramelo is a story of a Mexican American family that moves between the U.S. and Mexico, full of exuberance and heart (kind of like we all are after a few margaritas). So mix yourself a drink and join the Reyes family on their summer trip south of the border. You'll be feeling like summer in no time.
Image: Fotolia