JoJo's Brother Martin Isn't A 'Bachelor' Ben Fan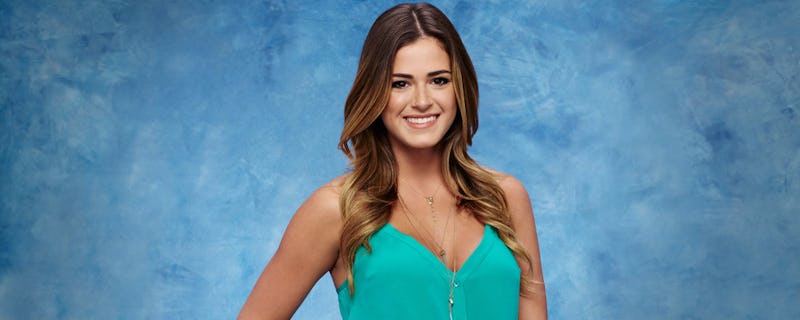 Season 20 of The Bachelor is coming into the homestretch. We are down to the final four ladies and things are going to start getting real. Why is that? Well, because The Bachelor hometown dates are finally upon us. Seasoned Bachelor fans know that this is usually the time when things really start to really explode. Tough decisions tend to become very clear once the Bachelor checks out the contestants in their own element. Being one of the last ladies standing, JoJo will be getting a hometown visit this week. And, previews promise a tense meeting with those who love her most. So, who is JoJo's brother, Martin Patton?
According to the promos, Martin is someone who is not too thrilled with his sister being one of many potential choices on a reality dating show. Along with her other brother, he grills Ben about his intentions and his motivation for becoming The Bachelor. At one point it seems like things start to ramp up from mildly awkward to slightly aggressive. Although brothers protecting their sister is sweet and admirable, I have to feel for JoJo. She probably wanted the earth to open up and swallow her at times during their interrogation. Raise your hand if you have been there. #BrotherProblems
JoJo's brother Ben has actually also been a bachelor on another reality dating show. According to The Daily Mail, he was looking for love on, Ready For Love on NBC in 2013. It's surprising how intolerable he seems of Ben Higgins, considering he was once in a similar position. Her brother Martin is lesser known but just as peeved about Ben dating their sister. He even goes as far to say that Ben needs to stop "brainwashing these girls." Whoa. Bustle reached out to Ben for comment on the unsubstantiated accusation but did not receive a
Not much is known about JoJo's brother, Martin. His accounts are pretty much on lockdown, so gathering information directly from him is not an easy task. What we do know is that he is a fiercely loyal brother to his family. That can obviously be taken directly from the promo for the hometown visits. When we take a look through JoJo's Instagram and Twitter though, we can see that these siblings are incredibly close.
Siblings Who Surf Together...
Stay together? JoJo and her brothers surf together, which I think is pretty awesome. Risking drowning and being eaten by various sea creatures? Talk about a rad bonding experience.
Looking Fancy Together
Look at these sibs all dolled up. Side note: Is she hiding her left hand on purpose in the photo from two months ago? Intrigue.
Cheering On Teams Together
Originally from Texas, these sibs cheer for the Cowboys.
#SiblingRivalry
A little friendly competition is healthy. These sibs may be rooting for different schools but they still feel the love.
I don't know about you, but I know I am psyched to see just how awkward and intense Ben's meeting with JoJo's brothers goes this week when he visits the hometowns. No matter what, she's lucky to have brothers that want to protect her so fiercely. But, hopefully they can respect her decision to like Ben, as well.
Image: Craig Sjodin/ABC