'Bachelor' Star Amanda's Parents Are Protective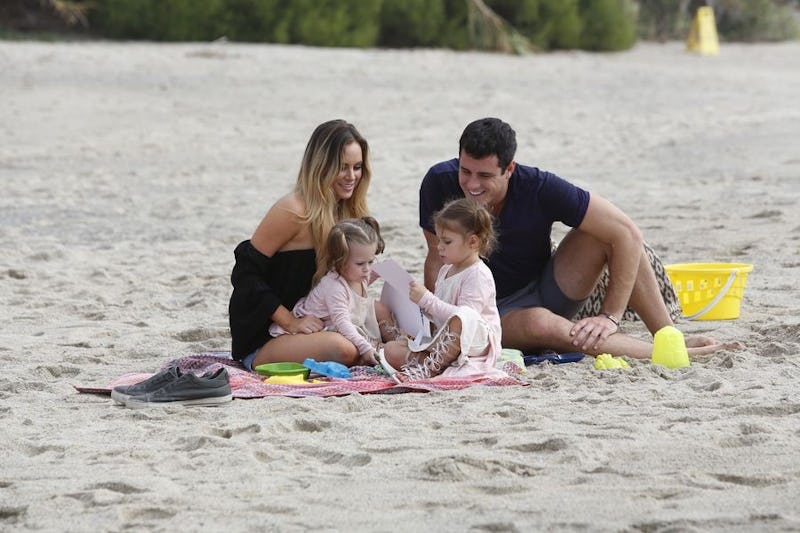 On Monday night, fans get to see Ben head to his final four ladies' hometowns. We get to see him interact with families and get grilled by brothers. It's always my favorite part of the season because it tends to bring forth new drama and hugely rash decisions. Amanda is one of the lucky remaining four, and, by the looks of it, her date with Ben goes pretty well. We get a glimpse into her family life in the preview and Amanda seems to have loving but protective parents on The Bachelor. Their caution is is pretty understandable when you take a look at Amanda's situation.
Her mother and father are pretty elusive online. There is not much information that is able to be dug up about their lives or professions, but what I was able to find seems to demonstrate that they love their family to bits. From Amanda's Instagram, I was able to deduce that her mother's name is Michelle and she has an Instagram full of photos of Amanda's daughters and Amanda herself. She seems to absolutely adore her family and her grandchildren especially. It is a perfect image of the woman we see in the preview for this week sweetly but sternly saying, "I'm very cautious."
Amanda's father also questions Ben during the promo for this week, asking whether he is ready to become an "instant dad." Both of them seem to be ready to swoop in and save their daughter from a possible heartbreak situation. This is completely understandable when you consider what she has said about how her ex-husband, who is the father of her two daughters treated her.
Amanda just recently divorced her ex before going on The Bachelor. During their one-on-one date, Amanda really opened up to Ben about the circumstances surrounding the disillusionment is of her marriage. She claimed to Ben that he had "an addictive personality" and "wasn't always the nicest person" to her. Her ex has not yet responded to Bustle's request for comment on the allegations.
Coming into hometowns, Ben is not only there to possibly marry their daughter, but he is also representing himself as a possible father figure for their grandchildren. That's much heavier of a situation than is happening in the other hometown visits.
While every relationship deserves to be treated independently from any in the past, this particular situation is pretty complicated. No one could blame Amanda's parents for putting up the walls and not quite trusting this whole process. After all, this is a man who whittled 28 ladies down to four, which includes their daughter who is the mother of their beloved granddaughters. There is a lot riding on him not being a giant jerk. (Not that he ever would.)
It will be interesting to see if Amanda's parents end up feeling comfortable with Ben and with the whole situation. I'm looking forward to seeing the outcome on Monday.
Images: Greg Zibilski/ABC(2)