Try This DIY Starbucks Citrus Green Tea Latte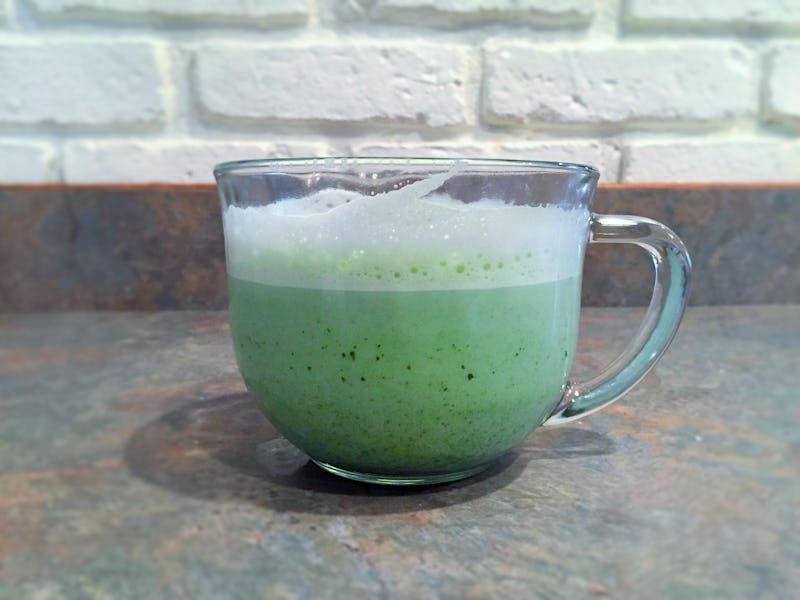 Tea lovers, brace yourselves, because I have some amazing news for you: Starbucks launched a new, limited release beverage, and it stars your favorite caffeinated beverage. No longer must you feel left out when all your friends are sipping their cool flavored lattes, because you now have the new Teavana Citrus Green Tea Latte to satisfy your needs, and what's even better about it is that you can learn how to make the Citrus Green Tea Latte at home.
If you haven't treated yourself to Starbucks' latest menu offering, then might I ask what you've been waiting for? The Teavana Citrus Green Tea Latte is a light and refreshing green tea dream infused with hints of mint and citrus flavor. It's a fun twist on the classic latte, and a complete overhaul of your standard cup of tea. And, for a Starbucks fanatic like myself, it's the perfect excuse to try something new.
It's so delicious, that I'll be sad to see it leave the menu after March 21, but just because Starbucks won't sell it anymore, doesn't mean my days of sipping citrus tea lattes are over. Since I love Starbucks, and I love learning how to make new things even more, I decided to find a way to recreate the new drink myself at home. A unique beverage unlike anything else I've tried to hack at home, I had to be creative in the kitchen and buy new ingredients like matcha powder (don't worry, it's easy to find and buy at any health food grocery store), but in the end, I was delighted with the results.
In case you love it as much as I do, here is how you can try and make Starbucks' newest beverage at home.
Ingredients
1 tsp. matcha powder
1 tsp. simple syrup
1 cup of steamed milk
1 mint citrus tea bag
Hot water
1/2 tsp. granulated sugar for topping (optional)
1/2 tsp. lemon zest for topping (optional)
Directions
1. Using hot water and a mint citrus tea bag, brew a strong cup of tea, steeping for three to five minutes.
2. To make steamed milk without a machine, pour milk into a microwave-safe container with a lid. Shake vigorously for 30 to 60 seconds, until it becomes frothy and doubles in size. Microwave for 20 to 30 seconds, or until warm.
3. In a cup that is at least 12 ounces, add one tablespoon of matcha powder.
4. Add two ounces of the mint citrus tea and one teaspoon of simple syrup to the matcha powder, and stir.
5. Pour the steamed milk over the tea mixture until your cup is filled. To make lemon topping, mix lemon zest and sugar together. Sprinkle mixture on top, and serve immediately.
The Verdict
While some Starbucks beverages are easier to make than others, the Citrus Green Tea Latte proved to be one of the most difficult to recreate. Complex and flavorful, my DIY version came out similar to the official drink, but didn't hold together as well as the store-bought beverage. Regardless of the differences from the Starbucks menu item, this at-home creation is still a tea lover's dream.
Unique and bursting with flavor, this new recipe will change the way you look at tea, and probably change the way you drink it, too.
Want more fun food ideas? Check out Bustle on YouTube.
Images: Sadie Trombetta