How Many Are Women Sexually Assaulted At School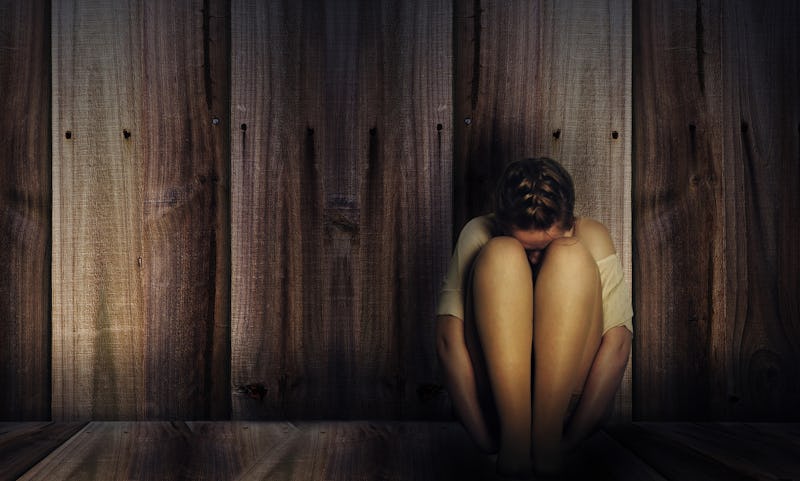 Plan UK, a large children's charity in the United Kingdom with a focus on the rights of young girls, has released a devastating study that reveals one-fifth of women experience "unwanted sexual contact" in school as children and teenagers. The study defined unwanted sexual contact as rape, sexual assault, unwanted touching and/or groping, and flashing. For the study, 3,700 British people, 18 years old and over, were interviewed by the organization; more than 2,000 of the interviewees were women. While media has reported on sexual assault on college campuses for the past few years (thanks to the amazing work of survivors and activists), the results of this research confirm the fact that, for many women, primary and secondary schools aren't safe either.
A 2014 British study by The Office for National Statistics (ONS) also reported that "7,000 sexual assaults against children aged 13 or younger, and more than 4,000 rapes of children under 16" had occurred that year, and those are just the incidents recorded by the police.
Per the Plan UK study, 22 percent of women had experienced unwanted sexual contact on or near school grounds. Ten percent of the women reported that it occurred frequently or more than once, while the rest of the women said it happened "rarely" — but it did happen. And, not surprisingly, more than three out of five of the women interviewed (61 percent, so more than half) "never reported incidents to a teacher or another person in authority." This is largely due to the fact that young girls are made to feel that any unwanted sexual attention is their fault, and because they have seen authority figures either not believe the abuse or punish the survivor, or they have seen vocal survivors ostracized by their peers.
Tanya Barron, who works with Plan UK, told The Independent, "Our findings show that schoolgirls have been suffering in silence for decades... Unwanted sexual contact can affect a young girl's self-esteem and educational achievements... This is a global problem. Girls and boys need clear messages that unwanted sexual contact in or around school is not acceptable," nor is it acceptable at any place at any time.
This injustice is, as Barron stated, not limited to the UK. In 2015, as reported by the Huffington Post, 53 federal investigations were launched at 51 school districts in the United States after the organization Stop Sexual Assault in Schools (SSAIS) began advocating for high school students whose reports of sexual violence had either been mishandled or completely ignored. SSAIS works to help those who have been failed by their school administrations use Title IX to lodge federal complaints, following in the footsteps of college activists. Huffington Post also reported studies that found one in four women in the U.S. face sexual violence before they even get to college, and one in five middle schoolers in America "had experienced unwanted sexual contact."
Furthermore, as reported by the National Sex Offender Public Website, 82 percent of all victims and survivors under 18 years old are girls, and one in five girls in high school experience dating violence and 1.8 million teenagers of all genders are sexually assaulted.
Let's delve further into the results of the study by Plan UK:
1. Women Have Been Experiencing Unwanted Sexual Contact For A Long Time
Because of the wide range of ages included in the study, researchers were able to document the prevalence of sexual violence against girls in school that happened decades ago. Barron says, "It is extremely worrying to see that girls have been experiencing unwanted sexual contact in or around school since at least the 1940s." And because of the state of the world, we know that this was still happening way, way, way before the 1940s.
2. It Also Includes The Experiences of Young Boys
While the majority of the interviewees were women, Plan UK also spoke to men in order to document their boyhood school experiences. After compiling the responses of both men and women, the study found that one in three adults (32 percent) between 18 and 24 years old and one in 10 adults (11 percent) aged 65 and older "reported experiencing unwanted sexual contact in or around school." In the U.S., one in six boys will be sexually assaulted before adulthood, as will one in four girls.
3. Here Are Solutions To Combat The Violence
The study advocates for several steps to be taken to reduce and eventually eliminate gender-based violence in schools. It recommends "high quality statuatory rape and relationships education to help young people understand healthy relationships and consent." The Personal, Social, and Health Education Association has already instituted a program that teaches consent and healthy relationships to elementary school-aged children, starting as young as 11, and this new research argues for more schools to adopt these types of programs. When children are not taught about communication, enthusiastic consent, their right to say no, and the absolute necessity of listening when a partner says no, they grow into adults who perpetuate rape culture.
A government spokesperson was quoted in The Independent as saying, "Sex and relationship education is already compulsory in all maintained secondary schools and we expect academies and free schools to teach it as part of the curriculum. We are also working with leading headteachers and practitioners to look at how to raise the quality of personal, social and health education teaching, which includes sex and relationship education."
The study also called for schools to enforce bullying policies that acknowledge the unique types of harassment faced by different genders and that especially focus on sexual "violence against girls." It also demands that schools foster a safe environment that protects survivors and helps them to feel safe enough to report these incidents. The victim-blaming narrative around the world already lets rapists and abusers off the hook, if it doesn't also result in the survivor getting punished for her own assault. If these injustices aren't addressed, young girls and women can't feel safe enough to go to any kind of authority.
Additionally, the study addressed the need for "support for teachers to prevent and manage incidents" of unwanted sexual contact. Survivors require empathetic, sensitive, empowering support when reporting abuse. Counselors also need to understand consent and rape culture in order to respond appropriately and in a non-triggering, non-shaming manner. Without training, it is hard for administrators to know what to do. And a lot of them do the wrong thing. A recent study conducted by Break the Cycle found that, in America alone, "80 percent of high school counselors say they feel ill-equipped to deal with reports of abuse on their campuses."