'The Bachelor' Fantasy Suite Isn't Just About Sex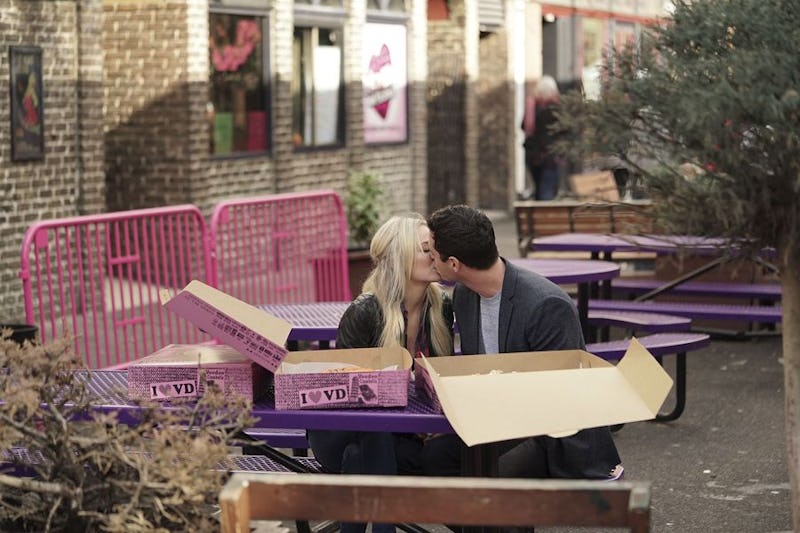 Is it just me, or has this season of The Bachelor totally flown by? After Monday night's hometown dates, next week is already time for Bachelor fantasy suites, which means Ben will finally get time to spend privately with Caila, Lauren, and JoJo. And, of course, the first question on everyone's mind is who Ben has sex with during the fantasy suite dates, but that's so not the point. In fact, even though many people would say those nights are purely to provide the option for these people to sleep together, I definitely disagree.
Think about it this way: Until now, Ben hasn't spent any time with any of these women alone — at least, as far as any of us knows, anyway — and very soon, he's expected to propose to one. He's stayed pretty serious about the process so far, but it'd be ridiculous to expect him to pick someone to spend his life with without talking to her in private first. Actually, it's kind of ridiculous to expect him to make that kind of decision after only one night of privacy. But, that's what those dates are for: The chance for the two of them to spend time together, away from the cameras and the pressure of filming, to get to know each other better and figure out if their relationship has a chance of working in the real world.
One thing's for sure: From the promos for next week's episodes, emotions are going to be running high, and so is the drama. It's going to be a tough decision for Ben, so it's a good thing he gets this opportunity for more one on one time with three women who he obviously has real feelings for.
And, let's be real — Who Ben does and does not sleep with is none of our business, even if watching The Bachelor makes us fans feel like we're personally invested in these relationships. You do you, Ben. The rest of us will be waiting to see who you pick... and crossing our fingers that you make it down that aisle.
Image: Levy Moroshan/ABC