A Look Back At Philip Seymour Hoffman's Greatest Roles, From 'Capote' to 'Hunger Games'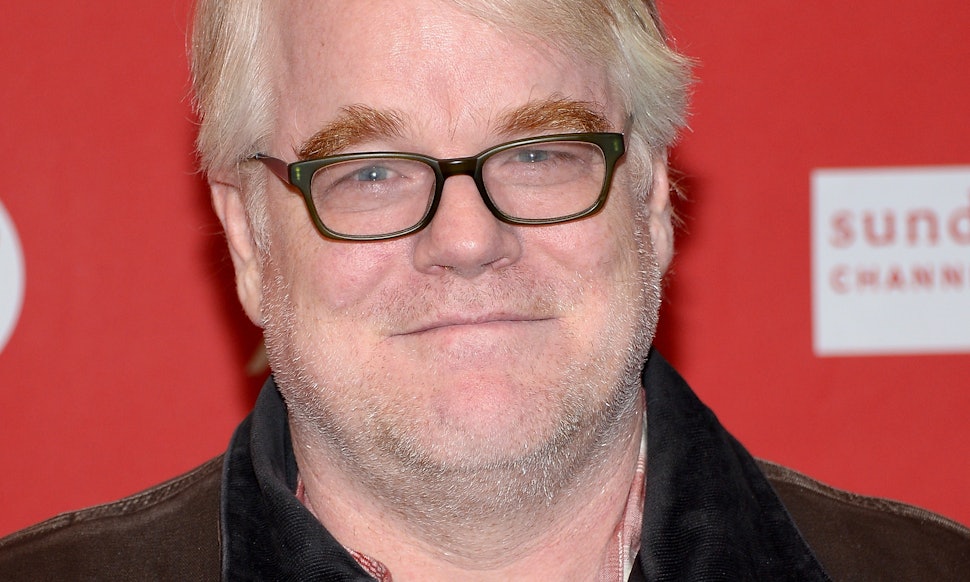 Michael Loccisano/Getty Images Entertainment/Getty Images
Another day, another Hollywood tragedy. Philip Seymour Hoffman was found dead in his Manhattan apartment Sunday afternoon, leaving behind a bevy of grieving fans and co-stars who admired him for his undoubtedly great work on screen. The actor, who received an Academy Award for Best Actor in 2005 for his role in Capote as well as several other Oscar and Golden Globe nominations throughout the years, impressed millions with his ability to truly mold himself into his many characters. Let's take a look back at some of his best.
Boogie Nights (1997)
Known to us in this movie as Scotty J. Philip, a man who falls in love with porn star Dirk Diggler, Hoffman was nominated for the Screen Actors Guild Award for Outstanding Performance by a Cast in a Motion Picture. We'll never forget this line: "I'm a fuckin' idiot."
Image: New Line Cinema
The Big Lebowski (1998)
Acting as Brandt in this film starring Jeff Bridges, John Goodman, and Julianne Moore, among others, Hoffman's performance was lauded (if often forgotten alongside Bridges' star turn). Paste, for one, listed this film at number eight in Hoffman's top 10 movies: "Becoming a sniveling sycophant is no easy task for an actor who often plays dispassionate characters, but Hoffman manages to accomplish it almost instantly," Katie King wrote.
Image: Gramercy Pictures
'The Talented Mr. Ripley' (1999)
Although this movie focused on the relationship between Tom Ripley (Matt Damon), Marge Sherwood (Gwyneth Paltrow), and Jude Law (Dickie Greenleaf), Hoffman's part as Freddie Miles made a major impression on moviegoers everywhere. "Whatever the merits or defects of the films he's graced – from Boogie Nights to Twister to Happiness – Hoffman has effortlessly stood out, specializing in spooky man-child marginals that you'd ordinarily cross the street to avoid, and building up what he wryly calls 'my quirky redheaded-guy rep company," Stuart Husband wrote of Hoffman's acting.
Image: Paramount Pictures
'Almost Famous' (2000)
Centered around a high school student and aspiring journalist who follows the lives of the band members of Stillwater for Rolling Stone magazine, Almost Famous also starred actors like Kate Hudson and Billy Crudup. Hoffman played the role of an actual music journalist, Lester Bangs. In 2000, A. O. Scott of The New York Times wrote, "I, for one, am unable to resist a movie that places the voice of wisdom in the mouth of a critic, the great Lester Bangs, played with guile and gusto by Philip Seymour Hoffman."
Image: Vinyl Films and DreamWorks Pictures
Capote (2005)
Hoffman won an Academy Award for Best Actor for this film about the In Cold Blood author. He also won a BAFTA Award for Best Actor in a Leading Role as well as a Golden Globe Award for Best Actor in a Motion Picture Drama. The story revolves around Capote, a writer who, while doing his research about the murder of a Kansas family, becomes close to one of the killers.
Image: United Artists and Sony Pictures Classics
The Savages (2007)
Acting alongside Laura Linney, Hoffman starred in this production that illustrated the relationship between a brother and sister who must face family responsibility when taking care of their father, despite his abuse toward them when they were younger.
Image: Fox Searchlight
Charlie Wilson's War (2007)
Playing alongside other big name actors like Tom Hanks, Amy Adams, and Julia Roberts, Hoffman took on the role of Gust Avrakotos, a CIA operative who worked with Charlie Wilson to launch Operation Cyclone. The film detailed the true story of the Soviet war in Afghanistan. Hoffman was nominated for Best Supporting Actor, but lost to Javier Bardem's performance in No Country for Old Men. He did, however, win an award for Best Foreign Actor at the Sant Jordi Awards in 2009.
Image: Universal Pictures
'The Hunger Games: Catching Fire' (2013)
Younger movie fans knew him as Plutarch Heavensbee, the first Gamemaker in The Hunger Games franchise to rebel against the capital. Hoffman's character was also supposed to appear in part 1 and part 2 of The Hunger Games: Mockingjay, which was currently filming.
Image: Lionsgate