When Will 'Brooklyn' Be On Netflix?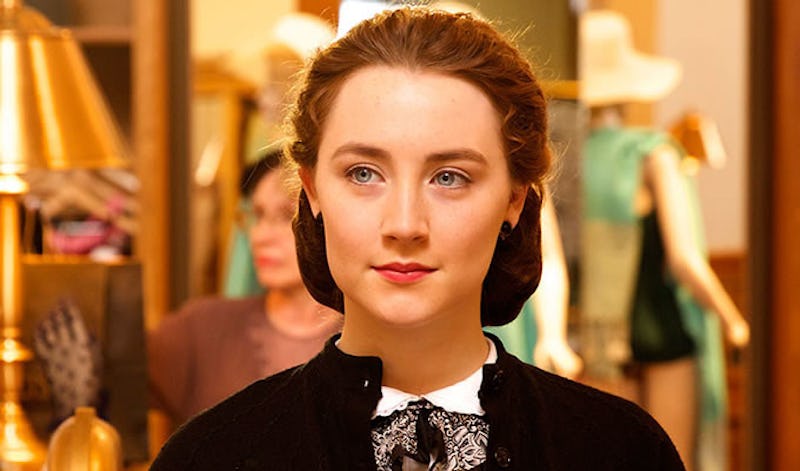 As one of this year's Oscar nominees for Best Picture, Brooklyn is a film we've all been talking about. If you haven't had the pleasure of watching Brooklyn, you're probably dying to get your hands on this year's Oscar contender before the ceremony begins. Even though that's understandable, unfortunately — and hate to break this to you, really — it's not that easy. If you're wondering when Brooklyn will be available on Netflix or DVD, keep in mind that the film is still playing in select theaters. In other words, you might have to be patient.
Based on the novel by Colm Toibin, Brooklyn follows the story of a young Irish immigrant named Eilis Lacey (played beautifully by Saoirse Ronan), who leaves her homeland to settle down in 1950s Brooklyn, New York. Eventually, Eilis finds herself caught between two places, and two romantic suitors, when a family tragedy brings her back to Ireland. And that's pretty much all there is to the story, but, as anyone who's seen it knows, the narrowness of the plot only makes it grander. Ronan's performance is nuanced, and multifaceted (she happens to also be up for an Oscar), and her male counterparts (played by Emory Cohen and Domhnall Gleeson) ground the film in a way that's unexpected and completely necessary to its success.
As stated before, Brooklyn is still making its way around select theaters, even though it was released back in November of 2015. But, there is some good news. Brooklyn will be available on DVD March 15. So there you go. Of course, though the director behind Brooklyn doesn't have films currently on Netflix, the man who penned the screenplay (Nick Hornby) does. You can catch About A Boy or A Long Way Down on Netflix right now — both adaptations of novelist/screenwriter Nick Hornby's books.
Even though it's impossible to know at this point when Brooklyn will be available on Netflix for streaming, we can hold out hope that it will indeed be there someday. And in the meantime, feel free to try and catch the film in theaters or order it on DVD come March 15. Trust me, you won't be disappointed.
Images: Lionsgate; Giphy