The 'Fuller House' Sneak Peek Makes 1 Thing Clear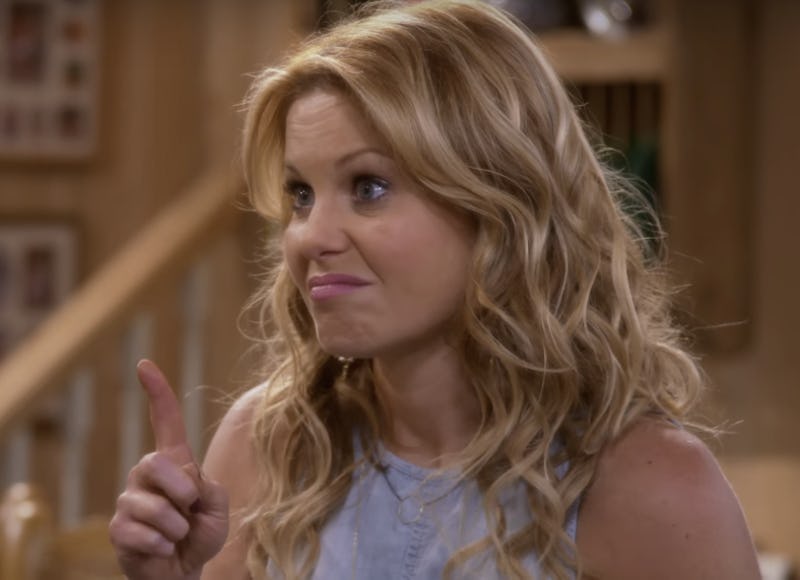 Feeling a little unsure about the Full House reboot? Well, there's no need to fear! On Tuesday, a new Fuller House sneak peek from the upcoming Netflix show was released, and it shows Full House fans that this continuation is not going to lose its original heart. The one minute clip provides fans with short clips from the new show, along with behind-the-scenes styled interviews with members from the original cast. And, while the show clearly doesn't lose its original sense of cheese, it also seems to know how to balance the newly formed generation gap with its original intention of family values.
When the clip begins, we see Danny being exactly the kind of grandfather we always imagined him to be (Dad jokes, anyone?), while the show also sheds light on the Full House versus Fuller House comparison. However, as the clip goes on, we immediately see that the show isn't going to take itself all too seriously. Viewers don't just get more jokes and family hugs. They also get the cast's very own thoughts on their Netflix-watching experiences. And, before you know it, the tables are turned in the Tanner household. This time around, it's D.J. who is teaching everyone about parenting, and she is exactly the mini-Danny you would have expected her to be.
The only place for fans to look now is in the future. From just this clip, it becomes clear that the show's modern twist doesn't seem to take away from its heartwarming feels. The nostalgia just keeps getting more and more real.
While it can be hard to get families to all sit in front of the television together these days, Netflix may help provide that much-needed, planned-out family time for Fuller House viewers. And, honestly, I can totally picture the entire Tanner household coming together for a Netflix movie night, just like I can totally imagine that I am going to be getting my family together to watch this amazing show updated for a new generation of parents young and old, children young and old, and children at heart of every age.
So, Full House lovers: Clear your calendars, because Fuller House is going to be up and streaming on Netflix as of February 26.
Images: Netflix US & Canada/YouTube