Steve Is Back On 'Fuller House' & Better Than Ever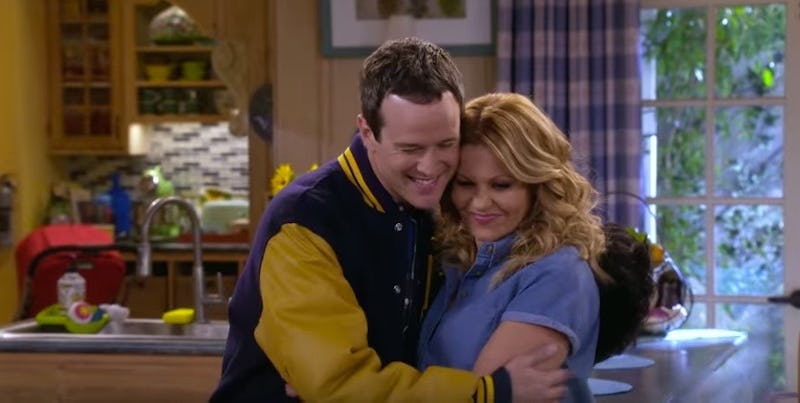 Be still our nostalgic hearts, Fuller House is here! The Netflix revival of the most '90s sitcom of all time, Full House, hit the Internet with 13 streaming episodes on Friday, Feb. 26. Fuller House will bring back all of our favorite Tanneritos and friends, sans the Olsen twins. (But, let's be real, Michelle could be pretty annoying.) Even Steve is coming back! That's right, Deej's high school boyfriend is returning to the magical rowhouse with infinite space, but how many episodes of Fuller House will Steve be in?
Fortunately way more than the one episode IMDb originally reported. Steve's in a total of six episodes of the 13. Not as many as ALL of them, but still pretty decent. Still, you can't blame me for wanting more. D.J. and Steve's perfect coupling had us 'shipping them pretty hard in the early '90s. Steve's wavy black hair, letterman jacket, and humorous garbage disposal appetite paired perfectly with coolest big sister ever D.J.'s blonde hair and smarts. Of course, Steve was a grade older and college broke the couple up — though Steve did return to take D.J. to her senior prom. (P.S. Scott Weinger who plays Steve and Candace Cameron Bure who plays D.J. went to prom together IRL as friends, according to Glamour!)
While D.J. didn't marry Steve Hale, but a Mr. Fuller, now that she is widowed and living back at home, she does run into Steve again. In the Fuller House trailer Steve is wearing the same letterman jacket and a black wig — and he has the same appetite. But, will D.J. and Steve pick up right where they left off?
It seems like they'll certainly try. But, for now, to celebrate his return, here are Steve's 9 best moments from Full House.
1. When Michelle Creeped On Steve and D.J. Kissing
See, no one is going to miss Michelle in the reboot.
2. When Steve Married Michelle
And, he was rightfully creeped out by her… again.
3. When Steve Helped Michelle With Math
And, no cookies were safe.
4. When Danny Had No Chill About Steve's Apartment
Jeez Danny, D.J. is super responsible and trustworthy.
5. When Steve Told A Scary Story
Somehow the mud on his face wasn't off-putting?
6. When D.J. And Steve Went To Prom The First Time
And Becky was a "lame" chaperone. Please, Becky's the coolest one.
7. When D.J. Thought Aladdin Was Steve At Disney World
Which was funny because Steve, Scott Weinger, voiced Aladdin IRL.
8. When Stephanie Made Him Mad With A Macaroni Love Story
Like any Henry could ever replace you, Steve?
9. When Steve Took D.J. To Prom
In the final scene of the series Steve takes D.J. to prom. And, Michelle can remember again or whatever. But mostly Steve.
Image: Netflix