'Code Black' Needs To Return For More Drama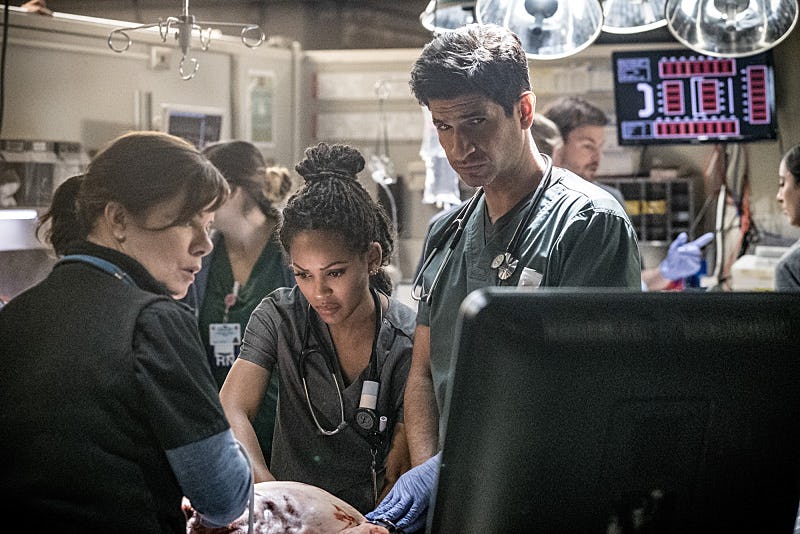 Where there's a winter finale, there's a fanbase worried about Season 2 renewal, and with the finale of Code Black Season 1 set for Feb. 24, the renewed/cancellation watch begins. And, while there's no official news on whether or not emergency room drama Code Black will return for Season 2, fans of the show shouldn't be too worried. While the show's average of 9 million viewers per episode, according to TVLine, isn't fantastic, it was more than adequate to justify an order of an additional six episodes for Season 1, according to The Hollywood Reporter.
Plus, the show is something that CBS doesn't really have right now — a medical drama. And, with shows like Grey's Anatomy and Chicago Med on other major networks, it behooves CBS to let this show stick around. Plus, who doesn't want to see Marcia Gay Harden get more work? If there is anyone who is opposed to seeing the Academy Award-winning actress in more TV shows and films, please, send them my way so I may set them straight with a double feature of Miller's Crossing and Trophy Wife.
But, besides simply being a show that's successful enough to warrant a renewal, Code Black is also doing its best within the confines of the medical drama genre. After years of shows like House and ER, there are certain almost formulaic aspects of the genre that always wind up plaguing its entries. So far, Code Black has been good enough to avoid a lot of those pitfalls — and these should be more than enough reasons to warrant the show's renewal.
No Love Triangles
The biggest cliche about medical shows is that all the doctors seem to care more about their sex lives then the patients their servicing. And, while the show does have some flirting, it's not all about steamy make-out sessions.
Not Shoehorning In Current Events
Look, the "ripped from the headlines" thing works for certain shows (namely, SVU), but sometimes it can seem glib, or not thought through. Instead of jumping on a national conversation about hot topics, Code Black is focused on telling smaller and more personal stories.
It Doesn't Avoid Gore
Code Black incorporates a lot of grisly medical viscera, and it's not for the faint of heart (or stomach). And, while blood and guts freely fly across the screen on cable shows, it's impressive filmmaking from a show that's on network TV.
It Doesn't Pretend That Resources Are Limitless
I love House for the fun of guessing what incredibly rare malady each patient will have every week. But, that show, and a lot of shows like it, make it seem as though doctors get the luxury of spending as much time as they want on each patient, while Code Black acknowledges how overworked medical staff can really be.
It Doesn't Give Doctors "Edgy" Problems
For a while, in the post-Nurse Jackie world of TV hospital dramas, there was a need to give the main doctor a big secret. This reached its nadir in Do No Harm, a Jekyll-and-Hyde take where a doctor would switch into a totally different, "evil" personal at night.
There Is No Key Art Featuring A Motorcycle Inside An Emergency Room
This probably isn't a cliche, but it is something that happened, as promotion for The Night Shift, an NBC medical show that's had three seasons so far. And, while it was hilarious, it was not the tone that the show, which is relatively serious, probably wanted to strike. Sometimes, the more medical dramas try to put their spin on old medical tropes, the more they wind up becoming ridiculous. Meanwhile, Code Black does well by committing itself for telling more realistic stories about patients and doctors in a high stress emergency room.
Image: CBS; Giphy (4)