Spencer Hastings Is All Of Us In College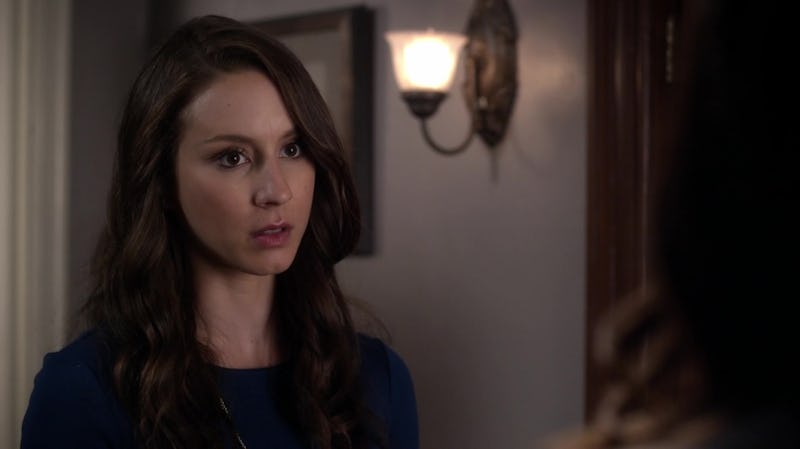 If you're a college graduate, you likely look back on your early college years with a healthy bout of nostalgia — especially the very first year you hung up your high school hat and walked confidently into your new co-ed dorm. Though college can be its own wonderful and weird experience, there's something particularly magical about freshman year. For many, it's the very first time that they were on their own, without parents making sure they were back by curfew or teachers checking to make sure you completed your homework assignments. There's just so much newness to freshman year: friends, classes, parties... every day has such potential. If there's one character that I wish I could have seen tackle it all, it's Pretty Little Liars ' Spencer Hastings.
Unfortunately, Pretty Little Liars fans won't get to see Spencer's freshman year at university, unless they're shown to us in flashback. (Umm, please, PLL?!?) The five-year time jump means that Spencer has put her freshman year way behind her — but that doesn't mean that she wouldn't have the perfect quips for every first year related problem and scenario. Here are all of the times that Spencer was you during freshman year of college:
1. When You Go To The Car To Say Goodbye To Your Parents On Move-In Day
You've dreamed of leaving for college basically since you started high school, but now your mom is crying and you suddenly feel the need to jump back in the car and spend the next four years in your childhood bedroom. Fortunately, in about five minutes, the feeling passes.
2. When Your Roommate Unloads Her Entire Life Story On You
You're already sharing a bedroom, you might as well know about her super secret tattoo and deepest, darkest secrets.
3. When You Get Your First Reading Assignment And You Don't Understand Any Of It
You frantically email the entire class listserv hoping that someone can explain the reading to you. There's just no way you're the only one who is this lost.
4. When No One In Your Class Understands The Assignment, Either, And You Can Slave Over It Or Go Out
Because maybe you'll meet someone who does understand the terminology at that frat party. It could happen.
5. When Someone Says They Went To High School With You And Sat Next To You In Math Class Sophomore Year, But You Definitely Already Forgot Their Name
That was like, 30 years ago.
6. When Your R.A. Is Doing Room Inspection And You Realized You Left A Candle Out
You can't live without your lavender aromatherapy candles, but, unfortunately, you can get fined for having them in the dorm.
7. When It's Your First Finals Week And You're Trying To Find Time To Do All Of Your Papers
You're pretty sure you have more pages of papers to write than there are hours in a day. Not good.
8. When You're In The Middle Of Finals Week
You just want to hang out with your friends, and also your bed for more than two hours a night.
9. When Your Roommate Insists That She Did Not Take Your New Scarf
For example: When she posts a selfie on Instagram wearing it.
10. When You Have A Floor Meeting And Also About A Million Other Things Going On
You have an exam to study for, a paper to write, and a friend back home to Skype with.
11. When Your Parents Remind You That Summer Is Only A Few Months Away
Your college life has had its ups and downs, but you wouldn't trade it for anything... and you'll probably be sobbing all the way back to your hometown.
Ahh, freshman year. We may have never seen Spencer's, but we know she would have killed it.
Images: Freeform; Giphy (11)