More 'Gilmore Girls' Casting News!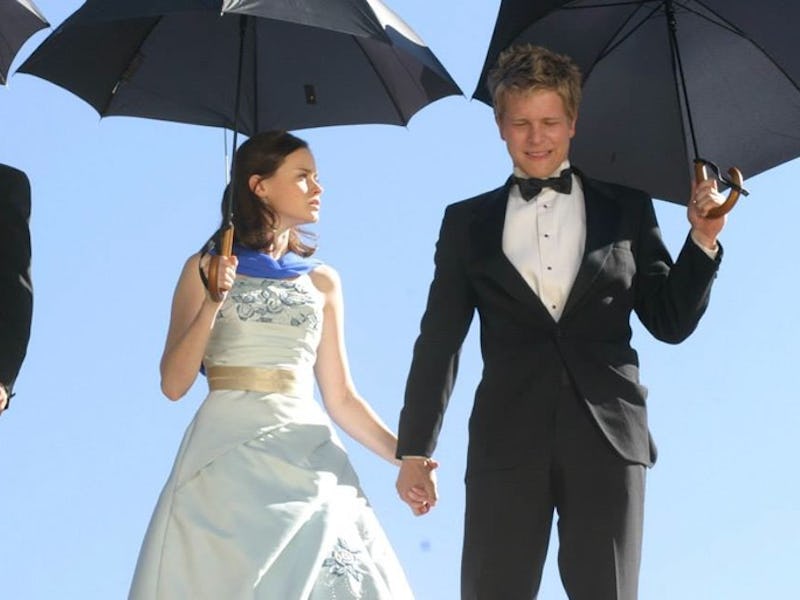 Time to get even more excited for the Gilmore Girls revival, Stars Hollow fan. Series star Alan Loayza, who portrayed Colin McCrae on the series, announced on Tuesday via Twitter that the Life and Death Brigade is officially returning to the Gilmore Girls revival. Colin, of course, was around during Rory's Yale years, and, alongside Rory's boyfriend Logan, was a member of the Life and Death Brigade — the secret society that was based off of Yale's real secret society, Skull and Bones. Yep — this means there will be even more characters than we originally thought coming back to hang out with Rory in her current life.
Can I just say how happy this constant trickle of new casting news coming straight from the Gilmore Girls revival set makes me? It feels like one long list of amazing things we can expect from the Netflix series. Plus, the more people they bring back for the reboot, the more this baby is going to be chock full of amazing throwbacks.
Think about it: It's actually kind of really impressive how many original cast members are returning to the revival at this point. What started off as a cast of just a few of the core members has slowly turned into almost everyone from the original Gilmore Girls cast. And how lucky are we that so many of them are returning for another year in Stars Hollow?
Answer: So lucky!
Rarely is there so much enthusiasm from so many previous cast members to return to a project. But, there's something about those Gilmore Girls — pretty much everyone who was once a part of the cast will be returning for the revival, which means this four-part miniseries is going to be stuffed to the brim with people and plot points and love triangles that will give all us fans major déjà vu. I'm really counting on the entire thing being like one big throwback. But, to all the years between 2000 and 2007.
So get your mid-aughts memorabilia ready, Gilmore Girls fans, because this revival is gearing up to be one long throwback to some of the best years Stars Hollow has ever seen.
Image: Warner Bros. Television; Giphy