These Celebs Need To Be In The 'GG' Revival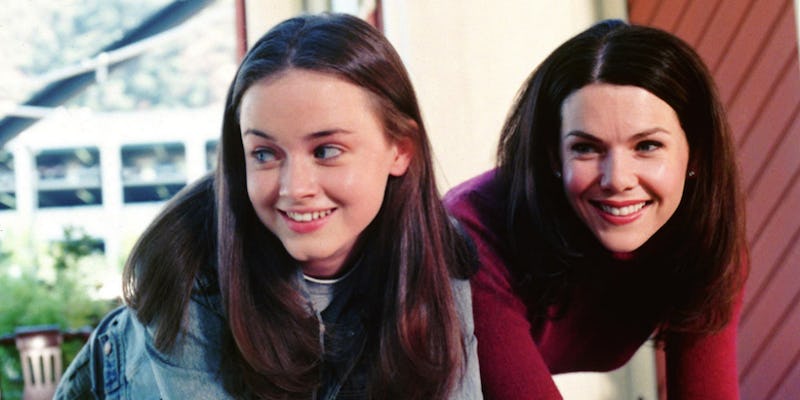 Now that Lauren Graham and Alexis Bledel are officially reprising their most beloved roles of Lorelai and Rory Gilmore, respectfully, it's time to talk about the celeb cameos we want to see in the Gilmore Girls revival. Don't get me wrong, there are already many familiar faces returning to Stars Hollow (thank goodness for that!), but wouldn't surprise appearances by some random celebrities and actors make it even that much better? The answer is, yes, it most definitely would.
As all die-hard Gilmore Girls fans know, Lorelai and Rory love movies and know all there is to know about pop culture. Basically, if you need to know anything about some of the best classic mvoies around or what food goes best with each film, you should seek them out. And I'm sure nothing will have changed once viewers see the fabulous mother-daughter duo reunited on Netflix. Here's hoping it starts streaming ASAP, because I can't wait a minute longer.
Even the smallest of celeb cameos would be beyond amazing, so here's who should totally show up. Let me just say, if any of my suggestions actually happen, I expect full recognition and my name listed in the credits.
1. Mae Whitman
If the Gilmore Girls revival really wants to please fans, then it would reunite Graham with both of her TV daughters. Mae Whitman played Amber Holt on NBC's Parenthood, who happened to be the daughter of Graham's character, Sarah Braverman. There have already been photos of Whitman and Bledel together, so now it's time to actually see them in action on the small screen.
2. President Obama
Obviously, President Barack Obama needs to be seen alongside Rory Gilmore. The GG series finale showed Rory getting ready to follow Obama (when he was a Senator) on the campaign trail. Clearly, when the revival begins, Obama will no longer be a Senator, but give fans a flashback of him or maybe even just a photo of POTUS with Rory. The latter could most likely be arranged.
3. Hillary Clinton
Gilmore Girls never shied away from politics, nor did Rory ever not pay attention to an election or what was going in the world. So, why not have 2016 presidential candidate Hillary Clinton make a cameo? It wouldn't be the first time Clinton visited a TV set.
4. Jensen Ackles
This one is for all my fellow Supernatural fans. Not only do Jared Padalecki and Jensen Ackles play brothers on The CW series, but they are also best friends in real life. Plus, Ackles' Supernatural character is named Dean, just like Padalecki's Gilmore Girls' character. I mean, do I need to explain myself any further? Just bring Ackles onto GG already!
5. Anyone From Empire
Danny Strong, aka Doyle, is the co-creator of Empire . So, yeah, why shouldn't someone from Empire hop on over to Stars Hollow? If anyone could make that happen, it's Strong. Let's face it, Lorelai and Cookie Lyon would make a fabulous duo.
6. Inger Nilsson
Rory and Lorelai had a slew of favorite films, but one they loved (and even dragged both Dean and Luke to watch) was Pippi Longstocking . How fantastic would it be if the actress who brought Pippi to life, Inger Nilsson, made a cameo?
7. Vincent Kartheiser
Who would make for a better cameo than the real-life husband of Bledel? For those unaware, she is married to Vincent Kartheiser. Not to mention, there was already one Mad Men actor (ahem, Jon Hamm) on Gilmore Girls, so why not bring on another one?
8. Anna Kendrick
If I had my way, Anna Kendrick would be featured in everything. As for Gilmore Girls, I feel like she'd fit right in and would have no problem with the fast talking of everyone in Stars Hollow. Plus, she kind of resembles Rory and Lorelai. Maybe she could come on as a relative of the two? Or, maybe Taylor could hire her character to sing at one of the town's festivals.
9. Dolly Parton
Remember when Lorelai sang "I Will Always Love You" at karaoke night in Season 7? Unintentionally, she serenaded Luke making it one of the best Lorelai and Luke moments. Anyways, during her performance, Lane mentioned to Rory she didn't know Lorelai was such a Whitney Houston fan. Rory corrected her and said, "I think it's Dolly-inspired." Hence, that is why Dolly Parton should show up and sing at Luke and Lorelai's wedding, you know, if they aren't already husband and wife.
10. Jenny McCarthy
Hey, if Melissa McCarthy isn't returning, maybe her cousin can fill her shoes somehow? Obviously, it would not be the same as Sookie St. James, but at least there'd be one McCarthy featured.
11. Tom Hiddleston
Will this happen? Probably not, but this is just my way of getting to see the charming British actor on one of my favorite series. Plus, who would complain about seeing Tom Hiddleston in Stars Hollow? The more T. Hiddles the better.
Who knows if any of these 11 celebs will actually pop up, but there has to be at least one celeb cameo in the GG revival, right?
Image: The WB