'Shark Tank' Has A Smart Solution For Your Bike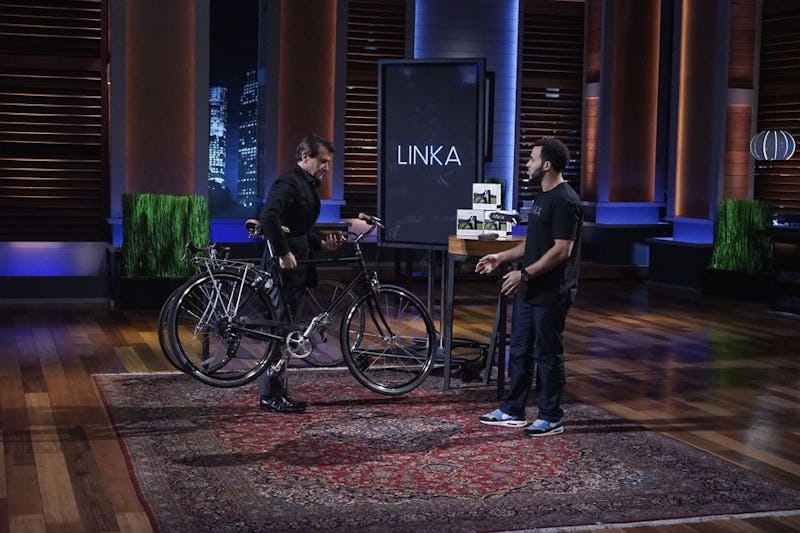 We live in a world where it seems like more and more products are being manufactured with smart capabilities. Many times, these updates to everyday objects are useful. But sometimes, you have to admit, they do seem a little extraneous. So what will the millionaire and billionaire investors of Shark Tank think when Linka, a smart bike lock, is pitched on the show?
Well, the Sharks' reaction to the product could go a bunch of different ways. Robert Herjavec and Mark Cuban are both tech guys, so they may be into it. Demonstrating how a smart bike lock works on QVC could certainly be good TV, so Linka might pique Lori Greiner's interest. And if Linka is already raking in the dough or has the potential to do so, it could inspire Barbara Corcoran or Kevin O'Leary to throw their hats in the ring. And who knows? We could even see a feeding frenzy among all of the Sharks.
But all in all, I'm definitely curious to see if the Sharks think this product has legs. I have to admit that I'm not a bike rider, but if I was, I would be interested in giving Linka a try. On the other hand, I'm also not totally convinced that it'll adequately secure your bike from thieves. Learn more about Linka below, and judge for yourself.
It Locks Up Your Bike In A Smart Way
If you're a bike owner, you probably know that you should never get too cozy with your ride because they tend to get stolen, even if you have a lock on it. Linka wants to help you avoid that fate using 21st century technology. You simply affix Linka to your bike, and the device will lock or unlock your wheel automatically when you use the app on your smartphone or input your customized four-digit code. You can also connect Linka to a chain to further secure your bike. If your bike gets tampered with, a siren will blare, and you'll also get an alert on your smartphone. I'm not sure if a siren is enough to dissuade a thief from pilfering your bike or you'll be able to come to its rescue in time after receiving a notification, but these features certainly couldn't hurt your chances.
The App Is Pretty Nifty
Like most smart objects, Linka also comes with an accompanying app that can tell you if the neighborhood in which you locked your bike is safe using data that tracks reported stolen bikes in your area. The app will even recommend a safer place to lock it up instead. It can also tell you how much battery is left on your Linka, which is supposed to last for a year without having to be recharged. Those are all helpful features, but I think if the app was also able to tell you the location of your bike in the event that it is stolen, that would really be something.
The People Want This Product
A Kickstarter campaign for Linka was launched on May 12, 2015, which helped raise $123,772 for the project. That sure sounds like a ton of money, but clearly more is needed to get Linka off the ground if it's appearing on Shark Tank.
It's Not Available In Stores Yet
Many products successfully funded on Kickstarter then take some time to actually get out into the marketplace, and that's the case with Linka. It's currently available for pre-order through the company's online store starting at $129 each. Unfortunately, since no Linkas have technically been sold yet, it might just be too early for a Shark to invest in this company as of now.
This Smart Bike Lock's Founder Is Also Smart
Cycling lover Mo Mohamed (center in the above pic) was inspired to start Linka after basically getting fed up with bike theft. Luckily, as a product designer and mechanical engineer who has worked for companies like Toyota and Kia, Mohamed could do something about it. It took Mohamed almost two years of research, interviews, designing, and prototype testing, according to the page for Linka's Kickstarter campaign, but he finally has an intriguing product to show for it.
Don't Confuse It With These People
It doesn't look like the name for Linka was inspired by Lesli Linka Glatter, the Emmy and Oscar-nominated director, but I can't help but think of her whenever I see it. But since I'm a huge fan of her work, I don't really mind this association either. Linka was also the name of a character on the '90s animated series Captain Planet and the Planeteers, and the smart bike lock Linka can only hope to be as powerful.
Hopefully, Linka makes the Sharks feel good vibes during Friday night's episode as well.
Images: Michael Desmond/ABC (2); Giphy (2)