A 'Fuller House' Season 2 Could Be On The Way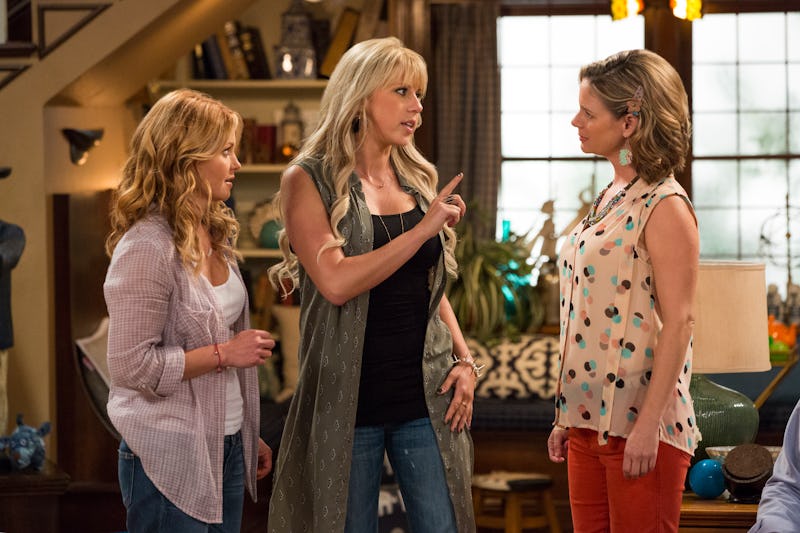 Full House fans are oh-so-ready to see the Tanner sisters & Co. return in Fuller House. Ever since the spinoff series of the beloved '90s ABC sitcom was announced, fans have been highly anticipating the Feb. 26 premiere. But, since Netflix is releasing it in one big chunk, what's a fan to do when they finish marathoning the series? Will Fuller House return for Season 2? Although a second season hasn't officially been announced, Full House alum John Stamos said at the People's Choice Awards in January that Fuller House Season 2 is a definite possibility. "There will be a lot more than one season for sure," the Grandfathered actor said. [Update: Netflix confirmed on Twitter that there will be a Season 2, but there's no release date as of yet.]
Not that there was ever any doubt that Fuller House wouldn't do well on Netflix. After all, the spinoff series sounds a lot like the original sitcom we all knew and loved from 1987 until 1995. According to the official description of the show, eldest Tanner daughter D.J. is now a widowed mother of three young boys and sister Stephanie and BFF Kimmy Gibbler move in to help out. You might notice that there's a name missing from there: Michelle, who was played by Mary-Kate and Ashley Olsen. Unfortunately, it's been widely reported that neither famous twin is coming back for Season 1, but Full House and Fuller House creator Jeff Franklin told Entertainment Weekly that he hopes the Olsens reconsider for Season 2.
"I tried, we all tried to persuade them to come and play," Franklin said. "They decided not to at this time. We're hopeful at some point in the future that they may change their minds and come back and reprise Michelle. We only need one of them, so we're still hopeful that that will happen."
So, if Fuller House does officially return for a second season, how could youngest Tanner sister Michelle make her triumphant return? I have a few theories.
San Francisco Fashion Week
According to the aforementioned EW article, Fuller House will reference Michelle's absence, saying that she's busy with her fashion company in New York City, which is much like real life — the Olsens now have a fashion empire. So, what if Michelle returned for SF Fashion Week? (Yes, it really exists.) The whole family can drop by to check out her designs and the catwalk.
She Meets Her Twin & Returns Home, Questioning Everything About Life
Both Mary-Kate and Ashley Olsen played Michelle when they were young toddlers, but now as adults, Fuller House doesn't need both actresses for Michelle. Unless Michelle comes across a woman in a big scarf and hat, holding a large Starbucks cup who looks just like her. Of course, this doppelganger has a way more successful fashion line. It's an encounter that leads Michelle to return home and wonder if any of us are truly original or if we're all actually twins. It's like The Parent Trap, but way more existential and weird...
She's Starting A Kids Clothing Line & Needs Inspiration
What if Michelle's fashion empire was expanding into children's clothes and she was seeking a muse? Cue a visit from Auntie Michelle, who could consult with D.J.'s sons about kids fashion of 2016.
Her Fashion Company Flops & She Needs A Place To Crash
These days, businesses fail as easily and quickly as they catch on and become successful. Michelle's fashion brand could go south and she could return to SF, needing a place to stay.
She Takes The Family On A Trip
Michelle could return by inviting the whole gang on a big trip. She'll make sure they pack their passports to Paris and that they win London (ahem), you know, just like in those classic Olsen twin movies of the aughts.
She Just Wants To See Her Family
Does she really need a reason? Maybe Michelle wants to visit her family and spend time with them, just like the good ol' days.
Now all we need is the Olsens to say "You got it, dude" when it comes to returning to the Fuller House set.
Images: Michael Yarish/Netflix; Giphy (7)