Wear This Sunscreen If You Have Tattoos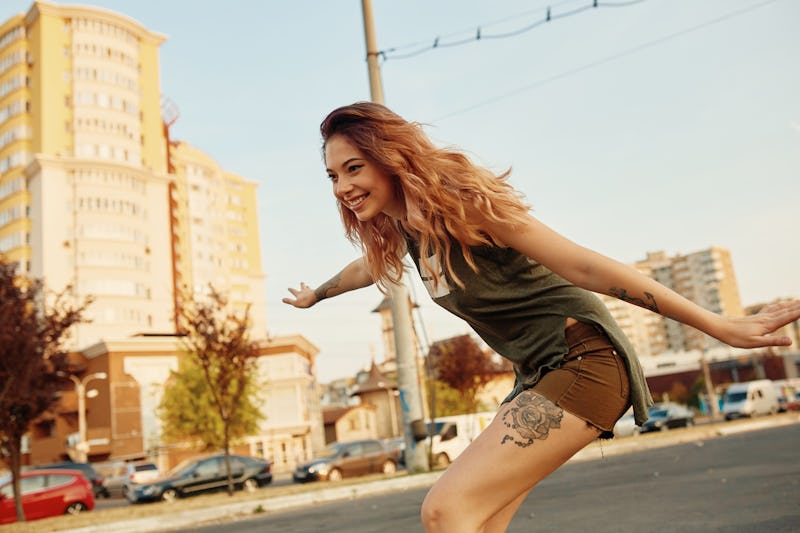 Tattoos require not only immediate aftercare to look good, but longer term upkeep. If you want to keep yours looking fresh when the sun starts beating down on you, you might be wondering, "What kind of sunscreen should you wear for tattoos?" I reached out to a pro to get full details!
Matthew Marcus of Three Kings Tattoo broke down not only the kind of sunscreen you should be looking for, but why sunscreen for tattoos is so, so necessary. He shares, "Tattoo inks are not lightfast, meaning they fade, UV rays break down the chemical structure of the pigments and degrade them."
Without sunscreen, this fading process occurs even faster. Marcus explains, "You shed skin from your body every day but exposure to strong sunlight will only break them down faster. When you burn and peel you are basically speeding this breakdown process up." So skipping sunscreen not only leaves you with a nasty burn, but can also cause your tattoo to require a touch-up much sooner than it would've needed otherwise.
As for the specific sunscreen you should reach for, Marcus advises, "The higher the SPF, the better. No special brand recommended but probably anything that doesn't have a ton of chemicals."
Following Marcus's guidelines, I've pulled together a variety of sunscreens that will guard your tattoo, whether it's a simple black scribble or a sleeve full of colors!
Mineral Creme Broad Spectrum SPF 50, $30, A mazon
With SPF 50, this sunscreen is specifically formulated to protect without clogging pores.
Sun-Defying Sunscreen Oil Broad Spectrum SPF 50, #34, Amazon
Prefer oils? This one features skin-nourishing argan oil.
Sun Bum Disappearing Zinc Oxide, $11, A mazon
No streaks! #Praise
Broad Spectrum SPF 50 Body Cream, $25, A mazon
This creamy formula can hydrate dry skin if you've been peeling.
Everyday Sunscreen, $19, Amazon
This lightweight sunscreen will have you protected day in and day out.
Ultra Lightweight UV Defense Fluid SPF 50, $27, Amazon
This sunscreen is extra special thanks to its lightweight fluid formula.
Mineral Sunscreen Stick SPF 50, $13, Amazon
Perfect for those micro tattoos!
50+ Sunscreen Care Milk-Lotion Spray, $20, A mazon
If you can't decide between lotion or spray, this is the sunscreen for you.
Mineral Sunscreen, $13, A mazon
Squee. Dolphins.
Sport Continuous Spray SPF 50, $36, A mazon
Who doesn't love the ease of spray sunscreen?
Antioxidant Infused Sunscreen Mist, $13, Amazon
Sun protection plus antioxidants? Yes, please.
Images: Fotolia; Courtesy of Brands