When A Bagel & A Doughnut Get Together...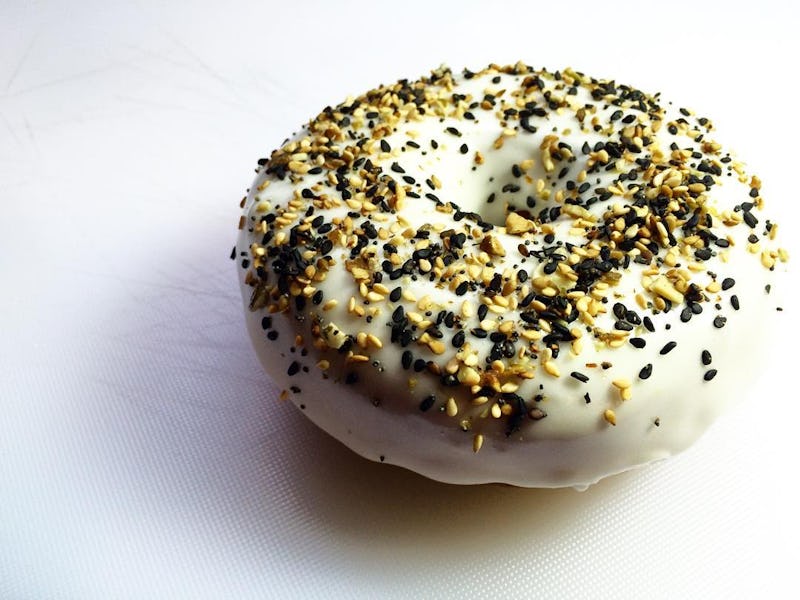 If you're anything like me, the first thought you have the instant — the instant — you wake up is, "WTF am I eating for breakfast?" The selection is often narrowed down to the mouthwatering doughnut and the savory bagel. Now, you can get both! The Doughnut Project has combined a doughnut and a bagel to create the Everything Doughnut. The cream cheese glaze will satisfy your sweet tooth, while the more traditional bagel toppings — like poppy seeds, garlic, and sea salt — will satiate all your bagel-y desires. Breakfast just got serious.
I'll admit that I'm not totally sure what to call this new breed of breakfast food: The doughgel? The bagnut? Bagnut. That's the winner. Anyway, what I'm going to continue to call the bagnut (even though that's not its official name) made its debut this week, after some rather intense taste-testing. (Where can I apply for that job?) Time will tell if it turns out to be a crowd-pleaser — but it certainly isn't the only creative bagel masterpiece you'll find. I've rounded up a list of some of the strangest, most inventive bagels you can feast on — for those mornings when you're feeling a little bit more adventurous.
These certainly put my plain bagel with honey almond cream cheese to shame. I feel so inadequate. How will I ever show my face in Panera again?
1. The French Toast Cragel
Behold — the marrying of the croissant and the bagel! You can find this gem at The Bagel Store in Brooklyn, New York.
2. Can't Help Falling In Love... With This Bagel
Things just got intense. Bagels & Brew honors legend Elvis Presley with this peanut butter-, banana-, honey-, and bacon-topped vision.
3. Taste The Rainbow
Another offering from the Bagel Store: Their famous rainbow bagels. Are those sprinkles???
4. French Toast Bagel With Birthday Cake Cream Cheese
I like all of these words. Head to Tompkins Square Bagels in NY for this masterpiece.
5. A Bagel With A Surprise
House of Bagels in San Francisco carries the Bagel Bon Bon, and they fill it with a special surprise. Mother's Day last year brought Nutella filling and a sprinkling of sea salt.
6. A Close Relative Of The Bagel
Beauty's Bagel Shop couldn't stop with the bagel; so they located a second cousin of the bagel: the Bialy — a bagel-y looking onion roll type of thing.
7. The Best Of Both Worlds
Can't decide between a bagel or pizza? Thanks to Katz Bagel Bakery, you don't have to!
8. The Bagel Ball
As seen on Shark Tank, the crowd-pleasing Bantam Bagel is basically the bagel version of a filled doughnut hole. Yes, please!
Image: The Doughtnut Project/Facebook