Super Tuesday in American Samoa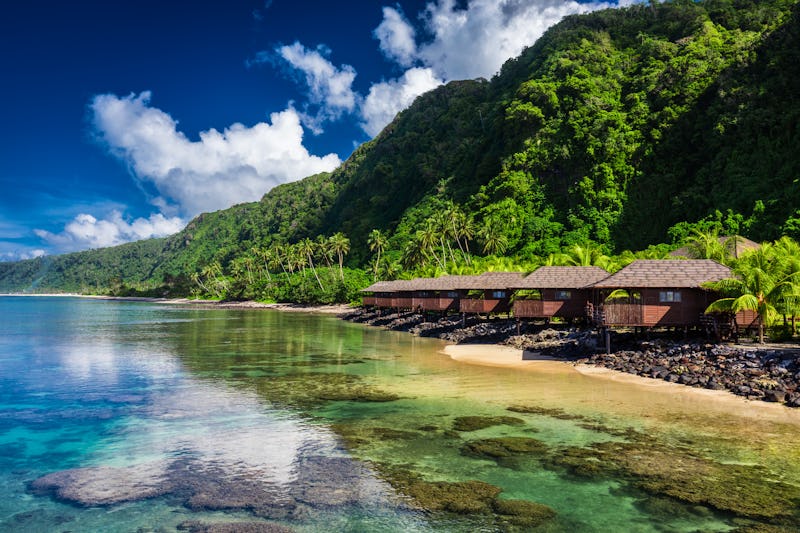 Though the American flag has waved over Pago Pago harbor since 1900, American Samoa, a cluster of islands near Australia and home to about 55,000 people, is the only U.S. territory where citizenship isn't inherited at birth. American Samoans cannot run for president or vote in the general presidential election, but they can take part in presidential primaries. Still, American Samoans will be participating in the Democratic Caucus on March 1, even if their voice will be more of a whisper than a roar in the Super Tuesday race between Hillary Clinton and Bernie Sanders.
According to Sarah Rosier, federal desk editor at Ballotpedia, an online encyclopedia of U.S. politics and elections, American Samoans get 11 delegates, plus one alternate. American Samoa's governor, Lolo Letalu Matalasi Moliga, and four Democratic National Committee members are among them. The other delegates will be determined during the territory's two-hour caucus period—the last one to take place on Super Tuesday. American Samoa's location puts the islands three hours behind California and one hour behind Hawaii, placing them in the latest time zone for Super Tuesday. The American Samoa Democratic Party did not respond to Bustle's questions by the time of publication.
American Samoa's 11 delegates are completely dwarfed by the amount allocated to other Super Tuesday states, which will have anywhere from 26 to 252 Democratic delegates.
"In 2008, [the American Samoan caucus] was one of the only caucuses to go for Hillary," Rosier says, though the voting cohort was so small that a little over 40 votes made a big difference. "There were 163 votes for Clinton and 121 votes for Obama. So with about 300 people voting, that's pretty small." In fact, it is so small that there is only one caucus site. This year, the caucus will take place at the Tradewinds Hotel in Ottoville.
This is the American Samoa Legislature building, or Fono, where the territory's bicameral legislature meets.
A Quest For Citizenship
American Samoans have been allowed to elect one nonvoting delegate to the U.S. House of Representatives since 1981, but based on that minimal representation, some feel people born in this territory do not have sufficient say in federal matters.
Neil Weare, president of We the People Project, a nonprofit that fights for suffrage in U.S. territories and Washington, D.C., believes that having U.S. citizenship for American Samoans would change that. That's why he's serving on the legal counsel to the five American Samoans—Leneuoti "Lene" Tuaua, Emy Afalava, Va'aleama Fosi, Fanuatanu Mamea, and Taffy-Lei Maena—who, with the Samoan Federation of America, currently are suing the federal government to change American Samoans' citizenship status.
"They are the only Americans who are not recognized as U.S. citizens," says Weare. "They have all of the obligations of being an American, but they don't enjoy the rights and benefits."
This is not the case for people born in other U.S. territories, who can participate in the general election simply by moving. If someone living in Puerto Rico decides to move to, say, New York, they may vote in the general election.
"But if American Samoans move to other parts of the States, they remain disenfranchised," said Weare. "So an American Samoan living in California still cannot vote in the general election."
This is a 2009 archival photo of Army Reserve soldiers who teamed up FEMA and the American Samoan government to distribute supplies after a to survivors of a devastating earthquake and tsunami.
He adds that despite the fact that Samoans have the highest rate of military service in the United States and a casualty rate in Iraq and Afghanistan that is seven times the national average, "they can't vote for the president that sends them to war and decides on all the issues that determine their lives."
Since the 14th Amendment of the U.S. Constitution explicitly states, "All persons born ... in the United States, subject to the jurisdiction thereof, are citizens of the United States," Weare's clients argue that if everyone else born on U.S. soil has birthright citizenship, why don't the American Samoans?
The short answer: The Insular Cases.
"Alien Races" and "Anglo-Saxon Principles"
In 1901, the Supreme Court ruled that people living in the territories obtained during the Spanish-American War didn't inherit the full constitutional rights extended to other Americans. As John Oliver pointed out on Last Week Tonight last March, people living in the territories were thought of as "...alien races, differing from us in...customs...and modes of thought..." The thinking was that these differences made people from the territories incapable of understanding "Anglo-Saxon principles."
"I find that condescending, and I'm British," said Oliver. "We basically invented patronizing bigotry."
Yet, that thinking still prevails.
In 2013, the U.S. District Court for the District of Columbia dismissed the case, saying that citizenship isn't a "fundamental" right for people born in American Samoa. Last October, the U.S. Court of Appeals "denied rehearing en banc of its June 2015 decision affirming the D.C. District Court dismissal of the case," That resulted in the five American Samoas appealing to the Supreme Court.
Not Everyone Wants Change
Casey Brinck, communications director for U.S. Congresswoman Amumua Amata (R-American Samoa), explains that at present American Samoans must undergo the same naturalization process as people from foreign nations if they wish to become U.S. citizens.
"However, the Congresswoman is working to introduce legislation in the future that would at the very least ease some of the requirements for naturalization, for those American Samoan U.S. Nationals who wish to become a U.S. citizen," he tells Bustle.
But Brinck points out that not all American Samoans want U.S. citizenship, even if it would mean the right to participate in the general presidential election.
"[In the early 1900s], leadership in American Samoa understood that they wanted to maintain their culture and how they manage their lands," he says. "The most important thing is probably the land. In American Samoa, there is no such thing as a mortgage. All land is familially owned. That was the big reason behind them saying, 'Hey, we don't want to go the full citizenship route,' back then. People are concerned that if they become citizens, they will have to follow certain guidelines related to real estate, and that their land won't be managed and owned the same way."
"Why change?" asks Isapela Coggins, president of the American Samoa Society, in an email to Bustle. "American Samoa has adopted many of the governing values of the United States and it retains … the Samoan way of life. … The people of American Samoa put serious thought into their status with the United States. I'm happy with my status as a U.S. national. Protect our land and our [culture]!" .
Brinck says that the Congresswoman Amata's position on the matter is that U.S. citizenship for American Samoans should not be determined by the federal government, but by the people of American Samoa.
"She believes it is a matter of self-determination and should be up to the people of American Samoa," he says. "If the people hold a referendum, she will push for whatever they want."
Images: Fotolia, /Wikimedia CommonsNOAAFEMA Photo Library