Olivia Is Focusing On Herself Post-'Bachelor'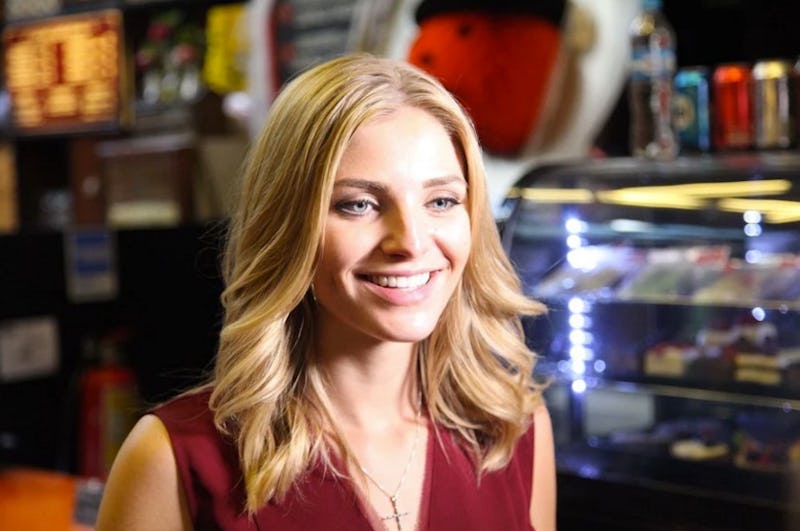 We have already learned an important lesson from The Bachelor this season. And, it's from a surprising source, eliminated Bachelor contestant Olivia Caridi. She taught us that just because someone's "in it to win it" attitude labels them as a Bachelor villain, it does not mean that the contestant deserves to be bullied. The women were quick to turn on Olivia, who was eliminated a few weeks ago. But, since then, has she moved on? Is Olivia single after The Bachelor ? Well, it seems like she's been busy defending herself post-show, rather than jumping into a new relationship.
After Olivia left the show, she shared a lengthy Instagram post responding to her haters.
Thank you to the lovers and supporters, both friends and strangers, who have reached out. I am eternally grateful. For the haters, you've made me stronger than ever before. The girls on this show see your comments and they have feelings. Think twice before sending an insensitive message. Words hurt, and they kill, too. Don't be mean behind the screen. #AntiBullyingMonth This has been one of the most interesting experiences of my life. I've learned a lot about myself. Good things and tough lessons. We're all human. We make mistakes. Learn from them. Let them make you wiser. Be imperfect, flawed, and quirky. And own it. Never trade your authenticity for approval. Don't be afraid to stand alone. Anyway, rant over. Can't wait for adventures ahead!
Since this post, Olivia had kept pretty quiet on social media about her Bachelor experience. But, she recently spoke to Us Weekly after the taping of the Women Tell All episode, slated to air Monday. Olivia had more to say about being the target of bullying on the show, explaining that she felt misunderstood. "I think my sarcasm and my dry humor was interpreted sometimes [as] 'I'm crazy' or something," she told the magazine. "And there were some situations that played out differently than they happened, but I just don't think I ever made it to air. Like, the real me." Bustle reached out to ABC who declined to comment on Olivia's portrayal on the show.
While she has sporadically commented on her reality TV experience, the former Bachelor contestant seems to be moving on and keeping busy, according to her Instagram. Here is what Olivia has been posting since saying goodbye to Ben. Spoiler alert: She's been focusing on herself, which I think is really cool.
She Ran Into A Fellow Contestant
Who happened to be rocking an awesome jumpsuit.
She Participated In A Dance Marathon To Support Cancer Research
If you look at her Instagram, this subject is clearly close to her heart.
She Went To Nashville
Too fun!
She Met The Cast Of Vanderpump Rules
And they recognized her too.
And, Her Vacation Posts Have Made Me Super Jealous
If you ask me, these trips are much better than a boyfriend anyway.
I'm glad to see Olivia is moving forward post-elimination. But, who knows? Maybe we'll see her again in The Bachelor universe as Bachelorette? A girl can dream.
Images: Eniac Martinez/ABC