The 'Full House' Cast Has Not Aged One Bit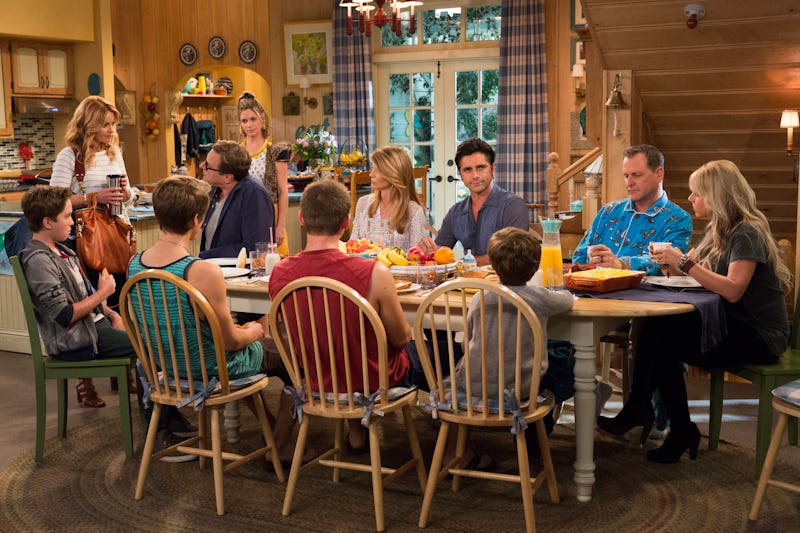 The time has finally come to be reunited with one of the best TV families to ever exist: The Tanner Family (plus Gibbler). Almost 30 years ago (!), Full House started airing and televisions would never be the same. Whether it was the inundated usage of "You've got it dude!" or the longing for your very own Steve to sweep you off your feet (with a sandwich in hand, too), Full House was a lifeline for many. Now, Fuller House is set to premiere on Netflix with almost everyone returning, and somehow the Full House cast then looks almost the same as they do now.
The cast returning for Fuller House has been highly publicized. By now, it's a known fact that a very important person in the Tanner Family will not be returning (I'm looking at you Michelle). Luckily, the rest of the family (and friends of the family) will be making appearances throughout the new show, which should make all of the nostalgic feelings come pouring back into your heart.
While I could say that things will look different this time around, I wouldn't want to lie. The following list is the Full House cast then and the Fuller House cast now, which will prove that not much has changed with this cast since they first stole our hearts back in 1987.
Candace Cameron Bure As D.J. Tanner
Bure landed the role of D.J. Tanner when she was 11-years-old. Now at 39, Bure is the a co-host of The View.
Jodie Sweetin As Stephanie Tanner
Sweetin landed the role of Stephanie at age nine. After a handful of roles throughout the years, the 34-year-old is back as the Tanner Family middle child and hopefully very ready to say "how rude" for the rest of eternity.
Andrea Barber As Kimmy Gibbler
Unlike her co-stars, after Full House ended, Barber retired from acting at the age of 19. Fuller House is her return to acting and I think we can all agree it's great to have her back.
Bob Saget As Danny Tanner
Everyone's favorite TV dad is back. Almost 30 years have passed but Bob Saget is still as funny as ever.
John Stamos As Jesse Katsopolis
I think it goes without saying that some people just get better with age.
Dave Coulier As Joey Gladstone
Uncle Joey always made us laugh, and in the years between Full House and Fuller House, so did Dave Coulier. Let's hope Joey throws us a few "cut it out" phrases when he returns to the show.
Lori Loughlin As Becky Katsopolis
Decades have passed between these photos. Explain that to me, please.
Mary-Kate & Ashley Olsen As Michelle Tanner
Unfortunately, Michelle Tanner is busy in New York City and can't make it to the family reunion. The Olsen twins have been busy building a fashion empire and sadly won't return to Fuller House , but they'll be there in spirit.
Blake & Dylan Tuomy-Wilhoit As Nicky & Alex Katsopolis
Believe it or not, the two brothers that played Nicky and Alex are 25-years-old now, which might make you feel very old. They are returning to the reboot, albeit for a quick appearance.
Scott Weinger As Steve Hale
You probably shipped Steve and D.J. together before you even knew what a ship was. Scott Weigner, who has built a very successful career behind the camera in Hollywood, returns to Fuller House, giving live to the D.J./Steve hopefuls two decades after Steve showed up and took D.J. to prom.
Images: Warner Bros. TV (10)