What Is DJ Tanner Up To In 2016?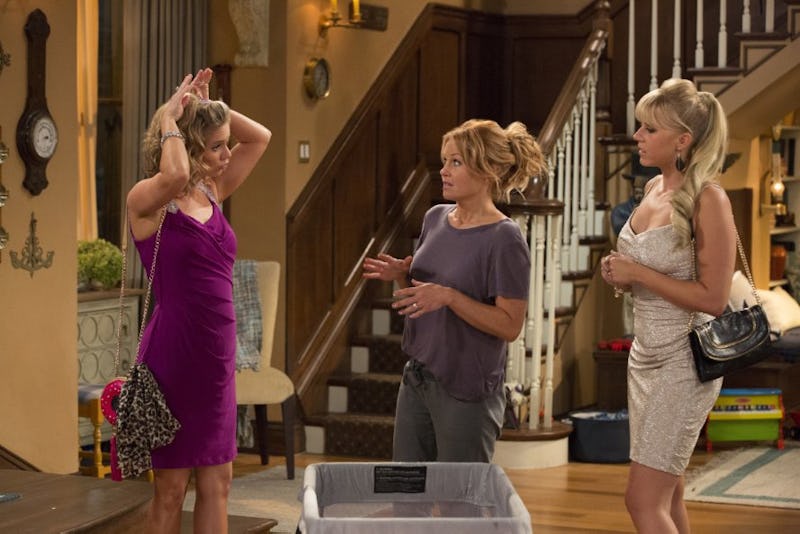 Sometimes dreams do come true — especially if your dream was to have a Full House spinoff nearly 30 years after the original pilot premiered. The first season of brand-new spinoff Fuller House will stream on Netflix beginning Feb. 26, and perhaps the only people more excited than the fans about the new series is the cast and crew. All of the main cast members from Full House returned for the first episode of the new show, save for Mary-Kate and Ashley Olsen who chose not to appear on the series as Michelle Tanner. Though the Tanner clan may be missing one sister, the series — which focuses on DJ, Stephanie, and neighbor Kimmy as they raise DJ and Kimmy's children together — definitely feels full. The cast spoke about stepping back into their characters' shoes at the red carpet premiere of Fuller House, and while many things have changed, these characters are still just as lovable as ever.
"I think it was a little surreal being back on the set," says Dave Coulier, who played Uncle Joey on the series for eight years. As for what Joey is doing now, it looks like he's become the comedian he's always wanted to be: "[Joey] is working in Vegas, and he has a show at one of the hotels." It's not just his career that's the big change. Though fans won't meet them in the first episode, Joey eventually did settle down with a family of his own — though he does come back to babysit his niece's kids when they need.
As for Joey's nieces, they really are all grown up. While DJ (Candace Cameron-Bure) is a mom, her younger sister Stephanie hasn't quite settled down.
"When the original series ended, Stephanie was 13, so since then she's been traveling the world, she's a musician, a DJ, and she's just living the fun, single girl life," says Jodie Sweetin, who reprised the role of middle child Stephanie. "If there's a character from the original cast to compare her to, she's sort of the Jesse of the group, learning how to be a responsible adult and hang out with the kids."
"Stephanie and Kimmy still have their 'frenemyship' [on Fuller House]," says Andrea Barber of her character's constant bickering with her BFF DJ's younger sib. "Jodie and I love sparring back and forth on set, and the writers wrote some really great material for us."
Though the show focuses on the trio, the show is not without a little bit of a love story. While many fans were bummed that Steve and DJ never officially got back together at the end of Full House, these longtime shippers can now hold out hope that this romance isn't necessarily over. Steve (played by Scott Weinger) is back and divorced, making him viable dating option for the now-widowed DJ However, while the potential is there, it might be a slow burn for these two:
"Steve has to play it cool before he makes a move," says Weinger of the former high school couple. "[But] now that DJ is single, his wheels are spinning."
Looks like fans will have a lot to look forward to — as if more of the Tanner clan wasn't enough.
Image: Netflix