21 Things That Make You Better In Bed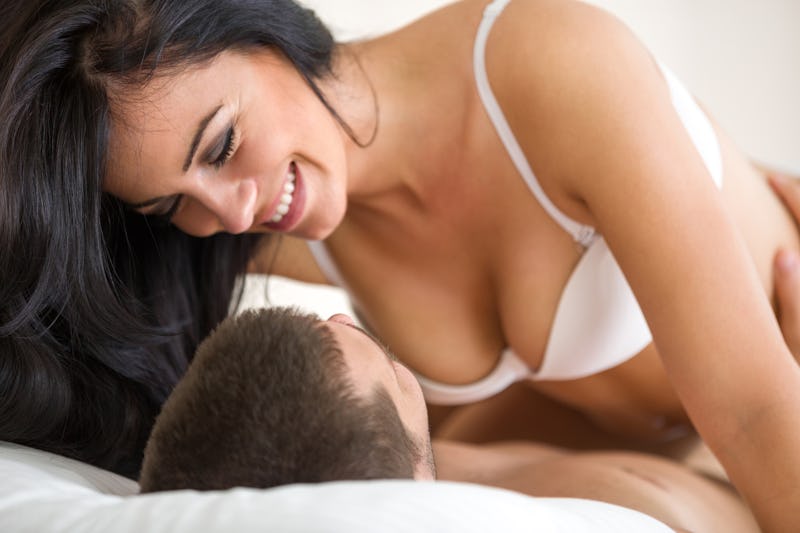 At first glance, sex might seem like a pretty straightforward thing. Humans have been doing it since the dawn of time; the banana goes into the doughnut, and pleasure ensues. Right? Regardless, no matter who you are, what you're like, or what you're into, you deserve to feel confident in the bedroom, which will help you be even better in bed.
Though it's undoubtedly great, sex has the potential to be one of the most complicated things we experience, and so many factors play into any one encounter. Our sex lives are loaded with influences like gender preferences, sexuality, fetishes, likes, dislikes, comfort, insecurities, and beliefs, and yet, so much seemingly hinges on this one little action. People depend on sex for things like pleasure, intimacy, health, and (occasionally, yes) procreation. That's why, everywhere we look in our society, it's staring us right in the face.
A healthy sex life starts with self-assurance, and once you know that you can deliver (both for yourself and for your partner), you'll earn the title and the certainty of someone who knows they're talented under the sheets. Whether you're a novice or an expert, solo or in a relationship, here's a list of things that'll help get your sexual confidence way up, so you can really start to enjoy your X-rated fun time.
Learn What Your Body Likes
Ultimi Double Female Vibrator, $16, Amazon
If you're going solo, or looking to spread some knowledge in the bedroom, this Double Female Vibrator is a great way to learn exactly what makes you tick. It's designed with two motors for simultaneous G-spot and clitoral stimulation, and it's made from medical grade silica gel that's safe, non-poisonous, and has no odor. This one's a top seller because it's quiet, waterproof, and powerful.
Wear Your Confidence On The Outside
Women's Embrace Lace Chemise (Sizes S-XXL), $39-81, Amazon
While confidence undoubtedly comes from the inside, showcasing it on the outside can be one of the sexiest things for both yourself and your partner. This Lace Chemise is both classy and sexy, and a great addition to anyone's lingerie collection. It's made with spandex, so it will hug your body comfortably, and it comes in 11 different colors for when you want to switch it up. Reviewers say that it's a great fit (especially if you need more chest support), and the material is soft and high-quality.
Dare To Wear These Panties
Remote Control Panties, $60, Amazon
If you're into the discreet public thing, these remote control panties could be a ton of fun during dinner or on a walk through the park. The remote control reaches a range of 20 feet, and the three vibration strengths and 10 different patterns create a ton of possibilities for you or your partner. With their adjustable hip ties, these panties will fit anyone, and they come in three cute, sexy colors. This is a pair of underwear that comes highly recommended because it's great quality and tons of fun.
Know How To Hit The Right Spot
Liberator Arche Wedge, $65, Amazon
The slightest shift in angle can make all the difference in the bedroom, and while a flat mattress might be ideal for sleeping, it's not always easy on your sex life. This Liberator Arche Wedge provides a perfectly angled platform, so that hitting the right spots becomes the easiest thing in the world. It's durable, yet comfortable, and it's made from lush velvet-smooth material that's machine-washable. Reviewers say it feels great for both partners, and it provides support in all the right places so that even long-term relationships feel new and exhilarating.
Have A Bath-Time Massage Session
Waterproof Handheld Vibrating Massager, $18, Amazon
A little unwinding often leads to something more, and that's why I really like this Waterproof Handheld Vibrating Massager. It's 100 percent waterproof for use in baths, showers, hot tubs, and pools, and it's got a sleek and compact design for on-the-go relaxation. It's made of an easy-grip material and has one simple button so muscles can be soothed, aches can be eased, and partners can be aroused.
Explore Your Curiosity
Bondage Bed Set, $26, Amazon
For those of you who are curious about or already into BDSM, those who partake say that the combination of trust and submission can be very, very arousing. This Couple Bondage Bed Love Set is pretty much the ultimate starter-pack for anyone who's interested in pushing their comfort zones a bit. It's made with high-quality material that's comfortable and easy to wear, and its adjustable slides allow for a great fit, regardless of who's wearing it. This set in particular secures under the mattress, so you don't have to worry about damaging your furniture, and reviewers say it's both fun and durable.
Interact With Each Other Long Distance
Vibease Remote Control Massager, $89, Amazon
Skype and Facetime are all well and good, but for those of us in long-distance relationships, something a little more exciting might occasionally be in order. This Vibease Remote Control Massager is one of the coolest gadgets I've seen in a while. It delivers waves of vibrational pleasure from one partner to another, no matter where in the world you might find yourselves. It's controlled through the touch of a button on your iPhone or smart device, and is small, discreet, non-toxic, rechargeable, and fully silicon.
Read Up On Your Sexuality
The Whole Lesbian Sex Book , $14, Amazon
The first-ever how-to guide to give encouragement to all women who desire woman, this Lesbian Sex Book is a No. 1 one best seller in the category of sexual health. It's been credited for its thoroughness, as it's got an all-inclusive style that embraces all types of females that discusses topics of the utmost of importance: masturbation, fantasies, desires, communication, and how to have all different types of orgasms. Readers say it's one of the best books they've ever read in this category, and it sets a standard for which all sexual conversations should aim.
Keep Things Spontaneous
LAYKOR 12-Sided Dice, $3, Amazon
Combine the Kama Sutra with good-old chance, and you've got a fun and intriguing way to spice things up. These dice are ideal if you and your partner chronically find yourselves in missionary, and you're due for a little change. Each side portrays a different position, and there's one for each partner. Reviewers say they made a great addition to their bedroom-related games, and their significant others were happily surprised with the switch-up.
Embrace Foreplay
14 Days Of Foreplay , $11, Amazon
Sex becomes boring when it becomes a thing of routine, and foreplay is one of the best ways to prevent that. If you're especially into foreplay (or you're someone who wants to be), this book is one of the best resources out there. It shows someone how to turn regular, everyday interactions into something that steams up your sex life. It's written by two experienced therapists who believe that communication is essential, and readers say it's a supportive and relaxed read that just might change your view of what turns you on.
Invest In A Toy For Him
Trinity Vibes Head Bullet Teaser, $19, Amazon
If you're a tad bit into teasing, this Trinity Vibes Head Teaser might just become your new best friend. It's a multi-speed item that delivers shocks of pleasure for guys, and it fits just about any size with its stretchy material. The two bullets vibrate in different patterns to increase anticipation, and reviewers say it's one of the best male-centric toys to up the excitement in the bedroom.
Stand Up Against Slut-Shaming
I Am Not A Slut , $12, Amazon
In a society where women are very often demonized for being open about their sexuality and their sexual needs, we need a book like I Am Not A Slut to show everyone what's what. It explores the methods modern society has of slut-shaming women, and then works to alleviate these destructive beliefs with new research and interviews that promote sexual freedom among females. It's widely considered a compelling must-read for everyone, and a vehicle for judgement-free support among women.
Set The Mood
50 Shades Scented Candles, $30, Amazon
Sometimes a subtle change in environment can entirely set the mood you're looking for. These 50 Shades Scented Candles come in three different scents — Leather, Jasmine Bubbles, and Vanilla Sex — and they're great for kick-starting any sexual encounter. They're made with natural soy wax, no lead, and only premium-grade oils, so quality and safety is a priority. People say they smell incredible, but they're subtle and clean-smelling, so no more candle-induced headaches. Plus, their traditional packaging means they'll fit right into your decor without raising eyebrows.
Try This Lace Babydoll & G-String Set
Coquette Babydoll & G-String (Sizes 1X - 4X Plus) , $31-$39, Amazon
This lace babydoll and G-string set is intricately designed with a scalloped lace edge and underwire cups for support, which fans say make the fit incredibly comfortable — in addition to the fabric feeling wonderful, too. (One even mentioned the babydoll's versatility doubled as a going-out top for her, too!)
Try A Different Setting
Romantic Scent Organic Bath Sprinkles, $25, Amazon
Occasionally, in order to spice up the bedroom, you need to move it into the bathroom. These Organic Bath Sprinkles are specially formulated with natural essential oils that help put you in a romantic mood. It uses a blend of cocoa, shea butter, oatmeal, and real flower petals to relax and comfort, and because it's entirely natural, it's fine for those with sensitive skin.
Study Up On Sexting
Sexting Tips For Women , $13, Amazon
With a huge percentage of relationships beginning through technology, some of us could use a few lessons on sexting. Whether you're doing long distance or long work days, this book is a great way to feel connected and intrigued, even when you're remote. It's fun and inspiring for both conservative and daring women alike, and includes essential information about foreplay, teasing, and (of course) the dos and do-nots of sexting.
Cover Your Bases With A Strap-On
Sportsheets Leather Harness, $14, Amazon
Regardless of your gender or orientation, strap-ons (and related activities) are particularly popular right now. With this leather harness, you'll have all your bases covered. It's got four-way adjustable straps, so it fits anyone with any body type, and its comfortable leather front makes this a durable and great-quality toy. Rings and toys are interchangeable, so you can personalize your size and fit, and users say it's great for all beginners.
Promote Compassion With Massage Oils
Intimate Massage Aromatherapy Oil, $30, Amazon
A wonderful way to promote trust and compassionate in the bedroom is to give massages. This 100 percent organic massage oil is moisturizing, safe for all skin types, and a perfect carrier for any essential oils, so you can personalize the mood. It feels great and won't leave a residue, so you can focus more on your partner and less on the mess.
Stay Safe Without Compromising On Pleasure
Lifestyles Skyn Selection, $14, Amazon
Nothing ruins the mood quite like worrying, but some brands of condoms are so uncomfortable and abrasive, no one has any fun anyway. Skyn is a latex-free condom that's made from Polyisoprene — a scientifically-formulated material that feels like you're wearing nothing. These ones are constructed with a wave-like pattern to stimulate the most important areas, and people with sensitive skin won't have any problems or reactions. Best of all, they're strong, reliable, and feel as though there's nothing there.
Use A Healthy Lubricant
Healthy Vibes Lubricant, $16, Amazon
It's easy to feel confident in the bedroom when you know that sex is going to be pain-free. Healthy Vibes is one of the leading personal lubricants because it's paraben- and glycerin- free, as well as entirely hypoallergenic. It won't get sticky or tacky at any point during the process, and it's compatible with all latex and condoms, as well. Users say it's the best they've ever tried because it's silky smooth and won't leave a mess.
Wear Your Pleasure
Vesper Vibrator Necklace, $79, Amazon
It's ridiculously enthralling to wear your secrets right out in the open. This Vesper Vibrator Necklace looks like a statement piece: It's rose-gold plated with a stainless steel body and chain. Little does everyone know, however, that you've got one of your favorite toys around your neck. It's got four control settings and is fully USB rechargeable. It won't tarnish or change color with use, and women say it's the best thing for confidence and a sexy conversation starter.
Feel Good About Your Backyard
Boy Butter, $17, Amazon
While this one's primarily geared toward male partners, it's great for anyone who's interested in a little backdoor play. Boy Butter is made from a combination of coconut oil and an organic silicon blend for a lubricant that lasts as long as any other brand — but washes off with water alone. It's hypoallergenic, gentle for sensitive skin, safe for all toys, and won't stain fabrics. Users say it's the only anal lubricant they'll ever need.
Bustle may receive a portion of sales from products purchased from this article, which was created independently from Bustle's editorial and sales departments.
Images: Fotolia (1); Amazon (22)