'Spotlight' Probably Won't Hit Netflix For Awhile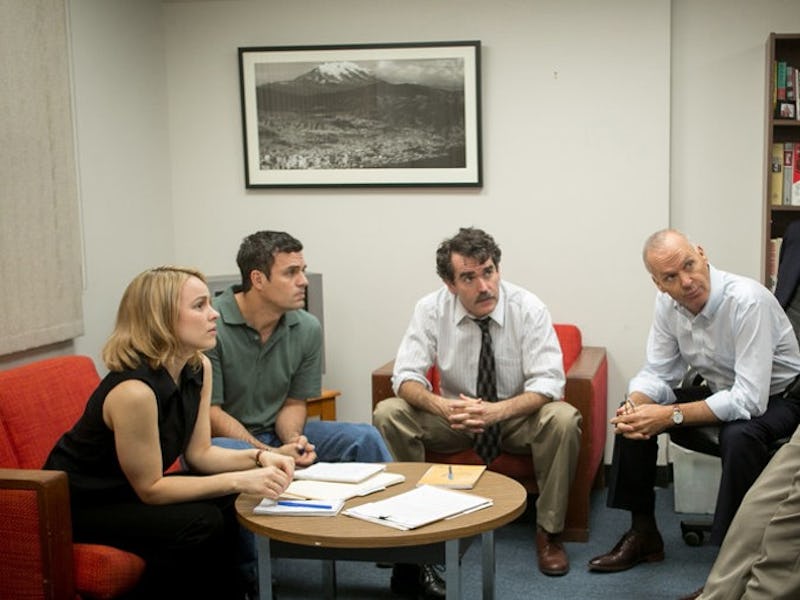 The 2016 Oscar nominees for Best Picture are all seriously impressive — and, although it seems likely that The Revenant or The Big Short will take home the biggest prize of the night, I'm rooting for Spotlight. In an era where print journalism is struggling to stay afloat, Thomas McCarthy's film illustrates the importance of investigative reporting and it handles the disturbing subject matter of abuse in the Catholic church with sensitivity. Despite being about a major scandal, Spotlight does an outstanding job of focusing on the Boston Globe's thorough, painstaking examination of the institutional cover-up — the team's Pulitzer Prize-winning piece was the result of a yearlong investigation. If you missed it in the theaters, you're probably wondering if Spotlight will be available on Netflix?
Sadly, it hasn't yet been confirmed that Spotlight will come to Netflix at all — but it seems likely it will become available. The film was produced by Open Road Films, a small production company that was launched in 2011, and nearly all of their recent movies (such as The Nut Job, A Haunted House 2, Nightcrawler, Rosewater, The Loft, and The Gunman) are currently streaming on Netflix. However, we may have a bit of a wait — Spotlight only became available for digital rental on Feb. 2. If you're really eager to watch it, I think it's worth shelling out $5.99 to rent on iTunes or Amazon. (You won't regret it, I promise!) But, if you're a more patient person than I am, there are already several great journalism-themed films currently streaming on Netflix that will hold you over during the wait.
Rosewater
Jon Stewart is best known for keeping us in stitches with The Daily Show, but he wrote and directed the amazing film Rosewater in 2014. Based on a memoir by Iranian-Canadian journalist Maziar Bahari, the movie depicts Bahari's experience being detained, imprisoned, and subjected to brutal interrogations for 118 days in an Iranian prison. Gael García Bernal gives a top-notch performance in the lead role and Rosewater provides an important reminder of the sacrifices journalists make in order to relay the most important information to the public.
Nightcrawler
Jake Gyllenhaal stars as a Los Angeles-based reporter who quickly gets caught up in the fast-paced, thrilling work of crime journalism. Nightcrawler was made by the same production company as Spotlight and it explores a totally different aspect of journalism — the things that happen when corrupt reporters attempt to change or control events in order to beat out competition for the best story.
His Girl Friday
Released in 1940, His Girl Friday was way ahead of its time. Although it's a screwball romantic comedy about an editor who's desperate to prevent his ex-wife and star reporter from leaving his newspaper, His Girl Friday is more importantly an amazing depiction of a hard-hitting female journalist who doesn't let her gender stop her from thriving in an industry where women were majorly underrepresented.
These great movies about various aspects of the journalism world will make the wait for Spotlight a little less painful.
Images: Open Road Films; Odd Lot Entertainment; Giphy (2)