And The 2016 Best Picture Oscar Winner Will Be…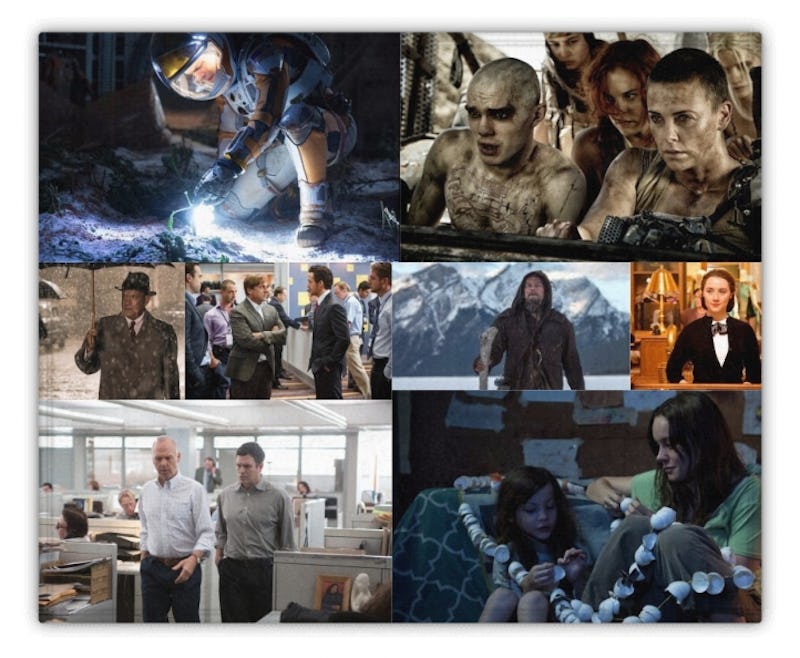 With the 88th annual Academy Awards just around the corner, it's finally time to start filling out your ballots. The 2016 Oscar race has been the most unsettled and divisive in recent memory, especially in the heavyweight Best Picture category. While the night's big winner is often a foregone conclusion going in — or at least a battle between two worthy contenders (The Hurt Locker vs. Avatar; The King's Speech vs. The Social Network) — this year, a full 50 percent of the nominees in the top category have a decent chance of taking home the gold. Will it be critical darling Spotlight? Period revenge epic The Revenant? Financial crisis "comedy" The Big Short? Acclaimed action sequel Mad Max: Fury Road? Or will an unexpected underdog manage to slip through the cracks of the divided race and claim the honor of Best Picture?
How can we possibly make a decision when there are so many good options and so many conflicting predictions from Oscar pundits out there? Perhaps the best course of action is to discount emotion and intuition entirely and just look at the numbers. After all, the Oscars don't exist in a vacuum; they're the culmination of a months-long awards season that sees various critical groups, industry organizations, and guilds vote on their favorite films of the year. And if you can read the tea leaves of those ceremonies correctly, you can often get a pretty good idea of how the Academy of Motion Picture Arts and Sciences will vote.
So let's take a look at the most important precursors. First off, we'll discount any awards given out by critics and journalists — yes, even the glitzy Golden Globes (voted on by the Hollywood Foreign Press Association) — because there are no journalists in the Academy, which means those results have no bearing on our eventual Oscar winners. Instead, we'll be looking at precursors in three categories:
Oscar Nominations. It is accepted wisdom that a movie has to have nominations in the following categories in order to win Best Picture: Directing, at least one Acting category, Screenplay (either Adapted or Original), and Film Editing. There are exceptions to this rule, of course, but those are generally the Big Four you want to hit.
The Guilds. The various filmmakers unions do have membership that overlaps with the Academy, so we'll look specifically at the guilds that correspond with the aforementioned Oscar categories: the Producers guild (PGA) and their Best Picture award; the Directors guild (DGA) and their Best Director award; the Screen Actors guild (SGA) and their Best Cast award; the Writers guild (WGA) and their Best Screenplay awards; and the American Cinema Editors guild (ACE) and their Best Film Editing award.
British Academy of Film and Television Arts. The BAFTAs are basically the British version of the Oscars; they even share membership with the Academy (an overlap of about 500 voters). So we'll be looking at their Top Five categories, as well: Picture, Directing, Acting, Screenplay, and Film Editing.
If we give each movie one point for each of these precursors that it's nominated for, then a movie would have a total of 14 points if it has hit every single precursor in all three categories. Now, let's see how well each Best Picture nominee actually did.
Here are this year's contenders ranked by their statistical probability of winning Best Picture, from the least to the most likely.
8. Brooklyn — 5/14
Acting nomination
Screenplay nomination
PGA nomination
BAFTA Acting nomination
BAFTA Screenplay nomination
For this quiet gem of a film about an Irish immigrant settling into her life in the titular borough in the 1950s, its Best Picture nomination is definitely its victory, considering the number of terrific films that were shut out of the category entirely (Carol, Inside Out, Straight Outta Compton). Brooklyn missed two of the four key Oscar nominations needed in a legitimate Best Picture contender (Directing and Film Editing), and while you can often win without one, it's very difficult to win without both.
7. Room — 5/14
Directing nomination
Acting nomination
Screenplay nomination
BAFTA Acting win
BAFTA Screenplay nomination
Although tied with Brooklyn in total number of precursor noms, Room gets the edge because of its leading lady's frontrunner status for Best Actress. The film was practically snubbed across the board by the Guilds: although both Brie Larson and Jacob Tremblay were nominated for individual awards by SAG (and the former won), the Cast as a whole wasn't honored with a nomination; and its adapted screenplay by novelist Emma Donoghue was deemed ineligible by strict WGA guidelines. But its snub by the PGA is what hurts Room the most. That guild had 10 nominees for Best Picture and even made room for non-Oscar nominees like Ex Machina, Sicario, and Straight Outta Compton, while leaving Room out in the cold.
6. Mad Max: Fury Road — 6/14
Directing nomination
Film Editing nomination
PGA nomination
DGA nomination
ACE win
BAFTA Film Editing win
This long-in-the-making sequel started the season strong, amassing a number of critical nominations — including being named the Best Film of the year by the National Board of Review — and was even considered a possible frontrunner for Best Picture for a time. But its reception by the industry has been surprisingly muted outside of the expected technical categories (such as Production Design, Makeup, and Visual Effects), and all hopes for the film seemed dashed when its director, George Miller, was passed over by the DGA in favor of Alejandro G. Iñárritu for the second year in a row (for The Revenant after last year's Birdman). If there's only room for one tech-heavy action epic in this year's Best Picture race, the industry appears to have thrown its weight behind The Revenant.
5. Bridge Of Spies — 9/14
Acting nomination
Screenplay nomination
PGA nomination
WGA nomination
BAFTA Picture nomination
BAFTA Directing nomination
BAFTA Acting win
BAFTA Screenplay nomination
BAFTA Film Editing nomination
For a film as utterly lacking in word-of-mouth buzz as Bridge Of Spies, it has turned in a surprisingly good performance so far with the industry. Perhaps that shouldn't be so shocking considering it's from legendary director Steven Spielberg, but the film's chances don't seem as high in reality as they do on paper. Bridge Of Spies performed especially well with BAFTA, earning nominations for Directing and Film Editing that it didn't get at the Oscars — which, when it comes down to it, is what's likely to spell doom for its Best Picture hopes. But BAFTA-winning actor Mark Rylance is probably Sylvester Stallone's biggest threat for the Supporting Actor trophy.
4. The Martian — 9/14
Acting nomination
Screenplay nomination
PGA nomination
DGA nomination
WGA nomination
ACE nomination
BAFTA Directing nomination
BAFTA Acting nomination
BAFTA Film Editing nomination
Like Brooklyn and Bridge Of Spies, The Martian is missing key Directing and Film Editing nominations. Unlike those other two films, however, its snub in the Directing category was a complete shock. Most prognosticators expected Ridley Scott to get his first nomination in the category since 2001's Black Hawk Down, but the Academy disagreed with them… and with the DGA and the BAFTAs, apparently. But occasionally a Best Director snub can propel a well-liked film to sudden frontrunner status if the snub is egregious enough — just ask Argo, which won Best Picture in 2013 after its DGA-winning director, Ben Affleck, was shockingly shut out of the category at the Oscars.
3. The Revenant — 10/14
Directing nomination
Acting nomination
Film Editing nomination
PGA nomination
DGA win
ACE nomination
BAFTA Picture win
BAFTA Directing win
BAFTA Acting win
BAFTA Film Editing nomination
Coming off the heat of back-to-back wins for Iñárritu at DGA and Best Picture/Director/Actor at BAFTA, The Revenant certainly seems to have momentum on its side going into Sunday's ceremony. But the numbers tell a slightly different story. While it won one of the five major guilds (DGA), it lost two (PGA and ACE) and wasn't even nominated for the other two (SAG Cast and WGA). Speaking of the Writers guild, The Revenant was one of the only Best Picture nominees this year to have its screenplay eligible under the stringent WGA guidelines but still fail to secure a nomination. Its concurrent lack of a Screenplay nomination at the Oscars and its lack of a SAG Cast nomination are the film's two biggest stumbling blocks on the race to Best Picture. No film since 1995's Braveheart has won Best Picture without a SAG Cast nomination — and that was in the first year of the award's existence. And in the past 75 years of Oscar history, only three movies have taken home Best Picture without even earning a nomination for their screenplays: 1997's Titanic, 1965's The Sound Of Music, and 1948's Hamlet.
So how to explain The Revenant's resounding success at the BAFTAs? Well, the British Academy did fail to award Birdman and director Iñárritu last year, favoring Oscar also-ran Boyhood and its director Richard Linklater instead. Could The Revenant's triumph there this year be a mea culpa to last year's Oscar-winning filmmaker?
2. Spotlight — 11/14
Directing nomination
Acting nomination
Screenplay nomination
Film Editing nomination
PGA nomination
DGA nomination
SAG Cast win
WGA win
BAFTA Pic nomination
BAFTA Acting nomination
BAFTA Screenplay win
Spotlight was the early favorite for the prize… at least according to journalists, who unsurprisingly loved this film about journalism. And it has performed well in terms of total precursors — it's the first film on the list to land all four key nominations from the Oscars themselves. But there are a few snubs here that hurt: the BAFTA and ACE snubs of Spotlight's editing, and the BAFTA snub of its director, Tom McCarthy. Actors obviously love the film, since it took home the Best Cast prize this year. (Spotlight was one of only two Best Picture nominees even nominated for that honor this year, a rare instance of such low overlap between the ceremonies.) But SAG has perhaps the lowest success rate of all the guilds when it comes to predicting Best Picture: it has only been right 10 out of the 20 years the Cast award has been in existence, with recent winners of the prize including American Hustle (which lost the Oscar to 12 Years A Slave), The Help (lost to The Artist), and Inglourious Basterds (lost to The Hurt Locker).
1. The Big Short — 14/14
Directing nomination
Acting nomination
Screenplay nomination
Film Editing nomination
PGA win
DGA nomination
SAG Cast nomination
WGA win
ACE win
BAFTA Picture nomination
BAFTA Directing nomination
BAFTA Acting nomination
BAFTA Screenplay win
BAFTA Film Editing nomination
That's right. Only one film this year hit 100% of the crucial Oscar precursors… and that film is, unexpectedly enough, a raucous, fourth-wall-breaking dramedy about the 2008 financial crisis from the director of Anchorman and Step Brothers. It is the only Best Picture nominee other than Spotlight to receive a SAG Cast nomination (for its terrific ensemble including Christian Bale, Steve Carell, Ryan Gosling, and Brad Pitt); it is also the only nominee other than Spotlight to hit each of the Big Four categories at the Oscars; and it is the only nominee to hit all five major guilds AND all five major BAFTA nominations. Sure, it lost BAFTA to The Revenant, but that could be not only because the Brits wanted to make it up to Iñárritu, but also perhaps because a very "American" film like The Big Short simply didn't appeal to the foreign voters in the way that a universal "man vs. nature" story did.
The Big Short has won a critical trifecta of guilds: Producers, Writers, and Film Editors. Its victory with the PGA is the most crucial here for a very simply reason: Producers guild is the only organization that votes using the same quirky ballot system that the Academy uses to determine Best Picture. That quirky system is called a "preferential ballot," and its purpose is to find a true consensus pick with broad support among voters. Also, the PGA has about 7,000 members, which makes it roughly the same size as the Academy. These similarities make it a great testing ground for the Oscars; in fact, in the six years since both the Academy and the PGA adopted the preferential ballot system, their Best Picture winners have lined up 100% of the time.
The biggest think working against a Big Short victory? With only five nominations, it has fewer total nods than its closest competitors, Spotlight (with six) and The Revenant (with a whopping 12, the most of any movie this year). Usually it takes winning at least two other awards to win Best Picture — no Best Picture winner has won only one other award since 1952's The Greatest Show On Earth — and although The Big Short is a lock for Adapted Screenplay, that second win is going to be hard to come by.
So who will it be? The film with the flawless precursor track record, The Big Short? The long-championed critics' pick, Spotlight? The film with momentum on its side, The Revenant? Or another contender entirely, taking advantage of such a divisive year to surprise us all and steal the crown? We'll find out when the envelope is opened this Sunday night!
Images: Fox Searchlight Pictures; A24 Films; Warner Bros. Pictures; Walt Disney Studios Motion Pictures; 20th Century Fox (2); Open Road Films; Paramount Pictures