Proof Jax Taylor May Marry Brittany Cartwright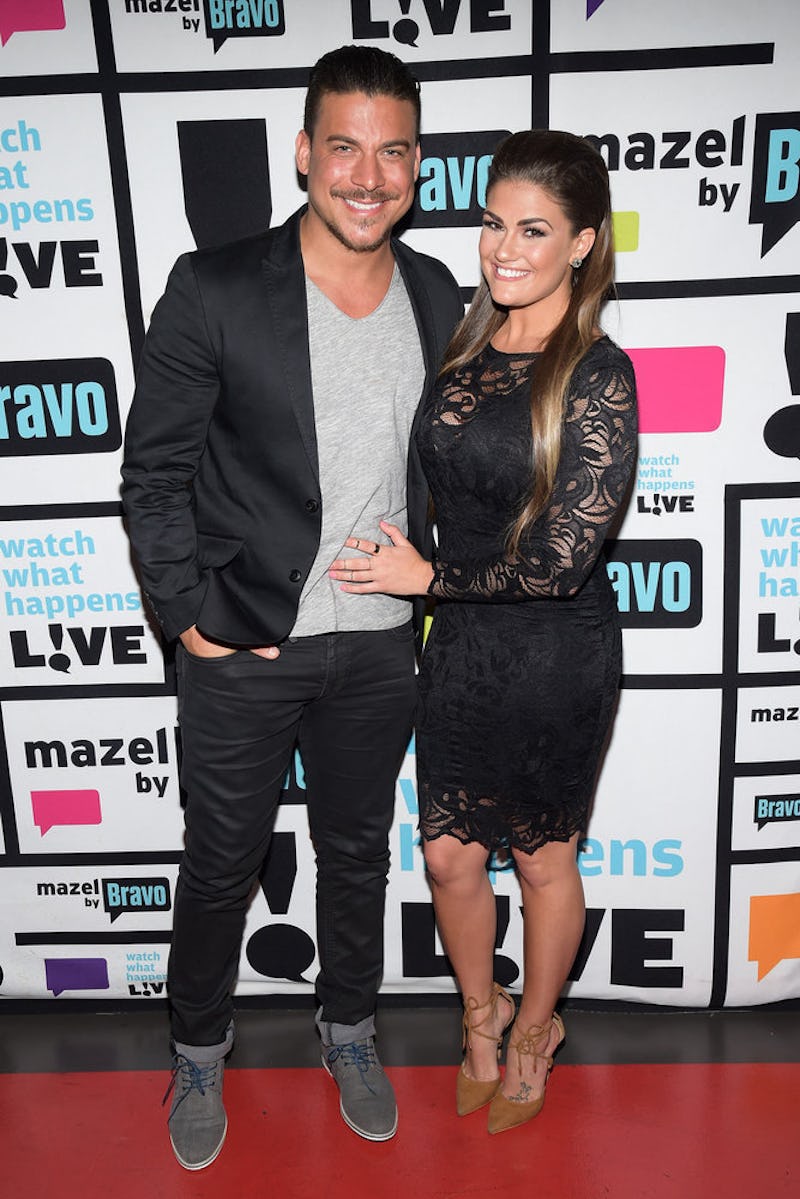 Hold the phone. Stop the presses. Press pause on whatever you're watching. I'm going to need all of my fellow Vanderpump Rules fans to gather 'round, because I have some shocking news to tell you. Are you ready? Jax Taylor and Brittany Cartwright could very well get married. First, no, they aren't engaged (yet), nor have they set off to Las Vegas to elope (come on, that seems like a Jax move), but they are talking about marriage.
While chatting with E! News Tuesday, they both discussed the possibility of becoming husband and wife. After being asked about whether or not the Pump Rules couple will say "I do" anytime soon or in the near future, Taylor responded, "Yes, in time. Pump the breaks a little bit." Cartwright agreed with her 36-year-old boyfriend and said she definitely wants to make an honest (ha! oh, sorry, was that out loud?) man out of him, but "not like now."
Taylor continued, "Tom [Schwartz] and Katie [Maloney] still have to get married. Let's get that out of the way first, and then we'll discuss us...It's definitely in the cards, just we have one wedding to get through first." Are pigs flying right now? Never did I ever think I'd hear those words come out of the SUR bartender's mouth.
Ever since it was announced that Taylor has a new girlfriend and appeared to be quite serious with her on Vanderpump Season 4 (you know, when he wasn't telling Lala Kent he wanted to have sex with her), some viewers, including myself, have been both shocked and confused about their relationship. Are they really that serious? Why is Cartwright dating Taylor? Is Taylor really that in love with her?
Whatever they say (and whether or not you believe them), on multiple occasions they've provided some pretty hard proof that they're serious about marriage. Check it out. For real. I promise this isn't me pulling a Jax and lying through my teeth.
Jax Has Gushed About Brittany's Morals & Values
While chatting with The Daily Dish in November 2015, Taylor dished why Cartwright is so great. "She is just such a put-together, solid girl," he said. "She's beautiful, amazing. She takes great care of me. She's just got all the Southern charm. Her upbringing is amazing. She's just got good family values." That sure sounds like "marriage material" to me.
Jax Is The Reason Brittany Moved To Los Angeles
Do you move across the country (from Kentucky to California) just for anyone? During a February appearance on Watch What Happens Live, Cartwright admitted Taylor is the reason she moved to L.A. That sure sounds serious to me.
Jax Has Been Faithful To Brittany — Supposedly
Sadly, it's a big accomplishment for Taylor to not cheat. In November 2015, WWHL's Andy Cohen asked Tom Schwartz if Taylor had been faithful to Cartwright. He answered, "Surprisingly, yes." If true, and Taylor isn't sleeping around on Cartwright, then she clearly means a lot to him.
They're Still Together After All This Time
Taylor and Cartwright have been dating since around May 2015 (that's almost nine months). That in itself is a major accomplishment for Taylor. Hmm... maybe wedding bells really are in the air.
Obviously, this could all just be another huge Jax Taylor fabrication, but who knows. When it comes to these two tying the knot, I'll believe it when I see it. Until then, I'll just imagine this will be the response/apology Taylor gives when they don't get married:
Images: Charles Sykes/Bravo; vanderpumprules, eaidiario (2), f*ckyeahvanderpumprules, the-sword-in-the-stone/Tumblr