DMX Totally Steals 'Deadpool'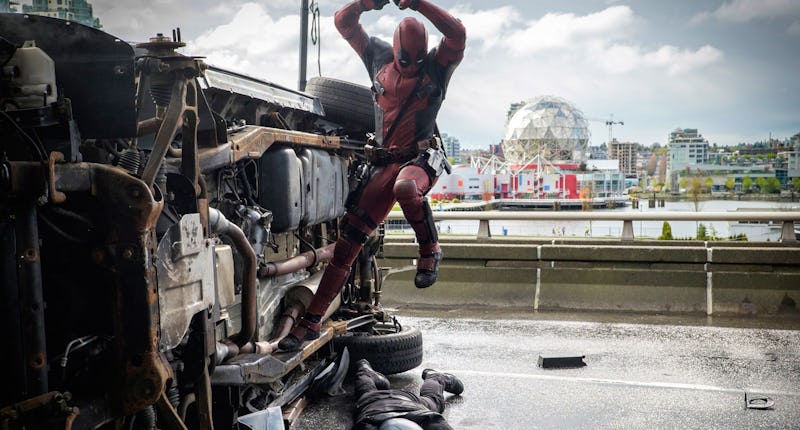 Imagine this: a snarky dude in a skin-tight red suit walks towards you, flanked by a badass teenage girl and a giant man made out of metal. What song plays through your head? "Started From the Bottom" by Drake, perhaps? Or maybe Queen's "We Are the Champions"? Hm, those don't sound quite right. Oh, I know — how about DMX's "X Gon' Give It To Ya"? Perfect. By now, hopefully you've realized I'm talking about the movie Deadpool, which expertly uses "X Gon' Give It To Ya" as Deadpool's chosen soundtrack for his big superhero walk before the final battle. The tune by DMX is the perfect Deadpool theme song, and here's why.
Prominently featured in trailers for the film, not to mention the movie itself, it's hard to even look at a photo of star Ryan Reynolds without hearing the first few lines of the chorus in your head. Like Deadpool, "X Gon' Give It To Ya" almost feels like something you know you shouldn't like, but you can't help yourself. It's aggressive, angry, a little too full of itself, and yet, irresistible at the same time. I mean, even the lyrics are basically describing Deadpool. The line "X gon give it to ya" could literally be about Deadpool's weapon of choice.
DMX is the absolute perfect soundtrack for Deadpool because, like the reluctant superhero, DMX also seems to be somewhere in between the spectrum of douchebag and hero. (Hey, his angry growl is signature for a reason.) No doubt screenwriters Rhett Reese and Paul Wernick felt the same way. While it's unclear who exactly suggested "X Gon' Give It To Ya" as Deadpool's superhero anthem, director Tim Miller did reveal that Reese and Wernick wrote in a few musical cues in the original screenplay, like the use of Juice Newton's "Angel Of the Morning."
Originally released in 2003, DMX's rap song was pretty popular when it came out (trust me, even if you have no idea who DMX is, you know the song). But since then, the rapper has pretty much vanished from mainstream pop culture. Sure, he's still successful, but he's not exactly hip. Lucky for him,Deadpool has given "X Gon' Give It To Ya" a huge boost in sales — a reported 403 percent boost, according to Billbaord, to be exact. DMX has yet to comment on his song's use in the film, but I'm guessing he's more than happy to reap the benefits, even if it means his song will from now on be associated with a scarred Ryan Reynolds making meta jokes and killing bad guys.
Mark my words, "X Gon' Give It To Ya" now belongs to Deadpool. When Reynolds wins big at the MTV Movie Awards, you can bet that song will be playing when he walks onto the stage.
Images: 20th Century Fox; Giphy (2)