11 Beautifully Written Memoirs By Women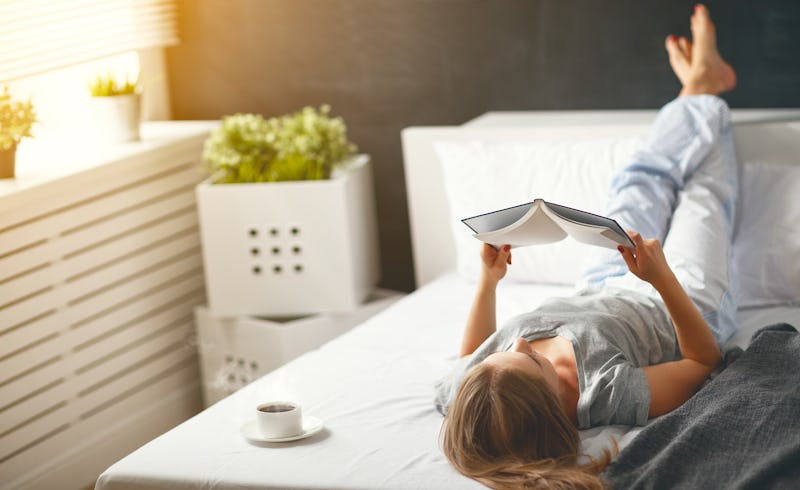 There are so many different reasons to fall in love with a book, and some of the best books aren't beloved for their memorable characters or their shocking plot twists, but for their writing. Among the best are beautifully written memoirs by women that are not only personal and profound, but above all, have stunning prose.
A memoir can be one of the hardest kinds of books to write because of how personal they are. The writer is not only the book's author and the story's narrator, but they are also the subject, and writing about yourself can be tricky to say the least. There's a lot of emotion that comes into play, and it's hard not to write with a bias. Sometimes, memoirs can sound too glorifying, too self deprecating, or worse, too boring.
The best memoirs aren't the best because the of who the subject is, as a memoir about an astronaut can be just as good as one about a high school teacher, but they're the best because of how they're written. Great memoirs make the most boring, everyday activity and the greatest, most exciting adventure both sound not only interesting but beautiful. Because when it comes to reading, it isn't just about what's in the story, but about how the story is told.
Luckily, women know a thing or two about writing beautifully. To prove it, here are 11 beautifully written memoirs by women with moving stories and, even better, moving prose.
1. The Folded Clock: A Journal by Heidi Julavits
If your diary was anything like mine, then it's full of angry scribbles and straight up gibberish, but Heidi Julavits' is nothing like that. The Folded Clock, Julavits' diary about life as a woman in her 40s, is written in prose so stunning that it's hard to believe it was born out of a journal. Her stories about being a woman, a mother, a wife, and a writer are so much more than that. They're also about self, friendship, family, and all those other secret thoughts, fears, and dreams you'd only share with the pages in your diary. Luckily for us. Julavatis gave us a glimpse.
2. My Salinger Year by Joanna Rakoff
A book involving one of America's greatest literary giants is bound to feature beautiful writing, right? Joanna Rakoff's memoir certainly does as it chronicles her life as an assistant at a publishing company whose duty it includes answering Salinger's fan mail. A funny yet sincere book about being young in New York City, My Salinger Year is an absolute treat to read not only for its candid stories but for its gorgeous prose.
3. If the Oceans Were Ink: An Unlikely Friendship and a Journey to the Heart of the Quran by Carla Power
An inspiring story of two women from different worlds who refuse to let religious and cultural differences, prejudice, and ignorance get in the way of their friendship, If the Oceans Were Ink is as thought-provoking as it is elegantly written. It takes a difficult, highly charged topic and puts it into terms that are not only understandable and eye-opening, but beautiful. This is anything but a textbook.
4. Smoke Gets in Your Eyes: And Other Lessons from the Crematory by Caitlin Doughty
Death isn't always pretty, but the way Caitlin Doughty writes about it in her memoir Smoke Gets in Your Eyes, it can at least sound pretty. A unique and original story about her post-graduate years at a crematory, this memoir is a lively account of death that will change the way you think about dying.
5. The Sound of Gravel by Ruth Wariner
One of my favorite books of the year so far, Ruth Wariner's The Sound of Gravel is an emotional, engrossing memoir that takes a deeply personal story — one about growing up in a polygamist cult — and weaves it into a beautifully written tale of hope and survival. Optimistic despite it's troubling topic, Wariner's honest account is a poignant book everyone should be reading this year.
6. The Liars' Club Mary Karr
The memoir that got people reading memoirs again, Mary Karr's The Liars' Club is a smart, clever book written in impressive and passionate prose. Karr tells the story of her childhood growing up in East Texas with candor and humor, and every sentence is meant to be enjoyed.
7. Dear Mr. You by Mary Louise Parker
A memoir told in letters to all the men in her life, Dear Mr. You proves that Mary-Louise Parker can do a lot more than act. A literary treat, Parker's debut is a beautiful, personal, and powerful read.
8. Wave by Sonali Deraniyagala
It isn't easy to write about tragedy, but Sonali Deraniyagala does it with a delicate and balanced pen in her heartbreaking memoir Wave. The story of devastating tsunami on the coast of Sri Lanka that killed Deraniyagala's family and left her alive to pick up the pieces, Wave is a deeply moving book about love, loss, and moving on.
9. H Is for Hawk by Helen Macdonald
Helen Macdonald turns her grief into beauty in her bestselling memoir H Is for Hawk. A unique book, it is no surprise this one was on over 25 best books of the year lists last year.
10. Her by Christa Parravani
Sisters have complicated relationships as it is, but identical twin sisters have a whole other set of complications they have to deal with, including identity. With unsparing prose, Christa Parravani's Her explores that relationship and what happened after it was stripped from her after her sister's tragic death.
11. I Know Why the Caged Bird Sings by Maya Angelou
One of the most beloved and most beautiful memoirs of all times, Maya Angelou's I Know Why the Caged Bird Sings is a classic for a reason. Evocative and affecting, no list of memoirs would be complete without mentioning this one.
Image: Fotolia