11 Memoirs You Should Read In Your 20s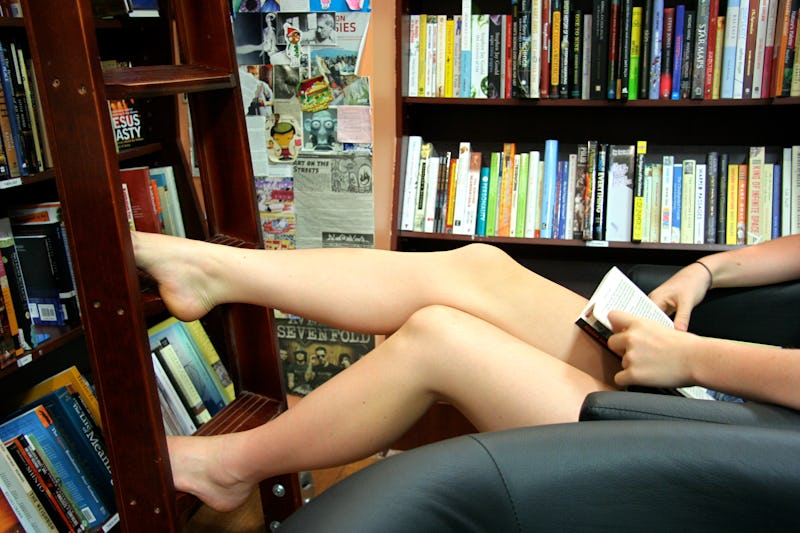 Reading a good memoir is useful at any age, but it can be life-changing (or life-saving) in our 20s. It seems like we're supposed to magically go from hard-partying coeds to productive members of society overnight. Vicariously experiencing somebody else's struggle to figure out who the hell they are can be comforting and sometimes downright cathartic.
Yep, existential crises are pretty much a given at this age. And it's not just me — I know I'm not the only one who was profoundly relieved while reading Lena Dunham's new memoir Not That Kind of Girl to find someone else (besides my sister/mother/best friend) validate my point of view. I actually shouted out, "I knew it! I wasn't crazy! You really are just an asshole!" recalling a particularly POS boyfriend.
So, yeah, the 20s can be a little difficult. Just consider the various high-profile meltdowns that are happening at any given moment. You don't need to be a celebrity to feel like your mid-life crisis is happening in your mid-20s (or to pen a memoir). But it can also be one of the few times in life when the only person you're responsible for is yourself. Granted, some days dealing with yourself feels a lot like this:
But overall, the good should outweigh the bad, and at the very least there should be tons of epic parties. The memoirs on the following list will make you laugh, cry ,and possibly realize just how lucky we are to live in a free and democratic society where we have the luxury of being semi-lost and wallowing in our twenties. Just saying.
I'll Drink to That: A Life in Style, with a Twist by Betty Halbreich
So Betty just happened to have an epically stylish, amazing life, and is also suuuuuuper funny. She's been dressing Manhattan's finest (and wealthiest, and most powerful) for 40 years as the preeminent personal shopper at Bergdorf Goodman's. Yes, this lady has Stories with a capital S. But Betty also suffered from depression, attempted suicide, and spent time at a psychiatric hospital before she realized the healing power of employment. So maybe money can't buy happiness, but doing something you love while making money just might.
The Glass Castle by Jeannette Walls
Basically everyone who grew up with four walls and food experienced a more normal childhood than Jeannette Walls. Her parents were brilliant, artistic, and unconventional to say the least. When the money ran out, their carefree, nomadic lifestyle descended into a nightmare of dysfunction, drug abuse, and mental illness. Walls' memoir is so remarkable because she treats her feckless parents with sincere affection and a notable lack of judgment. But what really sticks with me is the way she used the grit and determination she developed surviving her childhood to create a successful, fulfilling life. Pretty inspirational stuff. Bonus: Word is that Jennifer Lawrence is producing and starring in the movie. Yeah, get excited.
Cherry by Mary Karr
Memoirs tend to focus on the freak-show family in various forms. Although Mary Karr had an alcoholic, suicidal mother, and a boozehound father, both of whom she describes in detail in her first amazing memoir, The Liars' Club, nothing that crazy happens in Cherry. Karr is 17, and she goes adventuring, heading west to California with a bunch of surfers and drugs. Karr's work is special because of her insanely gorgeous prose. She can make even the most universal, mundane experiences seem heartbreakingly beautiful. Her writing inspires me to find, or maybe even create, something extraordinary out of the seemingly ordinary.
I Was Told There'd Be Cake: Essays by Sloane Crosley
Like Not That Kind of Girl, Sloane Crosley's collection of essays revolves around the experiences of a "young woman about town" in Manhattan. Crosley puts her own twist on the typical first-job-bad-date-I-can't-afford-to-live-here-and-eat topics, her self-deprecating humor and sometimes bizarre details bring a freshness to the same old stories. Bring-Your-Machete-to-Work-Day is by far my favorite, because, yes, that is a reference to Oregon Trail. And that's all I should have to say.
Just Kids by Patti Smith
Obviously Patti Smith, being who she is, has had an insanely incredible, eventful, interesting life. Plus she's just one of the coolest people ever. And as anyone who's listened to her music knows, she's also a beautiful writer, a skill she puts to particularly good use when describing her friendship with the late, great, Robert Mapplethorpe.
Wild by Cheryl Strayed
There's something so, I don't know, American, about hitting the trail and taking off into the wilderness right about the same time you hit rock bottom. It's a kind of bone-deep cultural myth created by Thoreau, and perpetrated by writers like Chris McCandless, that we can experience salvation and possibly even rebirth in nature. I like it, and I love that the wanderer in Wild is a woman. Never doubt the transformative power of Mother Nature, people.
I Feel Bad About My Neck by Nora Ephron
So technically this is a book of essays that chronicle Nora Ephron's life, not a memoir, but I don't care what it's classified as — you need to read it. Ephron writes candidly about what it's like to be a woman of a certain age. Her observations are insightful and illuminating, and because she's Nora Ephron, hilarious. My enduring takeaway? Put on a bikini now and don't take it off until you're 34.
Drinking: A Love Story by Caroline Knapp
If that title doesn't hit you like a ton of bricks, Caroline Knapp's sharp, impactful writing will. Knapp began donning her "liquid armor" in her teens to protect herself from the pressures of overachieving parents and the pursuit of perfection. She didn't stop drinking until she checked into rehab at the age of 36. In that time she graduated with honors from Brown and had a successful career as a journalist. She interweaves her own story of addiction with factual information about abuse. Example: 15 million people a year are plagued by alcoholism, five million are women. Knapp's story will stick with you.
The Woman Warrior: Memoirs of a Girlhood Among Ghosts by Maxine Hong Kingston
Maxine Hong Kingston writes bitterly and beautifully about what it's like growing up while trying to bridge the gap between two disparate worlds. In her case its Stockton, California and her mother's homeland of China. The former is a place of strict racial divisions, the latter a shadowy landscape populated only by her mother's "talk-stories." Kingston's anger and frustration burn bright on the pages, but the beauty comes when she learns that in order to move forward, she needs to create her own stories.
Don't Let's Go to the Dogs Tonight: An African Childhood by Alexandra Fuller
Alexandra Fuller certainly doesn't sugarcoat the difficulties and depravities of growing up in an inhospitable and sometimes downright forbidding environment, but she does write about it with grace, humor, and appreciation for what she did have, namely her family. She describes her homeland with affection and respect, but she also gives a clear-eyed account of its flaws. Seriously, her writing is riveting.
Not That Kind of Girl by Lena Dunham
There's no way I could leave Dunham's memoir off this list. She is a master at putting the awkward, traumatic, and often confusing events of our 20s into words. And as much as I love to read memoirs that remind me how relatively easy I've got it, it's even lovelier to read one that makes me feel accepted, validated, and maybe even understood.