'Fuller House' Honored Feminism In The Best Way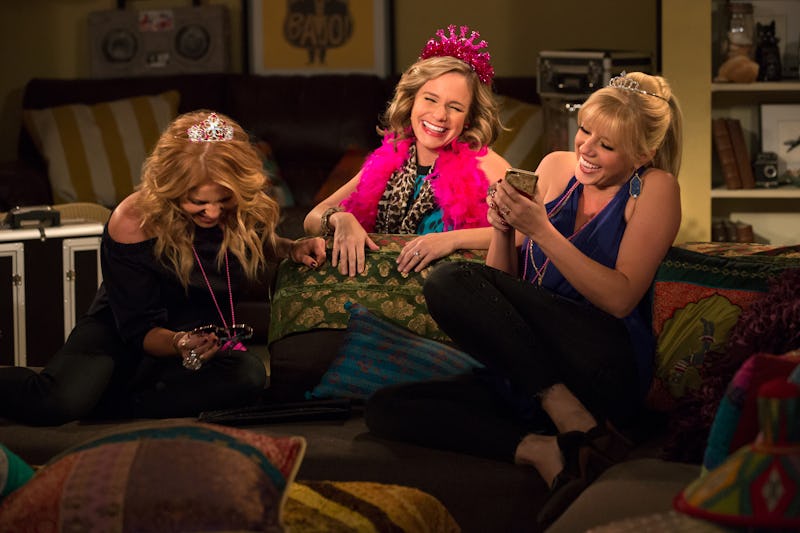 One thing that I always loved about Full House was the smart and respectful way the sitcom always portrayed its female characters. Sure, the main concept originally centered around three grown men raising three young girls (an extreme version of Three Men and a Baby), but as the show (and the girls) grew, so did the show's focus. D.J., Stephanie, and Michelle were constantly supported and encouraged by their family members to pursue their dreams and believe that they are capable of anything. And, of course, there was Aunt Becky who balanced motherhood and a successful broadcasting career like the pro that she is. And this female-centric tradition has only become more prominent in Fuller House , which was full of amazing feminist moments that'll make you fall even more in love with these characters than you already were.
Of course, this shouldn't really surprise us all that much, considering that the series promised to focus specifically on three of its leading ladies — D.J., Stephanie, and Kimmy Gibbler — all of whom are choosing to tackle life's obstacles in their own unique and highly independent way. So just in case you're looking for an extra serving of empowerment to go with your marathoning regime, check out some of the biggest feminist moments from Season 1 below that prove these ladies have no mercy when it comes to stereotypical sexism.
1. When Stephanie Celebrated Her Independence
A lot of times society wants women to think that they should settle down with a husband and have kids. And while those priorities are certainly admirable, it's not always what the woman wants. Stephanie more than proved that point in the beginning of the season by explaining her lifestyle to D.J., who couldn't understand why she didn't want to be a mother. Of course, we later found out that Steph is sadly unable to have kids of her own, even if she changed her mind down the line. But that doesn't take away from the important message this character represents. You don't have to follow a certain criteria in order to be happy and being a free spirit like Stephanie can be just as rewarding as anything else.
2. When Stephanie & Kimmy Made D.J. Their Priority
After hearing via baby monitor how scared D.J. was to be all on her own, Steph and Kimmy shoved their own needs to the side and rearranged their life to become part of her She-Wolf pack. This is a classic example of ladies supporting other ladies, which in my book is the highest form of feminism and would make Leslie Knope (the creator of Galentine's Day) very proud indeed.
3. When Calories Were Not A Concern
In a world so obsessed with looks, it was nice to see these characters not fretting about counting calories or feeling ashamed for wanting a second slice of cake. In fact, Stephanie and Kimmy ate almost an entire chocolate cake together in one episode and are now officially my heroes. We could all stand to take a carefree page out of their book.
4. When D.J. & Kimmy Got Dirty With Their Dancing
Determined to beat Kimmy's estranged husband Fernando in a dance competition at a club, these two besties busted out their fourth grade Dirty Dancing routine set to the song "Time of my Life." Not only did it help to boost Kimmy's confidence, but it also showed viewers what a true friendship really looks like.
5. When Mexican Wrestling Came Into Play
Just in case you thought D.J. was anything less than a badass, we saw her take down professional wrestlers at Lucha Kaboom singlehandedly. Looks like someone just earned their Coolest Mom of the Year award.
6. When D.J. Decided To Date Two Guys At The Same Time
Because if you're not ready to choose who to be with, then don't. It's just that simple. Plus, this lady has more than earned the right to let loose a little. Play the field, girl!
7. When D.J. Fought For Her Career
D.J. has always wanted to own her own pet clinic and thought that her boss would hand over the business to her when it came time for him to retire. So when he opted to give everything to his son, Matt, instead, D.J. decided to take matters into her own hands and create her own clinic, which is what inspired Matt to split the ownership of the clinic 50/50. She stood up for what she wanted and she got results.
8. When D.J. Decided To Pick Herself
Throughout a majority of the season, D.J. was struggling to choose between her first love, Steve, and her new love, Matt. But in the end, she decided to not pick either of them for the time being and opted to pick herself instead. After all, she just started dating again and if it's this difficult for her to decide, then that means she's not ready for a serious relationship. Plus, it's like what she and Steph told Kimmy before her almost-wedding: what matters most is that they are three strong independent women who don't need a man... because they have each other. The She-Wolf pack lives on, my friends! And I, for one, couldn't be more thrilled.
Images: Netflix; Giphy (8)