How To Make Your Home Super Guest-Friendly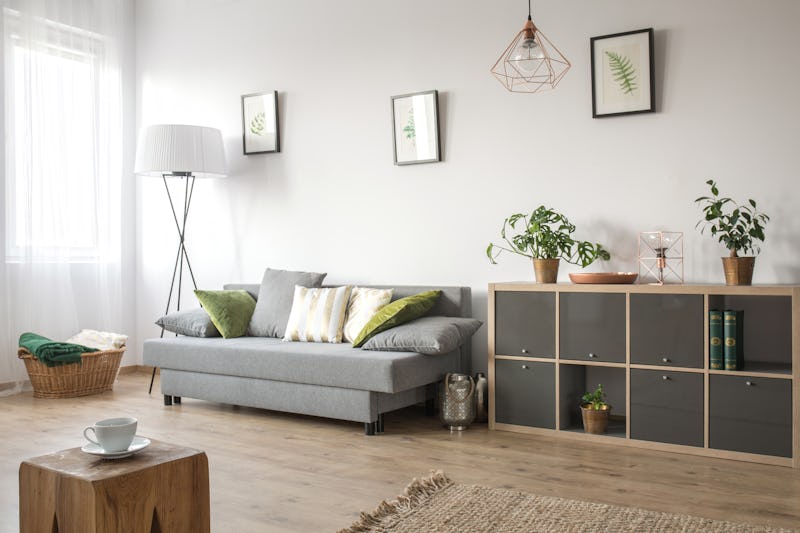 I don't think I'm going out on a limb when I say most of us appreciate a welcoming atmosphere when it comes to our homes or a place we're visiting. There's just nothing quite like walking into a space and instantly feeling a sense of warmth and comfort. And there's also nothing quite like being told that your home is cozy and inviting — it just feels nice to know you've created an atmosphere that others want to be in.
In fact in a piece for Houzz.com, interior decorator Kristie Barnett said that her clients almost always say they want their homes to feel warm and welcoming first and foremost when it comes to their design schemes.
And this makes a ton of sense when we consider how stressful life can get. In a piece for the HuffPost Healthy Living section, psychotherapist Robi Ludwig said, "we need our home environment to be the place where we can take both personal and physical refuge. It is here that we can balance ourselves and our psyches, because our home is the place where we can relax, regroup and reinforce the best part of who we are."
If you're gearing up for company, or just want to make your living space more inviting for yourself, here are nine tips for a super welcoming home space.
1. Start With The Entrance
Rowan Embossed Washable Runner, $49.95, Improvementscatalog.com
Barnett stressed the importance of the entryway and first impressions when making your home feel welcoming. "The front entry of your home should usher in and welcome both family and guests," she said, noting that things like, "Great lighting, art or a mirror [...] and a succession of rugs help pull you into this entry." I also personally recommend a good old fashioned welcome mat for a quick and relatively easy way to up the welcome-quotient.
2. Create Mood Lighting
Tiffany Style Dragonfly Reading Lamp, $119.99, Overstock.com
Mood lighting isn't just for romance. A compilation piece on Apartment Therapy about boosting the welcoming atmosphere in your home listed adjustable lighting and multiple light sources as one of it's top tips so that you can tailor the lighting to the situation. Friends over for drinks should look totally different than the bright overhead lights you use for a sewing project.
3. Think About Textures
Safevieh Medley Grey Textured Grey Rug, $90.09, Overstock.com
Freshome regular contributor Lavinia Patrascu stressed the importance of textures when it comes to coziness. "One of the simplest tricks for a more welcoming home is texture," she wrote. "Surround yourself with things you would like to touch. Fluffy carpets, wavy wallpapers or smooth wooden furniture — all these can be easily integrated in a modern room, making it feel less rigid and perfectly comfortable."
4. Layer Up On Pillows And Blankets
Alda Pintucked Pillow Cover, $32, Wayfair.com
In a YouTube how-to video, interior designer Tobi Fairley said that the key to a cozy space is layering. She recommends layering a sofa or chair with several different blankets, like layering a cotton blanket over a thicker and softer one for warmth. She also suggested investing in pillows of different shapes and sizes for a super plush and cozy effect.
5. Keep Seating Intimate
Norsborg 8-seat sofa, $1,979, Ikea.com
That same Apartment Therapy compilation piece suggested keeping the seating arrangement in your living room relatively close together. They said that furniture placed too far apart or with too many objects in between can create a sense of distance between guests, making the whole experience feel less comforting overall.
6. Incorporate Some Aromatherapy
Lemon Lavender Small Jar, $10.99, YankeeCandles.com
Barnett also reminded us that the power of smell can be one of the most important factors in creating a welcoming environment. She recommended fresh flowers or freshly baked cookies, and I personally am always a huge advocate of scented candles.
7. Keep The Color-Scheme Warm
Patrascu noted the key role that color scheme plays in how welcoming a room can feel. "It is no longer a secret that colors have the subtle ability to elicit various emotions and moods, making this design sector particularly interesting," she wrote. "You should know that while cooler colors like blue, purple and dark green can visually enhance a room, warmer tones such as peach-orange, brown and red can make a space feel more compact and therefore, more inviting."
8. Have Bedding Ready
Tommy Hilfiger Novelty Print Sheets, $36.97, Macys.com
This one specifically applies for when you're having overnight guests. Nothing feels as nice as when you visit friends or family and your bed is already made and towels are already out for you. Conversely, it always feels like you're kind of an inconvenience when it comes time for bed and you have to watch your host fumble around for clean sheets. So for an added extra touch, make sure all of this is ready before your guests arrive.
9. Don't Forget The Bathroom
Dark Bronze Bamboo 3-Piece Accessory Set, $15.99, Kirklands.com
This is just a personal tip that I have found makes a huge difference when in somebody's home. Make sure there's enough toilet paper (because no visitors enjoy having to ask for more), that the soap dispenser is full, and that there are clean towels for drying your hands. It also doesn't hurt to have a subtle air freshener or some potpourri for an added little touch.
Creating a welcoming living space isn't all that hard — it just take a little time, planning, and attention to detail. So go forth and get cozy!