How To Fall Back In Love With Your Job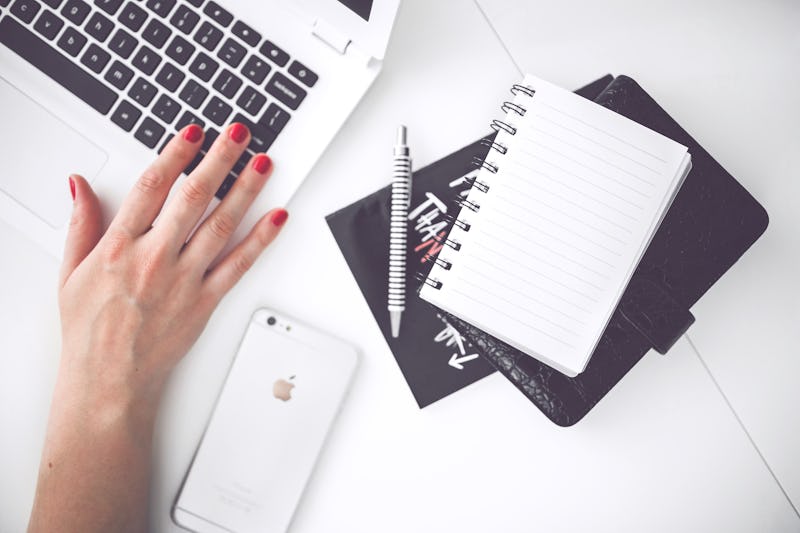 After a few years of working at your job, there can come a time when you start to feel like you're falling out of love with what you're doing. But even if your days may seem to be getting longer, there are still ways to make your office work day better. Take a moment and reminisce about your first day on the job. What was that like? Did you have butterflies and couldn't wait to take on a new project? The first day on the job is usually the most nerve-wrecking, but also the most exciting. So where does that feeling go?
After some time, it's completely natural to want to switch things up when it comes to your career. Your responsibilities might not be challenging enough, or you've completely outgrown the culture. Either way, take the time to reevaluate why you're falling out of love with your job and see if there's a way to fix it. Sometimes when it comes to these types of situations, it's best to look within yourself first before you start putting the blame on anyone else. But if you feel like you're having a hard time waking up in the morning and heading into work with a smile on your face, here are six ways that may be able to help you fall back in love with your job.
1. Alter Your Responsibilities
Maybe you're bored at your job because you're no longer feeling challenged. See if you can add more or alter your responsibilities to your workload. Doing the same mundane tasks every day can start to feel repetitive and soul-sucking. Creating different tasks can really breathe new life into your work routine. According to INC., Todd Berger, president and CEO of Chicago-based Redwood Logistics, said, "By doing this, you're stepping away from repetitive tasks and projects to a more creative position." Ask for more responsibilities from your boss or volunteer to fix issues that continue to reappear. Your boss will appreciate the extra effort that you're putting in and may even recognized that during your annual review.
2. Get To Know Your Coworkers More
Sometimes it's not the work that helps make the day go by; your coworkers can do that, too. According to Business Insider, strengthen your work friendships by attending more company events and having a friendlier attitude. Next time you're in the office, take a moment to really get to know your coworkers during lunch and see if you guys have anything in common. Having friendships in the office is also a good way to easily bounce off ideas one another when you're feeling stuck or need someone to talk to about work-related issues. Always be aware of your coworkers, because one friendship can really turn your work environment around.
3. Switch Up Your Environment
When your relationship with work is falling to the wayside, sometimes you just need a visual spruce up to help get things back on track. According to Fast Company, Vincent Ponzo, senior director of the Eugene Lang Entrepreneurship Center at Columbia Business School, said to rearrange your office supplies on your desk or eat at a new location. Surrounding yourself in a new environment might ignite your creativity and help you feel more inspired to do your work again.
4. Talk To Your Boss Before Your Annual Interview
If you're feeling unhappy at your job or you're looking for new challenges to switch things up, set up a meeting with your boss, and discuss it. Instead of waiting for the annual review to express how you feel, take the initiative and make the change yourself. According to Fast Company, Jesse Sostrin, a consultant and author of the new book Beyond the Job Description, said, "Most unmet expectations that lead to relationships breaking down were never spoken in the first place." Sustrin continues, "Instead of assuming you have made your case, make it again."
5. Change Your Attitude
Sometimes your own attitude can get in a rut when you feel like your job is not doing it for you anymore. Complaining can become second nature, and you can lose sight of why you fell in love in the first place. According to INC., try to always act with a purpose. Every task you do at work, see how it will serve your future goals. Sometimes the meaningless tasks are the ones that suck the most energy out from you. If that doesn't work, try to surrounded yourself with positive coworkers.
6. Seek A Confidant
If work seems to be really unbearable, try to find someone that you can vent to privately. According to Forbes, discuss your issues either with a mentor, a colleague, or a close friend — but make sure it's someone that you can truly trust. Being vocal about your work issues with another individual may help you determine the next step you want to take when it comes to your job, but it could be dangerous because you never know who can turn your talk into next week's office gossip. While that will probably not be the case, it's always a good idea to express to this person that this topic is private.
It's completely natural to feel underwhelm when it comes to your job — it just means your growing and you need new challenges. Instead of flying the coop and searching for a new one, take a moment and reevaluate how you can fall back in love with it. Whether you need to talk with someone about your issues or change your environment around to gain a new perspective, there are ways to help cure the emptiness you feel when it comes to your work.
Images: Giphy (6); Pexels