15 Insanely Easy Gluten-Free Crock-Pot Ideas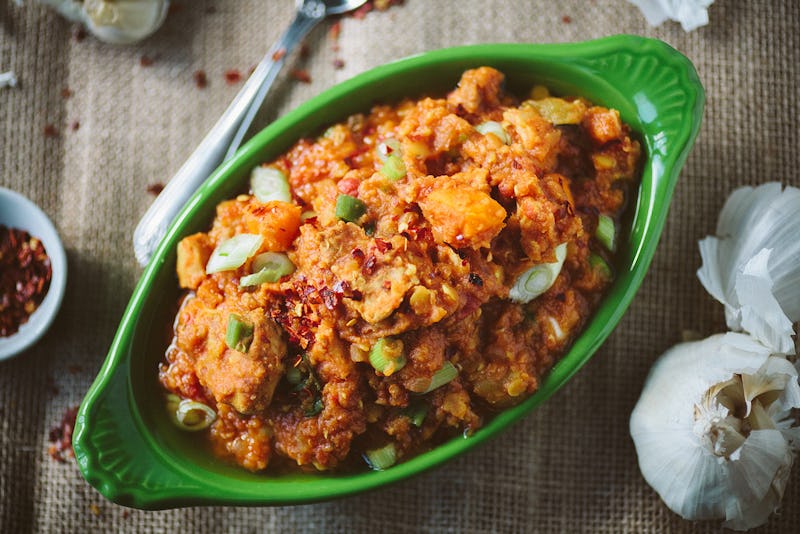 The slow cooker could be considered nothing short of a modern miracle, especially when you just want a warm, easy dinner on the table after a long day. Luckily, even if you have dietary restrictions, there are plenty of gluten-free Crock-Pot dinners that make for the ultimate cozy meal. These dishes can feel as fancy as you want — but honestly, they also make a great dish to cuddle up with as you watch a movie.
Healthy slow cooker recipes are also a foolproof way to move yourself towards healthier eating habits. Seriously, you won't forget to eat as many vegetables as possible when they're simmered to perfection and paired with aromatic mixes of spices. Plus, you can vary your meals enough so that you won't get tired of eating the same thing all the time. Weeknight meal planning just got a whole lot easier — plus, you're bound to have plenty of leftovers to keep you going.
These easy Crock-Pot recipes don't require any majorly complicated ingredients or hard-to-do steps so really, anyone can make them. Get ready for some dishes that will make your home smell seriously amazing and be prepared to take your slow cooker appreciation to the next level. It's time to simmer some tasty dinners — going gluten-free has never been so easy.
1. Split Pea And Lentil Soup
Not only is A Beautiful Mess' slow cooker soup gluten-free, it's also vegan! No heavy cream is necessary to make a rich pot of soup.
2. Slow Cooker Thai Peanut Chicken
No breading is needed to make a great chicken dish, as Averie Cooks proves. Serve this takeout-inspired dish over rice. Editor's note: Just make sure to leave out the soy sauce, or opt for a gluten-free version.
3. Curried Vegetable And Chickpea Stew
A hearty stew comprised of potatoes, peppers, chickpeas, and plenty of spices will always fill you up. The Kitchn makes it in a slow cooker for the utmost ease.
4. Slow Cooker Coconut Curry Pork
Don't be afraid to try some bold flavors. Mel's Kitchen Cafe's curry pork is perfectly aromatic, and tastes great with potatoes, rice, or quinoa.
5. Crock-Pot Lentil & Squash Curry With Chicken
You really can't go wrong with a slow cooker when it comes to curry. The Crepes of Wrath's squash-based dish makes a cozy weeknight dinner.
6. Slow Cooker Shredded Buffalo Chicken
Only six ingredients are necessary to make Cara's Cravings's spicy buffalo chicken. Serve it over rice or atop your favorite gluten-free bread.
7. Dr. Pepper Chili
This sweet-and-spicy chili recipe by Inside BruCrew Life is filled with hearty ground beef and wholesome kidney beans — save this for a cool night.
8. Slow Cooker Tomato, Kale, And Quinoa Soup
Looking for a simple, nourishing soup that's easy to make? Damn Delicious has your back.
9. Slow Cooker Orange Chicken
Tender, sweet orange chicken gets a caramelized flavor when it's made in a slow cooker. Averie Cooks leads the way to a crave-worthy dinner.
10. Slow Cooker Chicken Enchilada Soup
A long simmering time makes The Kitchn's soup extra smooth and creamy. Top it off with shredded cheese and sour cream.
11. Slow Cooker Jalapeño Popper White Bean Chili
Your game day favorite may be even better in chili-form. Mel's Kitchen Cafe makes hers extra decadent with the addition of cream cheese.
12. Crock-Pot Lamb Tagine
This Moroccan meal by The Crepes of Wrath is accented by raisins and pine nuts. But the slow-cooked lamb is the true star of the dish.
13. Slow Cooker Hungarian Goulash
Mushrooms, potatoes, carrots, and roast beef come together in this crowd-pleasing traditional meal by A Farmgirl's Dabbles.
14. Slow Cooker Cheesy Breakfast Potatoes
Sure, this cheese-covered mix of potatoes and sausage by Damn Delicious makes one heck of a brunch, but what's stopping you from having breakfast for dinner?
15. Moroccan Chicken With Chickpeas
Take advantage of your spice rack. Cara's Cravings makes chicken into a fancy meal. Dates and raisins give this meal a sweet twist.
For more ideas, check out Bustle on YouTube.
Images: A Beautiful Mess; Averie Cooks (2); The Kitchn (2); Mel's Kitchen Cafe (2); The Crepes of Wrath; Cara's Cravings (2); Inside BruCrew Life (2); Damn Delicious (2); A Farmgirl's Dabbles