'Vanity Fair' Could Use More Actual Diversity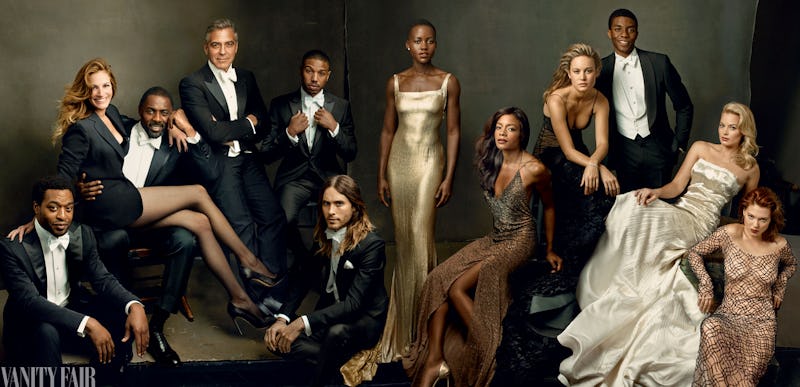 It's like clockwork, partly because it's very strictly scheduled: Every year during Oscar season, Vanity Fair puts out its Hollywood issue. Granted, every issue of Vanity Fair is in some ways a Hollywood issue, but regardless, every year we use this issue, with its beautiful people draped in beautiful clothes, to try to prove our points about the Hollywood system. Let this year be no different, for there's something actually notable about this one.
It's kind of sad that on my first glance at this cover I noticed something was different, and that something was wonderful. This wasn't just the usual parade of milky white A-listers with maybe one or two people of color thrown in for posterity — fully half of this year's cover are black actors.
My heart soared immediately — representation's a big-button issue for me — and I praised the gods of Vanity Fair and of Hollywood and of Oscar campaigns for putting Lupita Nyong'o front and center in an Oscar-colored dress like a goddess who has deigned to allow us in her presence. And though she's not a woman of color, I was quite pleased to see Short Term 12's Brie Larson included in the party, because girl deserves more praise than she's been getting for her powerhouse performance in that movie.
Of course, the cover is not perfect: Nyong'o's not actually on the part of the cover that will be seen by all the people across the globe who pass by Vanity Fair in their supermarket or CVS routine — in fact, none of the women of color are on the front part. Here's a pro-tip, to Vanity Fair and, well, every other magazine in existence, even the trade ones that have nothing to do with Hollywood: If you want a stunning cover, put Lupita Nyong'o front and center. Just do it. Trust me.
So yes, in the grand tradition of deciphering meaning and Hollywood Lessons from the covers of Vanity Fair's special issues, here are the ones we as a society should take from this one: 1) Don't stick the awesome people behind the flap. And 2) Diversity is not, for the record, completely centered around black people. I say this as a black person. "People of Color" spans a whooooole lot of other races, and most of them are struggling with representation in the media, as well.
And so yes, I applaud Vanity Fair in their lauding of the black actors who have made this year such a memorable, talented year in cinema. They deserve to be included, and now I have the image of Julia Roberts on Idris Elba's lap to help get me through the day. This is a nice step, considering how white issues like this can often be.
But also, don't always push the women of color to the side, and include women of ethnicities that might not fall as easily into the "black" or "white" categories, as well as people who are, say, differently-abled, or not cis-gendered. Diversity doesn't just mean "Half white cis-gendered people, half everyone else," especially when that everyone else is actually mainly comprised of one group of people.
This is a great start, though. It's a beautiful portrait of beautifully diverse people who have more than earned their share of the spotlight.
Images: Vanity Fair