Why You Should Use Hyaluronic Acid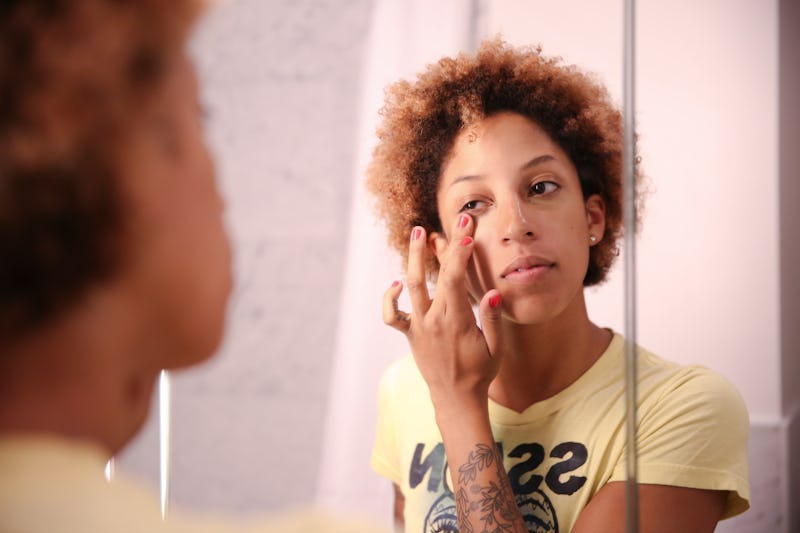 With all the beauty products out there, it's hard to know where exactly to start and what's best for your skin. I mean, each one seems to be even more amazing than the last, so that's overwhelming, to say the least. If you've wondered what hyaluronic acid does for your skin, don't be afraid, it's way less scary than it sounds.
The idea of putting acid on your skin sounds like a recipe for disaster, but don't let the name intimidate you, because this is a product that's seriously important at any age. So first of all, what is it actually? Hyaluronic acid is a naturally occurring carbohydrate, polysaccharide, found in your body. So don't panic — this isn't anything artificial.
Now that we've got that out of the way, what is it going to do for your skin? In addition to plumping your skin (which can help reduce the appearance of fine lines and wrinkles), it's amazing for keeping your skin hydrated — and that is a concern no matter how old you are. According to Dr. Julian Whitaker, hyaluronic acid can keep you skin so hydrated because of its "ability to promote collagen production and retain hundreds of times its weight in water." So that is some powerful stuff.
If your skin is feeling dehydrated, you want to fight aging, or just want to make sure you're as hydrated as possible, shop these seven products with hyaluronic acid in them.
1. VoilaVe
Hyalruonic Acid Serum, $16, Amazon
If you want it in its purest form, try a serum.
2. Amara Organics
Hyalruonic Acid Serum, $15, Amazon
For maximum benefit, try a serum with vitamins C & E in it as well.
3. Alina Skincare
Hyalruonic Acid Serum, $19, Amazon
This ultra-moisturizing serum also has macadamia seed oil and apple extract.
4. Hamilton Healthcare
Hyalruonic Acid Serum, $23, Amazon
If acne is also a concern, try a serum with retinol.
5. OZ Naturals
Hyalruonic Acid Serum, $15, Amazon
This one is clinical strength, so it's extra potent.
6. InstaNatural
Hydra-Gel Cream, $16, Amazon
If you prefer creams, try a moisturizer with hyaluronic acid in it.
7. Neutrogena
Hydro-Boost Cream, $14, Amazon
Have extra dry skin? This cream will quench your skin.
Images: Andrew Zaeh/Bustle; Amazon; Fototlia