10 Books to Commiserate With on Valentine's Day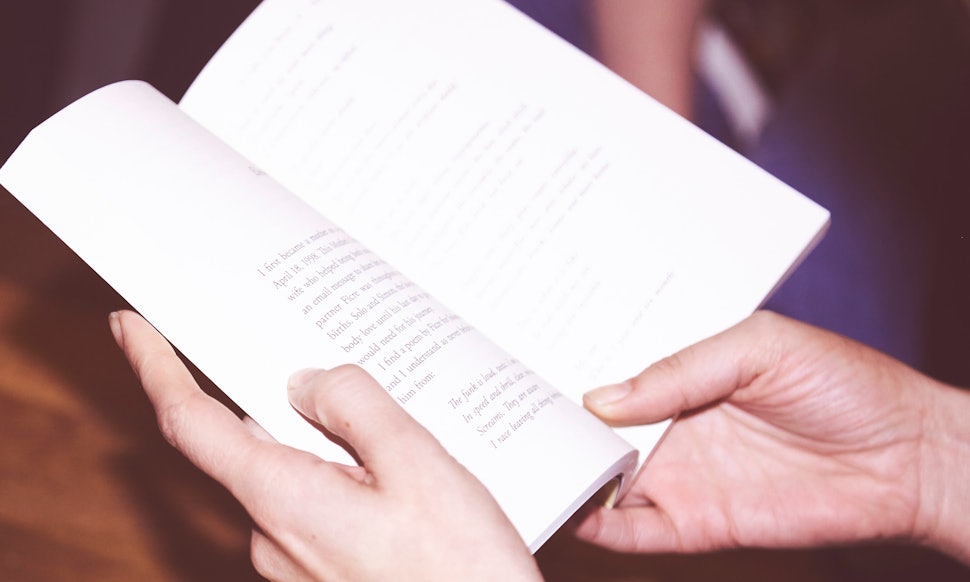 Ah, Valentine's Day. If you're coupled up, it's a nice excuse to go out on the town with your honey or send them flowers at the office (why is that considered an appropriate gesture, by the way? That's their workplace). You could be dating someone or be single but still be totally neutral on the holiday — good for you! What a great chance to binge-watch season two of House of Cards on the very day it's released. But maybe you're a tad bitter about all this love business. That's fine, we all have our things. But stop littering your friends' newsfeeds with rants about the consumerism and meaninglessness of it all and pick up a good book to commiserate with.
Image: Bustle Stock Photo
'Gone Girl' by Gillian Flynn
You knew marriage was a joke! When Amy goes missing on her 5th wedding anniversary, her husband, Nick, becomes the suspect. But not everything is what it seems, and the true reason for Amy's disappearance makes this literary marriage one of the most bonkers in recent history.
'Great Expectations' by Charles Dickens
After being jilted at the altar, Dickens' classic Miss Havisham ghosts around her decaying mansion in her wedding dress, with all the clocks stopped at the time she was abandoned and her wedding cake rotting on a table. She also spends her life plotting an act of revenge against all men. Going through a breakup this V-Day? Miss H. could be your gal.
'Romeo and Juliet' by William Shakespeare
You know the deal—14-year-olds go crushin' and everyone winds up dead. Just another drama-filled hookup.
'Ethan Frome' by Edith Wharton
Ethan Frome is miserable while acting as caretaker to his sick wife, Zeena. He falls in love with her cousin, Mattie, when she comes to help out. Mattie and Ethan's love is tragic: their suicide pact is ruined, and both end up paralyzed and beholden to the caustic and cruel Zeena. You're right, girl — love can't fix everything.
'Heartburn' by Nora Ephron
Ephron — who also wrote the screenplays to When Harry Met Sally and Sleepless in Seattle — drew inspiration from her real-life marriage to famed journalist Carl Bernstein in this portrait of an unfaithful marriage. Ephron's main character, Rachel, is charming and relatable, and you'll shake your fist at the sky as her husband's cheating ways are revealed.
'Rabbit, Run' by John Updike
Harry "Rabbit" Angstrom is an unhappy, young family man who peaked as a high school basketball star. He abandons his pregnant wife, has an affair, gets his mistress pregnant, and then abandons her. Men, right?
'Anna Karenina' by Leo Tolstoy
She's beautiful, she's rich, she's in love — but don't worry! Anna Karenina doesn't have it all. Her extramarital affair makes her a societal outcast and an overreaction to an argument spurs her to end her life. Bummertimes.
'The Awakening' by Kate Chopin
Edna finds 1890s New Orleans incredibly stifling, and hates the restrictions put upon her as a wife and a mother. Over summer holiday, she meets and falls in love with Robert, a popular bachelor. He awakens everything inside of her — her sexuality, her independence, and her passion for art. When he leaves her, she drowns herself, but more out of realizing she never wants to go back to her old ways than out of sadness for losing him. It's an excellent feminist narrative, but proves what you've suspected all along: love hurts more than helps.
'Revolutionary Road' by Richard Yates
Frank and April Wheeler are married and, well, completely hate each other. They're both resentful of what 1950's suburbia has done to them; a brief respite comes when they make grand plans to move to Paris, but life interrupts their plans. Their marriage falls fatally apart, and you'll be left to wonder: What's the point of it all, anyway?
'I Don't Care about Your Band' by Julie Klausner
Because you don't care about his band, do you? (No, you don't.) Klausner — well-known for her hilarious podcast and comedy writing — explores her own ups and downs with men in this amazing collection of essays. She might not be the love cynic that'll help you egg your ex's house, but you'll feel like she's a friend getting you through a rough day.