Juan Pablo and Clare Get Wet and Wild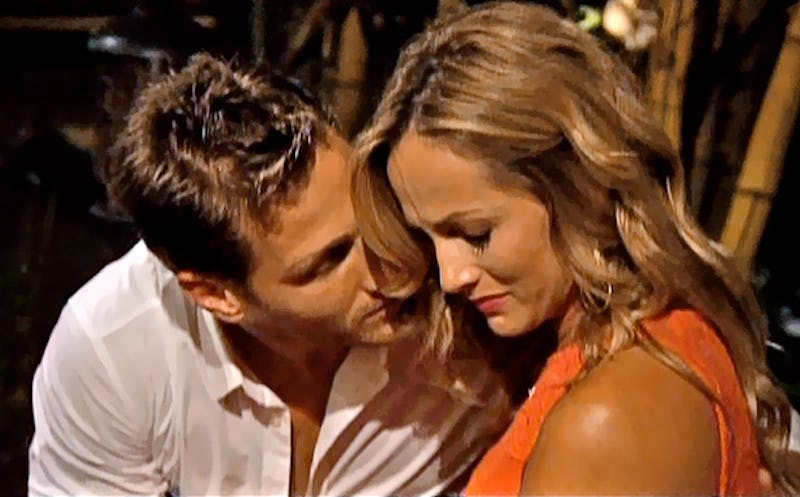 Last week, The Bachelor went to South Korea. This week, Juan Pablo Galavis and the contestants trekked on over to Vietnam. Yet again, I was very jealous. That is, of course, until I watched a fear-stricken Nikki climb down into the mouth of a giant, dark cave. You keep your amazing, Bachelor-funded trip, Nikki. If given the options "Hell Cave" or "stay home," I will never not pick "stay home." Get that Hell Cave out of my face.
The only note I wrote about the hotel was the word "breathtaking," which, ugh, how corny of me. But the hotel and the surrounding views were SO BREATHTAKING. And every sightseeing location? SO BREATHTAKING. Breathtaking enough to make me feel better about the Hell Cave? Not quite.
DATE WITH RENEE:
When Renee found out she'd be going on a one-on-one date, she said, "I do feel butterflies … He kind of makes my hands hurt a little bit. He makes my palms hurt." A similar thing happens to me when I'm really stressed out. The muscles in my hands tense up and my fingers stiffen. I call it The Claw. The Claw makes driving and typing difficult. The more anxious I get, the worse The Claw gets. Really nice to know there's someone else out there who experiences bizarre hand pains.
After Renee and Juan Pablo went for a pedicab ride, Juan Pablo said, "Now that we're here, let's look like we're from here." WHAT COULD THAT MEAN? Juan Pablo took her to a… dress shop and had her fitted for a custom dress. Oh, okay. I should note that Juan Pablo was not fitted for an outfit. And here I thought he said, "Let's look like we're from here." Way to not commit to the idea, Juan Pablo.
After the dress fitting, they walked through the town. At one point, they noticed a little boy playing with a balloon. He stared at them while he made a bunch of noises with the balloon. As soon as Juan Pablo and Renee acknowledged him, he hid. We are all that little boy.
They spent the rest of the day talking and shopping for Camila and Ben. That night, Renee changed into her custom-made dress and they went to dinner. She did look very pretty in the dress, but it didn't hurt that she's a very pretty lady. Over dinner, they chatted about being single parents. Juan Pablo gave her the rose.
Renee was disappointed that they did not end their date with a kiss.
In a confessional, Juan Pablo said that he wouldn't kiss her because she has a son and he doesn't want to confuse him. You don't want to confuse Ben, Juan Pablo? Well, you're confusing me. Because here I thought I was watching The Bachelor, not The Sometimes-Kisser.
GROUP DATE (EVERYONE BUT RENEE AND NIKKI):
The girls met Juan Pablo down by a river. They paired off and hopped in small, round boats and paddled around. The only person who did not have a partner was Clare. So Clare ended up in a boat with Juan Pablo. TYPICAL CLARE.
Clare and Juan Pablo's boat got stuck in some trees. TYPICAL CLARE. He gave her some besitos. The besitos really pissed off the other girls. TYPICAL CLARE.
After the circle boats, Juan Pablo took them to a local family's house for lunch. They harvested food from the family's field (Cassandra—I think it was Cassandra?—said something about wishing they had this in America. She knows about farms, right?) and then enjoyed a very fresh, homemade meal. The group date ended with a cocktail party.
During the cocktail party, Clare nabbed the first one-on-one chat. The other girls were furious.
While the other contestants talked shit, Clare and Juan Pablo went swimming. They made out in the pool. Juan Pablo kept saying "no kissing" in between smooches. "Oh, but they kiss anyway! How cute," I said never. I WANTED TO DIE.
He one-on-one'd with the other ladies, but their efforts were futile: Clare won the rose.
Clare said swimming in a warm ocean is on her bucket list. So at 4 in the morning, she went to Juan Pablo's hotel room and asked if he'd go swimming with her. Juan Pablo cannot resist any opportunity to be topless, so he was game. They ran into the ocean. It was pitch black and the waves were fairly large. Uh, terrifying? Terrifying. They made out while the water raged. They might've done more than make out? I don't know. I just kept thinking about was how much water must've been in their ears and noses. Clare said it was "pure bliss," but it looked like a goddamned nightmare.
DATE WITH NIKKI
They went to a place called Marble Mountain and explored. It was pretty incredible. "This is an outstanding date," I said to my TV. "Good job, Juan Pablo. The only way you could muck this up is with bungee jumping or fish pedicures. But you won't do that, right?"
He mucked it up. He totally mucked it up. He took her to the top of a huge, scary cave and told her they were going to repel down. AND THEN they were going hang out in the cave. The name of the cave: HELL CAVE. Run away, Nikki. Run. Away.
At first, Nikki was like, "NOPE NOPE NOPE." I hoped she'd hold strong. "So I either live, or I die, or I poop my pants," she said. Always choose "live," Nikki. Always choose "not-Hell Cave."
But guess what? She chose "poop my pants." UGH, If only. I wish a Bachelor contestant pooped her pants on camera. It'd equal parts disgusting and hilarious. Anyway, she and Juan Pablo made it down to the bottom of Hell Cave. They paused for a kiss mid-repel, of course. Blarg. And then, they walked through the cave. Nikki was like, "I'm so glad I did this," and I was like, "Ugh, whatever."
Afterward, they hung out. They talked about her job, kids, et cetera. If I'm being honest, I zoned out. He gave her the rose.
Stray Notes:
"It's kind of like Where in the World is Carmen San Diego? He travels, and we follow."—Kat
"Sorry, Mom. Another episode you can't watch." —Andi after she and Juan Pablo went to MackTown
"I need to believe he sees me as a panda in a room full of brown bears."—Sharleen
Before the Rose Ceremony, Juan Pablo and Renee kissed. Finally. We really built up to that moment, didn't we? Renee was giddiness personified. Renee seems like a good, sweet person. I'm rooting for her. Not to win, necessarily. Just rooting for her, generally speaking.
Clare and Juan Pablo had a weird one-on-one convo about whatever it was they did in the ocean. He told her he regretted it? That it was disrespectful to Camila? That it was disrespectful to the other women in the house? Oh, Juan Pablo! This convo did not sit well with Clare. Clare cried. She left the one-on-one. She told the other girls that her red eyes were caused by "bad allergies." TYPICAL CLARE.
Later, Juan Pablo told Clare that the ocean romp was his error as much as it was hers, and that he should've said no. Oof.
Who Went Home?
Kelly, Danielle, and Alli. After he eliminated them, Juan Pablo cried about it to the remaining girls. The remaining girls cried, too. Oof, part two.
Image: ABC