Mona Might Be The Most Important On 'PLL'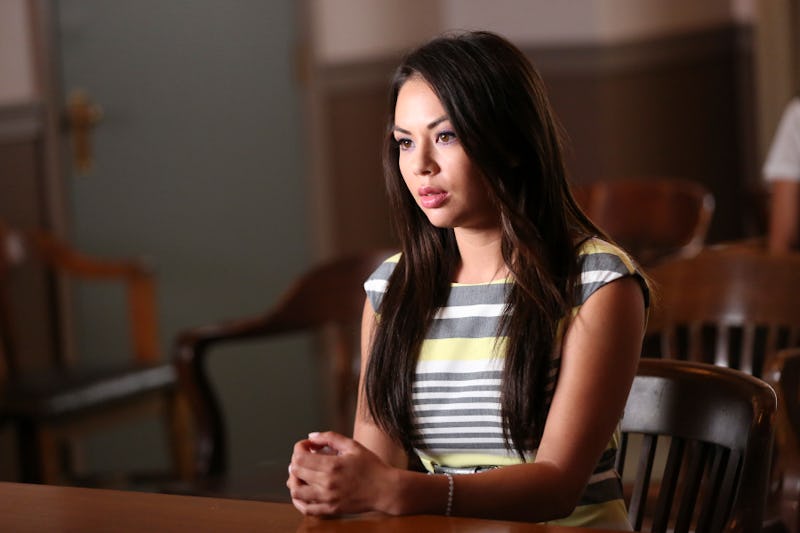 You can take Mona out of the A game, but you can't take the A game out of Mona. But it was almost a surprise on Tuesday night when "Burn This" revealed that Mona called Charlotte before she died on Pretty Little Liars . Well, it seems like it was Mona that called her. Which, unfortunately, might mean that Mona didn't call her, but right now she looks extremely guilty. It also seems like she has secrets from that night that Emily and the Liars might need to know to figure out who the new Big Bad is — because she's Mona and when isn't Mona involved?
Early on in the episode, Tanner dragged Aria down to the police station to stand in a line up and women that were believed to have called Charlotte the night she died from the diner. After some careful snooping, Aria noticed that the description of the suspect included brown hair and a pair of pink dice attached to their car keys. It looked like Mona was carrying those same set of pink dice when she left Hanna's bridal party at the end of the episode — and she didn't seem totally innocent when Emily asked her what she'd been up to.
It was hard to believe that Mona left the game behind entirely — even after she burned Spencer in the middle of the street for suspecting that Mona was still behaving like they all did in high school. So when she told Emily that she couldn't tell her what she knew in the middle of a dark parking lot, I wasn't entirely surprised. Mona admitted to wanting to see Charlotte during the five year time jump earlier this season and going to great lengths to try to get to her. Maybe she was calling Charlotte to try to get some information out of her as soon as she was free? Or maybe she was calling Charlotte to make sure she knew that she wasn't going to be safe now that she was out. Either way, Mona's involved with this somehow and she could be the missing piece to figuring out who killed Charlotte. Because, well, Mona.
Image: Adam Taylor/Freeform