12 YA Novels To Make You See The World Differently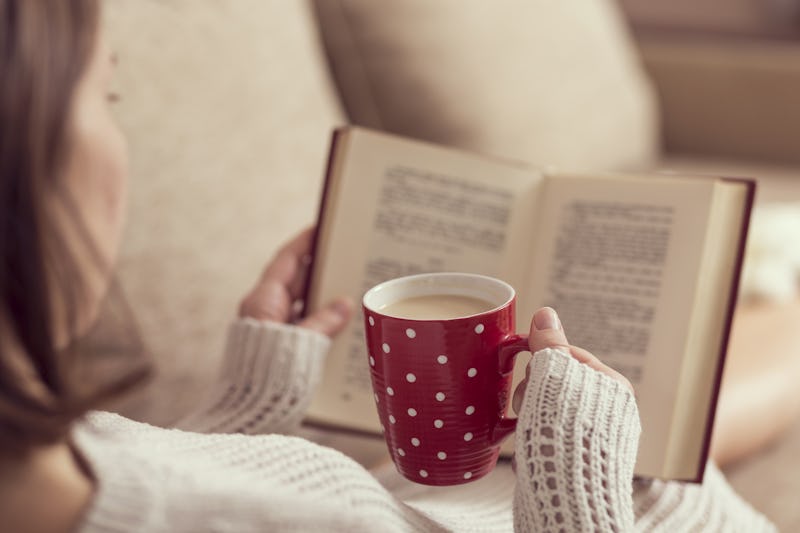 Long gone are the days when The Boxcar Children, The Baby-sitters Club, and Encyclopedia Brown were the only books to grace YA shelves — or maybe my tastes just didn't branch out very much as a young reader, who knows? Either way, there's no denying that young adult books have definitely expanded their literary horizons since I was a kid, and nowadays the genre is exploding with great reading material — even if you've long dropped the "young" label from your adult-ness. And cheers to that.
One thing I love about young adult novels is that you can kind of find it all — YA writers have faith in their young readers: that they can tackle difficult subjects, explore unfamiliar terrain, and broaden their curious minds. From child labor laws and gang violence, to mental illness and immigration, this list is filled with YA novels that will change the way you see the world, will make you think deeply about the experiences of young people, and might even teach you something new that you haven't yet picked up in all those "regular adult" books you've been reading.
Here are 12 young adult novels that will make you see the world differently, even as an adult.
15-year-old Amadou and his little brother Seydou left home to spend a season picking cacao pods and earning some much-needed money for their family. But they didn't know they'd never be allowed to go back home again. Tara Sullivan's The Bitter Side of Sweet will take you into the heart of a cacao plantation — where much of the world's chocolate comes from — where child slave labor, starvation, and violence are the norm. After you fall in love with Amadou and Seydou, you'll think twice about what company your next chocolate bar comes from.
The streets of Eddie's home in southeast Fresno, California, are filled with gangs, crime, and violence — and all Eddie wants is to find a job, make enough money to stay out of poverty, and stay away from all the violence. But when that street violence hits home, Eddie is forced to choose between following the laws of the street to stick up for his family, or following his dreams of surviving beyond his childhood in the ghetto. Gary Soto's Buried Onions puts a young face on street violence, and will definitely touch your heart.
This YA memoir, writing in poetic prose, tells the story of Margarita Engle — a Latina writer who grew up during the Cold War. In Enchanted Air , Engle describes her love for her mother's Cuban homeland, and her sense of isolation in Los Angeles, where her family lives most of the year. But then Cuba is faced with seemingly never-ending violence — first the Cuban Revolution, then the Bay of Pigs Invasion, and the economic divestment of the United States entirely. Torn between two worlds, the young Engle struggles to balance the Cuba she misses and loves, with the Cuba she sees in the headlines. It's a perfect time in history to read this story.
As pre-9/11 violence makes Afghanistan unlivable for 12-year-old Fadi and his family, his parents decide to try to immigrate to the United States illegally — but before they make it to the other side of the world, they have to make it out of their city. When Taliban soldiers disrupt the family's plans, Fadi's young sister, Mariam, is left behind. Shooting Kabul tells the story of one Afghan family's struggles to adjust to life in the United States, the ways their new world was turned upside down after September 11, and their struggle to reunite with their family back home. A definite must-read.
5. Tree Girl by Ben Mikaelsen
Gabi is high in a tree when guerrilla soldiers invade her Guatemalan village. Discovering that her village has been destroyed and most of her family murdered, Gabi decides to join a group of survivors as they make their way to a refugee camp across the border of Mexico. Tree Girl takes reads on that dangerous journey alongside Gabi — as climbing trees is one of the only things that keeps Gabi alive, as more than once she witnesses the destruction of Guatemala's remote villages.
Tracing the stories of two Sudanese 11-year-olds — Nya, a girl living in Sudan in 2008, and Salva, a boy living in 1985 — A Long Walk to Water will take you from the world of the "lost boys" of Sudan to a world where drinkable water is so scarce Nya spends over four hours a day traveling to collect it. What both of these unforgettable characters have in common is their need to walk in order to survive — Nya in order to collect water for her family, and Salva across his entire continent, trying to avoid being forced into the world of child soldiers while also searching for the family he lost.
Struggling with depression after an attempted suicide, teenage Vicky doesn't want to think about her life outside the Lakeview Hospital Mental Disorders Ward. But while there, she meets Mona, Gabriel, E.M., and Dr. Desai — a group of unlikely friends and supporters who try to help Vicky realize her own strength. In The Memory of Light , you'll accompany Vicky out of the hospital and into the life she didn't think she'd survive, as she learns to find her own identity, strength, and courage; as this book puts an unforgettable face on juvenile mental illness.
Samuel was born into freedom, and grew up educated — surrounded by books in the priest-run orphanage he lives in with his brother. But when the Civil War breaks out across the United States, and Samuel is removed from the orphanage after taking the blame for something his troublesome brother did, he finds himself moving south, where he is sold into slavery and renamed Friday. My Name is Not Friday will take you on a journey back in time, to one of the darkest periods in American history, as Samuel encounters the horrors of slavery and tries to return to freedom.
In the span of just five minutes, life inside Opportunity High School changes forever. Trapped in the auditorium after a school assembly, a young boy begins gunning down his classmates, before holding others hostage. Told from the perspectives of four different students — all of whom hold different fears of the boy wielding the gun — This Is Where It Ends spans takes place over the course of just 54 heart-pounding minutes, but it tells a story that will stay with you much longer, and might even make you think differently about the overwhelming presence of guns in the United States.
For years Nadira and her family have lived as undocumented immigrants in New York, working to become legal citizens after leaving their home in Bangladesh. But after September 11, 2001, being Muslim in New York no longer feels safe. Ask Me No Questions follows Nadira and her family's journey from Bangladesh to New York, and later from New York to Canada, as they struggle to find somewhere safe to call home, where their life-long fears will maybe, finally, leave them.
This award-winning novel tells the story of Kek, an immigrant from Africa, and one of the "lost boys" who has come to live with family in the United States, while he waits for word of his only surviving family member in Africa — his mother, who he hopes is making her way from a refugee camp back to him. But adjusting to life in Minnesota — especially things like snow — isn't easy, and Kek has to learn how to adjust on his own. Home of the Brave is another great YA title that will make you think differently about the immigrant experience, and the kind of desperate courage it really takes to leave home forever.
When 11-year-old Gopal and his family are forced to leave their rural Indian village for Mumbai — where they hope food and clean water will be more available for them — Gopal plans to work until he starts school in the fall. Promised a job in a factory, Gopal quickly learns he's been kidnapped for unpaid sweatshop labor, with five other young boys. In Boys Without Names Gopal not only has to survive the difficult work and starvation-level food rations, he must also find a way to preserve his spirit, free himself, and return to his family.
Image: Fotolia