'Fuller House' Has Been Renewed For Season 2, Guys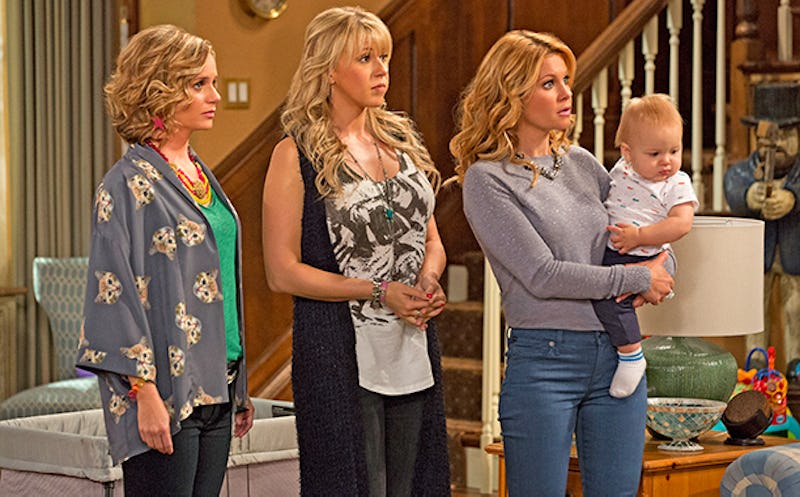 I don't know what we did to deserve Netflix and their speedy renewals, but let's all say a quick thank you for it. Fuller House has been renewed for a second season less than a week after the premiere of Season 1. Woo, we did it! But we're also still little babies of the information age and are used to instant gratification, so let's move right on from that celebration to the next most important thing: When will Fuller House Season 2 be released? No matter how quickly Netflix moves, they're still not at a point where they can announce a renewal and a release date at the same time. So this is really my moment to shine. I have a whole wealth of speculation skills and some high school math that needs dusting off, both of which combine to make me the Pop Culture Detective we need right now. And also the one we deserve, so that works out.
We have the date when Season 1 was announced: Apr. 21, 2015. (We were so young!) And then we have the release date for Season 1, which was Feb. 26. (That just happened, but we were still so young!) And in between, we have 10 months and five days of perching on the edge of our seats in anticipation of what was to come. (The last time I did math I was so young!) So assuming that Netflix and the Fuller House team adhere to a similar schedule as they did the first time around, we can expect Season 2 to be released about 10 months from now — right around Jan. 7, 2017, once you add in those five days.
So there's my guess, everybody. And I'm confident in it. If anyone knows the value of a fresh start, it's the Tanner family, and I feel that they'd appreciate coming back for a second season early in the year. And hey, If we all keep our fingers crossed, maybe they can even talk an Olsen twin or two into coming back. Here's hoping.