Target & Barbie Want You To Love Your Bikini Body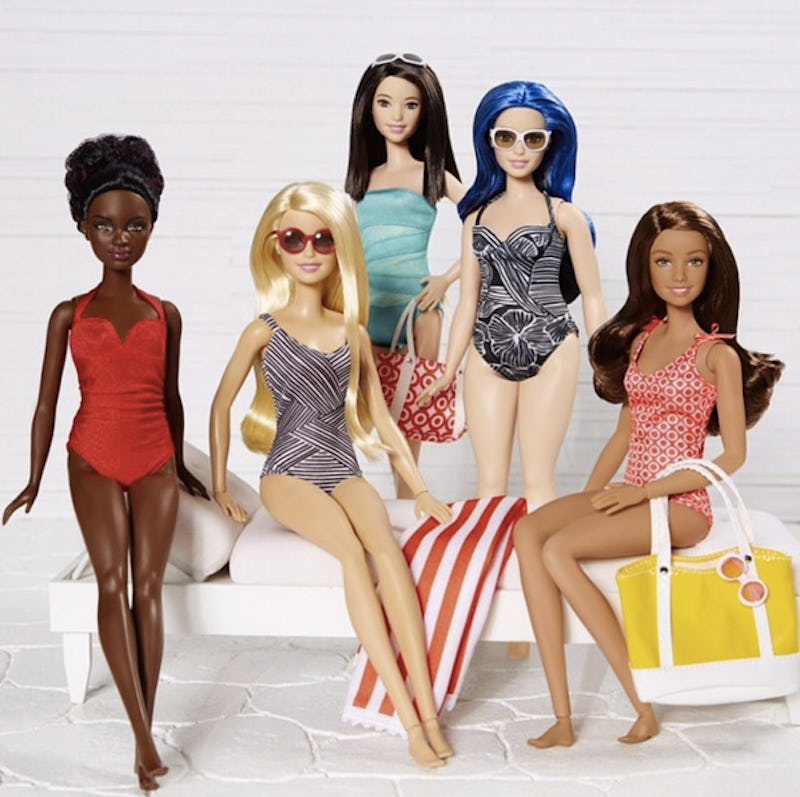 FOMO (aka "fear of missing out") caught on as a phrase in 2015 when we all realized we needed a quick acronym to describe the feeling of exclusion. But as Seventeen reported, Target and Barbie have teamed up to re-purpose the phrase for Target's latest swimwear campaign. In the hopes of stopping beach body shame, the Instagram campaign and hashtag #nofomo want women to stop missing out on all that life has to offer just because they feel ashamed of their bodies. In this particular case, it's the missing out on beach and pool fun simply because so many of us have been conditioned to not feel comfortable in a bikini.
In collaboration with Barbie's new range of more inclusive dolls — which features tall, curvy, and petite models — Target is helping show us that all bodies are beach-body-ready, because as soon as your body is wearing a bikini, it's a "bikini body." By utilizing a purposefully diverse set of models, Target is supporting efforts in body positivity in its own way, and helping women feel better about themselves in the process.
Gaining traction on Instagram, the #nofomo hashtag already has over 8,000 posts of women celebrating themselves and their bikini bods. By selling us self love, rather than shame, Target and Barbie are suggesting that the best way to market swimwear doesn't have to be shrouded in perpetuating self-hate.
For its collaboration and campaign with Barbie, the dolls are modeling Target's new swimwear line and representing the #nofomo message. As Target commented on its Instagram, the dolls are "getting every body together to dive into this swim season."
By eliminating the idea that you have to look a certain way to wear a bikini, Target and Barbie are helping those who actually want to wear two-pieces feel not only comfortable, but beautiful in their swimwear — and just in time for spring and summer 2016.
As always, the swimwear lines themselves at Target are quite budget-friendly. With items ranging from $17.99 to $59.99, this collection won't break the bank while allowing you to support and preach some ideologies of body positivity.
Women's Push Up Bandeau Bikini Top, $17.99, target.com
And if you don't want to go the bikini route, the collection has plenty of beautiful one-pieces that should stop your FOMO while allowing you to feel comfortable and cute on the beach and in the water.
Women's Bandeau Wrap One Piece, $34.99, target.com
Overall, Target seems to be joining in on a new form of advertising that champions women rather than shaming them. The body positivity movement is clearly having an actual impact — and big businesses are paying attention.
Want more body positivity? Check out the playlist below, and be sure to subscribe to Bustle's YouTube page for more inspo!
Images: targetstyle/Instagram; Courtesy Target