The 'Bachelor' Had Some Painful Goodbyes This Year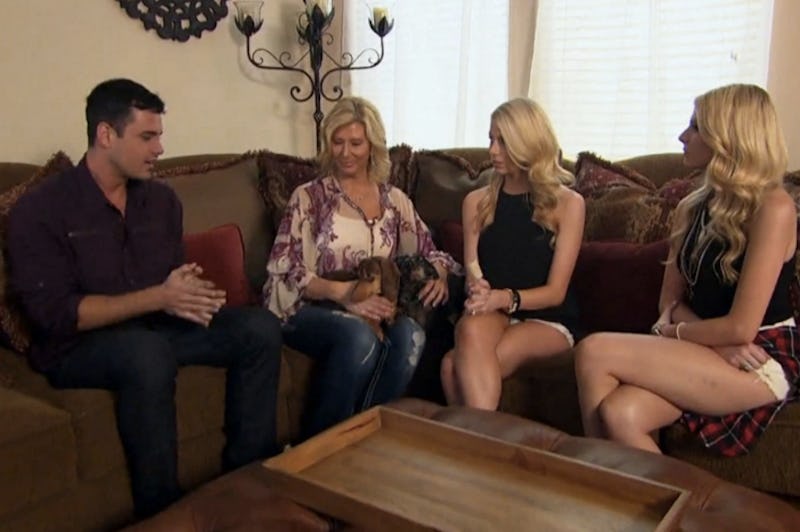 This season of The Bachelor has been emotional to say the least. At this point, I'm more invested in Ben Higgins finding happiness and a future wife than I am in my own love life and that's pretty sad. Even as a viewer sitting comfortably at home, I was way too affected when it came to the rose ceremonies. Some of those exits were just too much to handle. Sure, there are some people who I had no issue saying goodbye to, but on the other hand there were so many heartbreaking eliminations on this season of The Bachelor .
I understand that each contestant (except for one) would have to leave at some point and that this process is about Ben trying to find love, but I cannot help feeling bad when I see one of them crying in a limo on national TV. These women go into the rose ceremonies or these special dates floating on cloud nine because they feel a special bond with the bachelor and are really falling for him, so it's just so awful to see them get rejected.
Below are the eliminations that tore me up the most. I've never actually shed a tear watching this show, but these moments definitely got me the closest.
1. Caila's Elimination During Her Surprise Visit
Even though it was so obvious that Caila was going home following fantasy suites, the poor girl had no idea. There was just such a major difference in the way Ben talked about about and interacted with Caila in comparison to JoJo and Lauren. It was obvious to viewers that she was going to go home next, but she was still convinced that she was the one.
She said that she went to surprise visit Ben because she missed him and just wanted to see him, but it seemed to me that she might have realized that her awkward one-on-one date was not enough to remain in the competition. Nevertheless, she seemed blindsided when Ben told her that she wasn't the one. She even got out of the van after she said bye to come back and ask Ben more questions about their relationship. Whether you are a Caila fan or not, it was just so brutal to watch.
2. Amanda Being Sent Home After Hometown Dates
Amanda made it clear that it was a big deal for any man to meet her two young daughters and that she was not going to bring Ben home unless she was sure that it was the right decision to make. So she really thought that she was on the same page as him when it came to their connection. Welp, she was wrong and got eliminated at the next rose ceremony.
Not only was she upset to end her relationship with Ben, but she was very taken aback by the timing. She didn't get why he would not send her home sooner if he was not serious about starting a life with her. She would have rather been sent home immediately after the date instead of wasting her time going back to the Bachelor mansion for a dramatic rose ceremony. Hearts around America broke for Amanda and we all wanted to give her big hugs.
3. Becca Getting The Boot After Asking Ben "Not To Blindside" Her
Becca was trying her darnedest to get more alone time with Ben, but the date cards and the competitions were just not in her favor so she never really had a chance to form a deep connection with the dude. While this was happening, she could easily see that Ben has strong chemistry with other contestants and she wanted to know where she stood. She asked Ben about his feelings for her and told him not to blindside her with an elimination if he already knew that they were not meant to be together — and then he eliminated her at the next rose ceremony. Becca confronted him about not coming clean during their conversation when she gave him the chance and then she cried in the limo about never finding love. Poor Becca.
4. Emily Getting Dumped After Meeting Ben's Parents
Obviously, Emily was not the one. She had no shot after coming into the competition and being stereotyped as a professional twin. She was elated to have a one-on-one date to meet Ben's parents, but it was just so awkward to watch. She and Ben had no chemistry or affection as a potential couple and Mr. and Mrs. Higgins could tell.
Emily felt so special to have the privilege of meeting Ben's parents so she was really floating on air when they left the date, especially since no one else had that chance yet. But then they got back to the house and Ben broke up with her on the front lawn as the other women watched from inside the house. Then Emily started crying and had to get comforted by the women who remained in the competition. It was so awkward. They felt bad for her, but at the same time I'm sure that they were happy that it wasn't them getting dumped before the rose ceremony even started.
5. Haley's Breakup Right In Front Of Her Mother
Of course Ben had to separate the twins at some point. He had trouble forming any kind of individual connections with them, so he went to their family home and met their mom. He had one-on-one time with each twin and even asked their mother for advice on who to choose. Their mom basically told him to pick Emily because she was the more outgoing and open twin and Ben broke up with Haley — in front of her mother, twin, and dogs. Even though Ben and Haley had nothing between them, it was really just sad seeing her get separated from Emily. That was definitely the most heartbreaking thing about that elimination.
6. Jubilee Getting Sent Home Mid Group Date
Group dating on reality TV is not for everyone, and I don't blame my girl Jubilee for struggling with the concept. It's tough to fall in love with someone when you are constantly competing with other women for the guy's affection. It seems like a very awkward, tiring, and intimidating process. Ben and Jubilee were vibing for a little bit, but she started to pull away when the competition got stressful. She and Ben had some private time and he pulled what ended up becoming a #TotalBenMove where he talked about being honest about his feelings and not stringing her along until the rose ceremony and just sent Jubilee home right there in the middle of the date. He did this with the mindset of being thoughtful, but it was still a lot to handle. I wanted to hug Jubilee in that moment.
7. Lace Eliminating Herself At The Rose Ceremony
At first, it seemed Lace was going to be the villain this season, but I began to come around and realized that Lace was a gem and a half. She really made the show and had a super endearing personality. Ben wanted her to stay around, but she ended up eliminating herself because she did not think she was ready to find love unless she worked on herself more. It was a very mature thing to do, but it was still pretty heartbreaking. She definitely left way too soon in my opinion.
I feel like I had way more feelings about these eliminations than I ever have about any of my own breakups. Now I can't wait to see what emotions come out when Ben gives out the final rose.
For more Bachelor check out Bustle's Will You Accept This Podcast? below:
Image: ABC